Was Eric Trump's Children's Charity Used To Divert Money To Trump Businesses?
A new report from Forbes alleges that Eric Trump's foundation was used as a front to divert money to businesses owned by his father.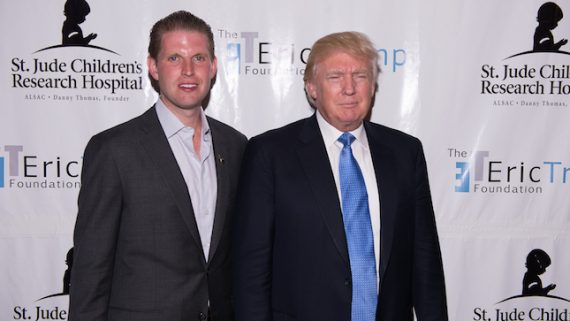 Forbes is out with a hard-hitting investigative piece alleging that the Foundation started by Eric Trump to benefit children's cancer research was used to divert funds to businesses owned by his father:
Eric Trump is slamming a Forbes report that alleges his charity, the Eric Trump Foundation, has been funneling donations — from donors who believed the money was going to St. Jude Children's Research Hospital — to the Trump Organization by paying high sums for use of Trump properties during fundraisers and re-donating some funds to charities friendly with Trump interests.

Forbes reported Tuesday that the Eric Trump Foundation paid the Trump family business hundreds of thousands of dollars over the last seven years for use of one of the organization's golf courses, funds which he claimed were being donated nearly in full to the children's cancer charity.

"We were able to come up with this concept of raising a lot of money with really no expense and it's because we were incurring the expenses at the assets we were taking on the expenses as Trump. We were using our own facilities," Eric told donors in a promotional video.

According to IRS filings, the Eric Trump Foundation in 2012 spent $59,085 on its annual Golf Invitational fundraiser held at the Trump National Golf Club in Westchester County, New York — money that skimmed from donations to St. Jude's Children's Research Hospital. Those expenses ballooned to $230,080 in 2013 and to $242,294 in 2014, according to the filings. It is unclear from these tax forms how much of those payments went to the Trump Organization.

Forbes reported that in 2011, costs for Eric Trump's golf tournament fundraiser tripled because his father realized that the organization had not been charging for the event and there were no bills to prove it. The Foundation declined to provide Forbes with an itemized list of expenses for the tournament.

Charity experts told Forbes that the amount paid to the Trump Organization for a golf tournament fundraiser for St. Jude's "defy any reasonable cost."

The increased costs for the tournament coincided with changes to the Foundation's board in 2010, when it changed from being made up of mostly Eric's personal friends to those closely connected with the financial interests of the Trump Organization, according to Forbes.

The tax filings also show that the Eric Trump Foundation made a 2014 payment of $87,665 to another Trump property, the Trump National Golf Club in Washington, DC for fundraising events.

In addition, the Forbes report claims that Eric Trump's charity redirected some donations. More than $500,000 was given by the Eric Trump Foundation to other charities, "many of which were connected to Trump family members or interests," according to Forbes.
Outside of the above, the report is far too detailed to summarize fairly, so I recommend that you read the full report at the Forbes website. Suffice it to say that, if true, the allegations seem to come close to making out a case of self-dealing and deception on the part of both Eric Trump's Foundation and The Trump Organization. While the organization was under no legal obligation to provide free access to Trump-branded golf venues, for example, the fact that it was represented to donors and participants alike that this was happening is something that potentially gives rise to allegations of fraud and the violation of laws related to the operation of charities. This is especially relevant given the fact that all of these organizations are based in New York means that they fall under the jurisdiction of New York State laws regarding how charities are required to operate. In fact, the fraudulent operation of charities has been a particular area of interest for New York Attorney General Eric Schneiderman, who was also among the Attorney Generals who led the charge on fraud claims against Trump University in the lawsuits that were settled just prior to Trump taking office in January. It's unclear whether Schneiderman is investigating the matters detailed in the Forbes report, but it's likely that he will be looking into these allegations.
This report, of course, is just the latest example of something we saw from Trump repeatedly during the campaign. That campaign made heavy and frequent use of Trump-branded hotels and other items throughout the course of the campaign, for example, and because both Trump's home and his campaign headquarters were based at Trump Tower in Manhattan, the Secret Service ended up leasing space in the building and paying rent so that their agents could effectively do their jobs. To be fair, the Secret Service would have been required by existing Federal regulations to pay rent at market rates for any space they need to use in conducting official duties, the fact of the matter is that Trump was essentially profiting from the fact that he was running for President. There's plenty of evidence of this to be derived from the expenditure reports filed with payments to Trump-owned properties and businesses. That practice is apparently continuing even as he serves as President.
The allegations in this Forbes report, of course, are far different from what happened during the campaign. If true, they mean that Eric Trump's foundation was deceiving donors and participants in the annual golf fundraiser with the idea that it was paying essentially nothing for expenses related to the fundraiser and that all the funds were going to St. Jude's Hospital. Instead, while it is true that the foundation was raising money that went to the hospital, the amount was far less than what was being represented. Those misrepresentations need to be investigated fully.