Why Do American Politicians Wrap Themselves in 'House of Cards'?
Peggy Noonan asks an interesting question.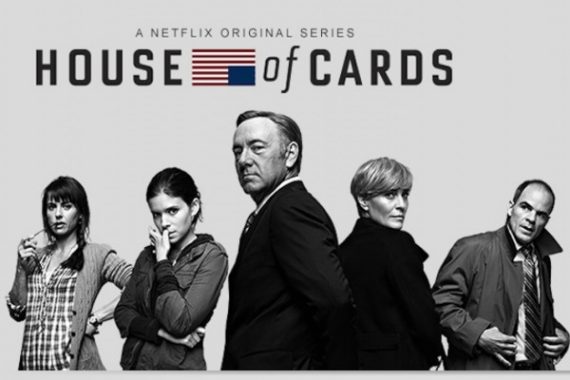 While I've always thought Peggy Noonan a fine writer, I've found her stuck in something of a time warp and haven't been a regular reader of her columns in quite some time. Her latest, "Our Decadent Elites," however, is worth a read.
Watching Season 2 of "House of Cards." Not to be a scold or humorless, but do Washington politicians understand how they make themselves look when they embrace the show and become part of its promotion by spouting its famous lines? Congressmen only work three days a week. Each shot must have taken two hours or so—the setup, the crew, the rehearsal, the learning the line. How do they have time for that? Why do they think it's good for them?
Here's the video in question:
Noonan continues,
"House of Cards" very famously does nothing to enhance Washington's reputation. It reinforces the idea that the capital has no room for clean people. The earnest, the diligent, the idealistic, they have no place there. Why would powerful members of Congress align themselves with this message? Why do they become part of it? I guess they think they're showing they're in on the joke and hip to the culture. I guess they think they're impressing people with their surprising groovelocity.

[…]

It's all supposed to be amusing, supposed to show you're an insider who sees right through this town. But I'm not sure it shows that.

We're at a funny point in our political culture. To have judgment is to be an elitist. To have dignity is to be yesterday. To have standards is to be a hypocrite—you won't always meet standards even when they're your own, so why have them?
To be sure, there's a certain Church Lady quality to the tone here. Still, she has a point. While I enjoy the show (albeit, season 2 isn't grabbing me as quickly as the first one did) it's an incredibly negative portrayal of DC politics. As frustrating and base as the real thing can be, it's not nearly as sinister as "House of Cards." Tom DeLay was oily and at least borderline corrupt but I have no reason to think he was murdering people at the drop of a hat in the fashion of the show's protagonist. It's odd, indeed, for DC pols to wrap themselves in the show.
For that matter, it's weird to me to see media figures portraying themselves in this sort of drama. They're supposed to be pretending to be objective and yet here they are participating in a show that portrays not only the politicians they cover but some members of their own guild as highly unsavory.
Here, incidentally, is the vido
That said, I'm not sure I buy Noonan's conclusion:
All of this is supposed to be merry, high-jinksy, unpretentious, wickedly self-spoofing. But it seems more self-exposing, doesn't it?

And all of it feels so decadent.

No one wants to be the earnest outsider now, no one wants to play the sober steward, no one wants to be the grind, the guy carrying around a cross of dignity. No one wants to be accused of being staid. No one wants to say, "This isn't good for the country, and it isn't good for our profession."

And it is all about the behavior of our elites, our upper classes, which we define now in a practical sense as those who are successful, affluent and powerful. This group not only includes but is almost limited to our political class, Wall Street, and the media, from Hollywood to the news divisions.

They're all kind of running America.

They all seem increasingly decadent.

What are the implications of this, do you think?

They're making their videos, holding their parties and having a ball. OK. But imagine you're a Citizen at Home just grinding through—trying to do it all, the job, the parenthood, the mowing the lawn and paying the taxes. No glamour, all responsibility and effort. And you see these little clips on the Net where the wealthy sing about how great taxpayer bailouts are and you feel like . . . they're laughing at you.

What happens to a nation whose elites laugh at its citizens?

What happens to its elites?
I doubt that average citizen thinks about the world in this fashion. To me, the danger is that having real people play themselves in shows like "House of Cards" contributes to the notion that it's a sort of particularly exciting documentary, fictional but nonetheless depicting a larger truth about the institutions.