Jeff Sessions Endorses Donald Trump, While Other Republicans Begin To Panic
Alabama Senator Jeff Sessions became the latest prominent Republican to endorse Donald Trump, but there are a lot more Republicans who are starting to panic over what Trump could do to their party.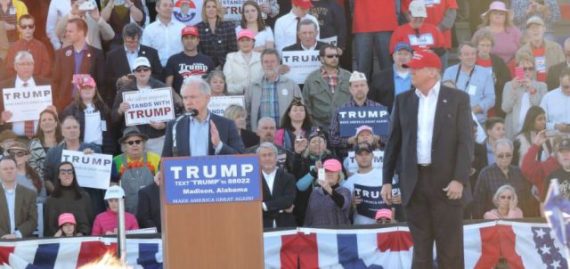 Yesterday at a rally in Alabama, Donald Trump unveiled his latest endorsement, this time from a Senator so popular in his home state that he ran unopposed in 2014:
MADISON, Ala. — Sen. Jeff Sessions (R-Ala.), whose hard-line conservative stances on immigration and trade have made him a favorite of the party's base, endorsed Donald Trump's White House bid during a joint appearance here in his home state Sunday.

"Politicians have promised for 30 years to fix illegal immigration. Have they done it? Donald Trump will do it," Sessions said at the Madison City Schools Stadium, where thousands gathered to hear Trump speak. "I've told Donald Trump this isn't a campaign, this is a movement."

The endorsement represents a major blow to Sen. Ted Cruz (Tex.), one of Trump's two chief rivals for the Republican nomination. Cruz has touted his strict positions on border security and deportation, leaning on his strident commitment to conservative ideology as a key rationale for his candidacy. In the run-up to the March 1 Super Tuesday primary elections, Cruz has tried to undermine Trump's conservative bona fides on immigration reform, characterizing his plan as "amnesty."

The announcement is the latest in a series of high-profile endorsements by prominent GOP voices including New Jersey Gov. Chris Christie and former Arizona governor Jan Brewer. Sessions's appearance came as a surprise for those in attendance, who cheered when he took the stage.

"When I talk about immigration and when I talk about illegal immigration and all the problems with crime and everything else, I think of a great man," Trump said in introducing Sessions. "Sweet Home Alabama" finished playing as Trump took the stage.

"That is so great. You know, he's an incredible guy," Trump said after Sessions spoke.

Trump has made immigration reform and border security a linchpin of his presidential run, calling for the mass deportation of 12 million undocumented immigrants living in the United States and promising to build a massive wall alongside the U.S.-Mexico border. Many of Trump's critics have accused him of xenophobia; others have argued that his plan to build the wall — and to force Mexico to pay for it through aggressive diplomacy — is unrealistic.

The Sessions endorsement also comes as Cruz and Sen. Marco Rubio (Fla.) — who has been locked in a bitter fight with Cruz for second place — have made an aggressive push to characterize Trump as a false conservative who has made promises he does not intend to keep.

Cruz and Sessions, one of the most conservative members of the Senate, have forged a close relationship in recent years. Cruz has regularly made reference to Sessions on the trail, emphasizing the mutual respect between the two.

Sessions appeared with Cruz in Daphne, Ala., in December and has defended the senator from Texas against accusations that he once supported a path to legal status for undocumented immigrants. Sessions has supported Cruz's claim that an amendment he offered, which stripped the bill of a path to citizenship for undocumented immigrants but granted legal status, was intended as a "poison pill" that would kill the legislation.

But the relationship between Trump and Sessions has slowly warmed over the past year. Starting early last year, Sessions and his advisers privately consulted with Trump on immigration policy and helped to shape the candidate's position paper. They had one extensive call in July that was confirmed by both sides and is considered the moment that Sessions began to consider backing Trump.

"I like him," Trump said of Sessions when asked about that call. "Tough guy. I like that. We have a similar thought process."
Given their similarities on immigration on international trade, as well as the relationship they've developed over the past year, it's not entirely surprising that Sessions would endorse Trump at this point in the race. As noted, Sessions has long been among the most adamant opponents of nearly any form of immigration reform that goes beyond stricter border controls, and has stood adamantly against any form of amnesty or deportation relief for the estimated 11 million people who are in the country illegally. He has also resisted efforts to change the law to make certain forms of legal immigration, such as H1-B work visas that are favored by the high tech industry, easier. On international trade, Sessions has been among the strongest opponents of the Trans Pacific Partnership and others trade deals. Given all of that, the Senator from Alabama and the real estate developer from New York are an unlikely, but natural, fit.
As with all endorsements, it's unclear exactly how this endorsement will help Trump except to aid to the air of his inevitability as the Republican nominee in the wake of his successes during the February primaries and anticipated successes over the next two weeks. As it stands, polling indicates that Trump is likely to win big in Alabama's primary tomorrow, so adding Sessions into the mix there isn't necessarily going to have a major impact. Where it could help Trump is in convincing people not currently backing Trump who share Sessions' views on immigration and trade to perhaps reconsider their position and get behind Trump. This would primarily consist of Cruz supporters, of course, since Cruz is the only other candidate in the race who can fairly be said to be close to Sessions on these issues and, as noted, the fact that Sessions chose to endorse Trump over Cruz is arguably more of a blow to Cruz than it is a boost for Trump.
In any event, the Sessions endorsement is the latest in a chain of endorsements that have come Trump's way in the past week. It all started with Trump's first two Congressional endorsements, which were notable but quickly overshadowed by the surprise announcement in Texas on Friday of the endorsement from New Jersey Governor Chris Christie. This was followed by endorsements from Maine Governor Paul LePage and former Arizona Governor Jan Brewer, as well as the suggestion that there may be more high profile judgments coming this week, especially after Trump's expected Super Tuesday victories.
At the same time these endorsements are occurring, though, there are signs that what seems likely to turn into Trump winning the nomination could tear the GOP apart. For example, The Hill reported yesterday that Senate Majority Leader Mitch McConnell is advising Senators who are in vulnerable re-election bids this year to split from Trump as well as preparing to run the Senate in the 2016 as a bullwark against an anticipated Hillary Clinton Presidency rather than running with Trump. Additionally, freshman Nebraska Senator Ben Sasse announced over the weekend that he would not support Trump in November and that Republicans may need a 'third option' if Trump indeed turns out to be the nominee. This comes amid reports about an effort to stop Trump by top Republicans to stop Trump that seems to be becoming increasingly desperate, other reports characterizing the party as being in a state of 'implosion' over the Trump candidacy, and the increasing realization of the danger that Donald Trump poses to the Republican Party. Since Trump's march to the nomination seems like it's going to continue unabated unless something dramatic happens tomorrow or in the subsequent two weeks, we can expect to see more of this split between those Republicans who will make their peace with Trump for the sake of trying to save the election, and those who insist that the only way to save the GOP is to disavow Trump completely. In the short term, all of this is likely to inure to the benefit the Democratic Party and the Democratic nominee. In the long term, it has potentially exposed a fault in one of America's major political parties that is unlikely to be easily repaired.