Republicans Win Big In Kentucky, Setting Up A Big Fight Over Obamacare
Republican Matt Bevin picked up what comes as a surprise win to many observers, and that sets up a big fight over what had been a PPACA program that the White House has touted.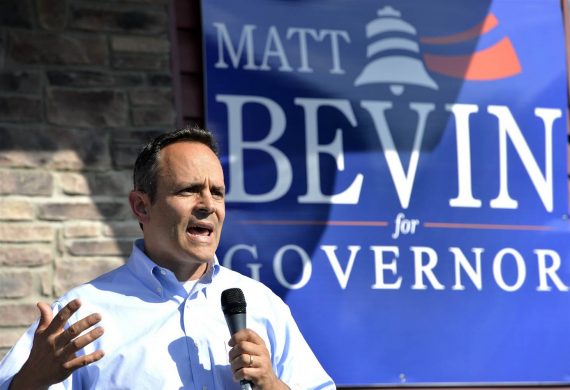 There weren't many high-profile races on the ballot yesterday across the United States, of course. Virginia and New Jersey saw state legislative elections that didn't really seen much change at all. Republicans in Virginia kept control of the State Senate for the final two years of Governor Terry McAuliffe's term despite a strong effort by Democrats to take the chamber, which has fluctuated in control for several years now, back. New Jersey Democrats unsurprisingly held on to control of the state legislature there, although they did manage to hand Republicans something of a defeat in three legislative districts, a development that may not bode well for Republicans when the Governorship will be a completely open race in 2017 since Chris Christie cannot run for re-election. The Republican Governor won re-election in Mississippi against a token Democratic candidate, to the surprise of absolutely nobody. Elsewhere, the ballot was filled with the mixture of local races and ballot measures typical in an off-off-year election.
If there was one race that was the focus of national attention this year, though, it was in Kentucky where the state's Governor's office was up for re-election due to term limits, and a number of other statewide offices were on the ballot as well. As the race went on this summer and early fall, the lead fluctuated between Republican nominee Matt Bevin, best known for having been trounced last year in the Republican primary by Senate Majority Leader Mitch McConnell, and Democratic nominee and state Attorney General Jack Conway, who had lost a statewide race in 2010 to Senator Rand Paul in the Republican wave that swept the country that year. Also on the ballot was an Independent, Drew Curtis, whose poll numbers seemed to suggest he could be the deciding factor in the race. Heading into yesterday, though, polling seemed to suggest that Conway had the upper hand regardless of what impact Curtis had. As it turned out, though, it was Bevin who won a decsive victory, bringing other statewide Republicans alone with him, and becoming only the second Republican elected Governor of Kentucky in the past four decades:
LOUISVILLE, Ky. — Matt Bevin, a Republican political novice, wealthy Louisville businessman and Tea Party favorite, was elected Kentucky's next governor on Tuesday and swept fellow Republicans into statewide office with him. The stunning victory heralds a new era in a state where Democrats have held the governor's mansion for all but four of the last 44 years.

In beating his Democratic opponent, Attorney General Jack Conway, Mr. Bevin, 48, shocked people in his own party, who believed that the climate in Kentucky was ripe for a Republican but feared that Mr. Bevin, a charismatic conservative with a go-it-alone style, was too far out of the mainstream and too inexperienced to win.

But in a year when outsiders like Donald J. Trump and Ben Carson have captured the attention of voters in the Republican presidential race, Mr. Bevin's tendency to thumb his nose at the political establishment — coupled with President Obama's deep unpopularity here — helped him upend Kentucky's political status quo.

"I'm proud of the fact that this is a great night for Republicans in Kentucky and, more importantly, a great night for conservatives in Kentucky," Mr. Bevin told cheering supporters, who gathered at the Galt House Hotel overlooking the Ohio River. But, he added quickly, "we have a lot of work to do."

Mr. Conway, a 46-year-old lawyer and two-term attorney general who has been in politics much of his adult life, conceded shortly before 9 p.m., looking subdued as he addressed fellow Democrats in downtown Frankfort, the state capital. To the people of Kentucky, he said, "I respect your decision."

Of the six statewide offices in Kentucky, Republicans currently hold one; Tuesday's results mean they will hold four — and Mr. Bevin's running mate, Jenean Hampton, will make history as Kentucky's first African-American to hold statewide office.

In one sign of how bad the night was for Kentucky Democrats, State Auditor Adam Edelen, seen by many as a rising star — and a possible 2016 challenger to Senator Rand Paul — lost his bid for re-election. However, Andy Beshear, the Democratic candidate for attorney general — and son of the incumbent governor — won his race, and Secretary of State Alison Lundergan Grimes, a Democrat who last year unsuccessfully challenged Mitch McConnell, the Senate's Republican leader, was re-elected.

The Kentucky State Board of Elections said late Tuesday that Mr. Bevin had won 52 percent of the vote and had defeated Mr. Conway by more than 84,000 votes. An independent candidate drew about 4 percent of the vote statewide.

Mr. Bevin burst onto the political scene last year when he tried, and failed, to knock off Mr. McConnell, the state's most powerful Republican, in a primary. Then, in May, he squeaked past three Republican opponents to win the primary for governor by just 83 votes. His critics complained he never unified the party, and heading into Election Day, nonpartisan analysts gave the edge to Mr. Conway.

But he is an aggressive retail campaigner, and in recent weeks traveled Kentucky in a 2001 Chevrolet Suburban with more than 200,000 miles on it; on Tuesday, he turned up at two Chick-fil-A restaurants here in Louisville, shaking hands in a last-minute bid for votes.

For Democrats, more than the governorship was at stake. Kentucky is the last state in the South where Democrats hold a legislative chamber — the Kentucky House — and without the governor's mansion, their hold on that chamber is in danger.

"This changes the dynamics," State Senator Robert Stivers, a Republican and the Senate president, said. "Instead of having one leg of the stool, we now have two legs of the stool — and the third leg is very weak." Later, Mr. Stivers and Mr. Bevin appeared together onstage after Mr. Bevin's victory speech, leading supporters in a chant of "Flip the House! Flip the House!"

Heading into Election Day, Republicans fretted that Mr. Bevin was frittering away an opportunity. But Bill Stone, a former chairman of theRepublican Party in Jefferson County, which includes Louisville, said many analysts had underestimated "how reviled" Mr. Obama and the Democrats are in Kentucky.

Mr. Obama's health care law was an especially contentious issue in the race, and some see the Bevin victory as a rebuke to Gov. Steve Beshear, a Democrat, who expanded Medicaid under the measure. An estimated 420,000 Kentuckians, nearly 10 percent of the state's population, now have coverage as a result. Mr. Bevin, a fierce opponent of the health care law, at first said he would reverse it, but has since softened his position and said he would stop enrolling new people but would not take coverage from those who had it.

(…)

He held strong appeal to both fiscal and Christian conservatives; when Kim Davis, the Rowan County clerk, who refused to issue marriage licenses to same-sex couples, was jailed, Mr. Bevin made a show of visiting her.

Mr. Conway, finishing his second term as attorney general, is a familiar figure to voters in Kentucky, where he has until now run an equal number of winning and losing campaigns. He ran for the House and lost to Anne Northup in 2000, was elected attorney general in 2007, lost his 2010 Senate bid to Senator Paul, and was re-elected attorney general in 2011.

The son of a prominent lawyer in Louisville, Mr. Conway hews mostly to traditional Democratic positions. He favors increasing the minimum wage (Mr. Bevin is opposed); is a strong backer of unions (Mr. Bevin favored "right-to-work" laws that would limit union organizing); and made early childhood education a centerpiece of his election campaign. (Mr. Bevin emphasized school vouchers.)
Bevin's victory was something of a surprise to many outside observers, but at least part of that seems to be because the race was receiving very little national attention. One example can be seen in the fact that there had been so little polling of the race. The most recent poll listed at RealClearPolitics was taken in late June and showed Bevin with a small lead over Conway, while Pollster listed one other poll after that taken in October. While there wasn't any reliable polling released after that point, apparently, there seemed to be a growing consensus that Conway would continue what had become something of a Kentucky tradition that had Democrats winning statewide elections for state-level offices, and Republicans winning statewide at the Federal level, as evidenced by McConnell's solid victory a year ago. Indeed, at one point the Republican Governor's Race seemed to give up on the race. Much of the commentary last night was about how Bevin's massive win was a "surprise," but it strikes me that it's hard to characterize it that way considering the fact that most people didn't really seem to be paying attention to the race. Additionally, the fact that Bevin's win was so decisive, with preliminary final results showing him winning by nearly nine points, and the fact that he also helped Republican candidates for Auditor and Attorney General win their races and bring into office a Republican Lt. Governor who happens to be the first African-American to hold that position in Kentucky's history, is a strong indication that last night was a good night for the GOP in the Commonwealth.
The win in Kentucky has national implications in three respects.
In addition to being a good night for Matt Bevin and the Kentucky Republican Party, last night was also a very good night for Rand Paul, whose Senate seat is up next year. Prior to last night, it was widely expected that Adam Edelen, the state's Democratic Auditor, would be the party's choice to challenge Paul in November of next year assuming that Paul is not the Republican Presidential nominee. With Edelen's defeat last night, that possibility is essentially out the window and Kentucky Democrats are left struggling to find a candidate able to take on an incumbent Senator in a year where turnout will, if anything, be even better for Republicans in the state. Outgoing Governor Steve Behsear has made clear that he will not run for the seat, and Secretary of State Alison Lundergan Grimes is unlikely to try to make another bid for a Senate seat so soon after her loss to McConnell last year. All of this takes away much of the pressure on Paul to consider dropping out of the Presidential race to concentrate on re-election to the Senate, a face that is evidence in his reaction to last night's results in an interview with The Washington Post's David Weigel. Suffice it to say, that Paul's seat looks to be so secure now that he's likely to stay in the race for the time being, while Kentucky Democrats are left trying to figure out who to run against him.
Second, as Chris Cillizza points out Bevin likely has President Obama to thank for his win last night. While Democrats had been winning statewide races in Kentucky quite easily, it has been apparent virtually since the moment he took office in 2009 that Barack Obama was deeply unpopular in the state. This was a factor that helped Rand Paul win in 2010, and Mitch McConnell brush back Democratic efforts to unseat him last year. Something similar seems to have happened this year, although one Kentucky political observer noted that what we saw last night could also be an indication that Kentucky is finally on the road to becoming as deeply red as many of its fellow southern states after decades in which Democrats managed to keep winning while fellow party members elsewhere in the south fell to defeat in a sea of red.
Last night's results are also likely to set off the next round in the seemingly never-ending battle over the Affordable Care Act. Thanks to its Democratic Governor and legislature, Kentucky was one of those handful of states that set up their own health care insurance exchange, and it was one that at least on paper seemed to be so successful that it became a centerpiece of the Obama Administration's efforts to tout the success of the overall bill. Republicans in the state, though, had long maintained that the exchange had saddled the state with unfunded obligations in the future that would cause serious budget issues, and Bevin made it clear throughout the campaign his intention to dismantle the program and transition Kentuckians to the Federal Exchange. His victory last night seems to guarantee that we'll see a fight over the PPACA in the Bluegrass State next year, and the fact that the state legislature will remain divided with Republicans controlling the state Senate and Democrats holding the House means that its likely to be quite a fight indeed.