McConnell Wins Re-Election Easily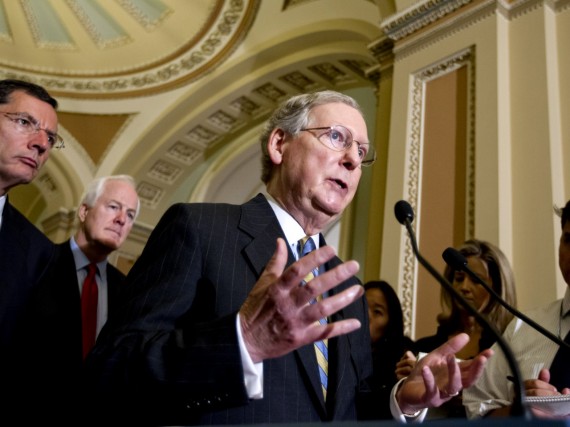 Senate Minority Leader has won election to a sixth term in a race that proved to be far easier for him than had been suspected, and he's on the verge of becoming the Senate Majority Leader:
U.S. Senate Minority Leader Mitch McConnell held off Democratic challenger Alison Lundergan Grimes in Tuesday's election to win a sixth term and quite possibly a promotion to majority leader of the United States Senate.

McConnell, 72, emerged victorious despite facing his first real primary challenge of his career and a well-financed and excited national Democratic base that was eager to knock off the man who once said, "The single most important thing we want to achieve is for President Obama to be a one-term president."
Simultaneously embracing his key roles both as the chief thorn in Obama's side and as the top Republican who negotiated ends to the last four stand-offs with the Democratic White House, McConnell surged to victory despite low personal approval ratings in Kentucky.

Democrats and Republicans alike viewed McConnell as extremely vulnerable heading into the race, and the senator's long list of enemies — born of 30 years of hard-nosed, sharp-elbowed political brawling — ran hard against him twice this year.

The first challenger, Republican Louisville businessman Matt Bevin, presented a serious threat, spending more than $5 million and uniting national Tea Party fundraising groups against him.

McConnell was forced to spend heavily to hold off Bevin and his outside backers, viewing the showdown as a way to potentially strike a fatal blow to Tea Party groups that McConnell and other establishment Republicans blamed for back-to-back election cycles in which incumbents were defeated by conservatives who turned out to be unpalatable to general electorates.

McConnell spent more than $10 million battling Bevin, leaving the former challenger so embittered that even in late October, he couldn't bring himself to say that he was endorsing the senator's re-election bid.

(…)

In mid-September, with polls showing McConnell having established a small but clear lead, Grimes ran an ad that featured her shooting skeet, in which she turned to the camera and said: "I'm not Barack Obama."

But the damage had been done. As Obama's popularity numbers continued sinking and the country watched nightly newscasts about Ebola, the Islamic State and other national nightmares, so did Grimes' chances for winning.

Less than a week before the election, the final Bluegrass Poll showed McConnell with a five-point lead over Grimes, 48 percent to 43 percent.

The poll also showed Obama with a 27 percent favorability rating in the state.

If Republicans pick up six Senate seats across the country Tuesday night, McConnell would be in line to become the first U.S. Senate majority leader from Kentucky since Alben Barkley led the upper chamber in 1947.
More from Politico:
Senate Minority Leader Mitch McConnell cruised to reelection on Tuesday, defeating Democrat Alison Lundergan Grimes with a wide enough margin for the race to be called the moment the polls closed statewide.

With 11 percent of precincts reporting, McConnell led Grimes 57 percent to 40 percent, according to The Associated Press.

It was almost anti-climactic when the race was called at McConnell's election night party at a Marriott hotel in Louisville. With country music blaring and many attendees still filing in, many were surprised at how quickly it was called.

Most were expecting a victory — in fact, the McConnell team believed the race would probably be called around 8pm.

But just after the polls closed at 7 p.m. Eastern, the race was called for McConnell, suggesting the GOP leader was on his way to a comfortable victory.

Grimes called McConnell to concede after the race was decided, according to a source.

The big question is whether McConnell's coattails are enough to flip the state House. This has major implications for Rand Paul, who needs a Republican state house to change the law that currently will prevent him from appearing on both the ballot for Senate and president in 2016.

The Kentucky Senate race has been one of the most closely watched contests of this year's midterm election cycle as McConnell and Grimes brought big-name endorsements and big money to their campaigns.

As of mid-October, McConnell had spent $22.5 million on his campaign, and Grimes' campaign reported just over $15.1 million in spending. The senator, who beat his primary challenger Matt Bevin in May, even cut himself a $1.8 million check from his own bank account.

That's on top of the outside groups — including the pro-Democratic Senate Majority PAC and the pro-McConnell Kentuckians for Strong Leadership super PACs, and the KY Opportunity Coalition, a conservative nonprofit, which has spent millions boosting McConnell.
The most surprising thing about this race is that it was called so early and that McConnell's victory here is so convincing,which is atypical form what we have seen from McConnell in the past. If nothing else, this is likely indicative of what's happening across the nation, where the GOP is on the verge of winning enough races to win control of the Senate without having to wait on runoff elections.