Democrat Andy Beshear Leads In Tight Kentucky Governor's Race
Republicans in general and Donald Trump in particular suffered a big loss in the Kentucky Governor's race.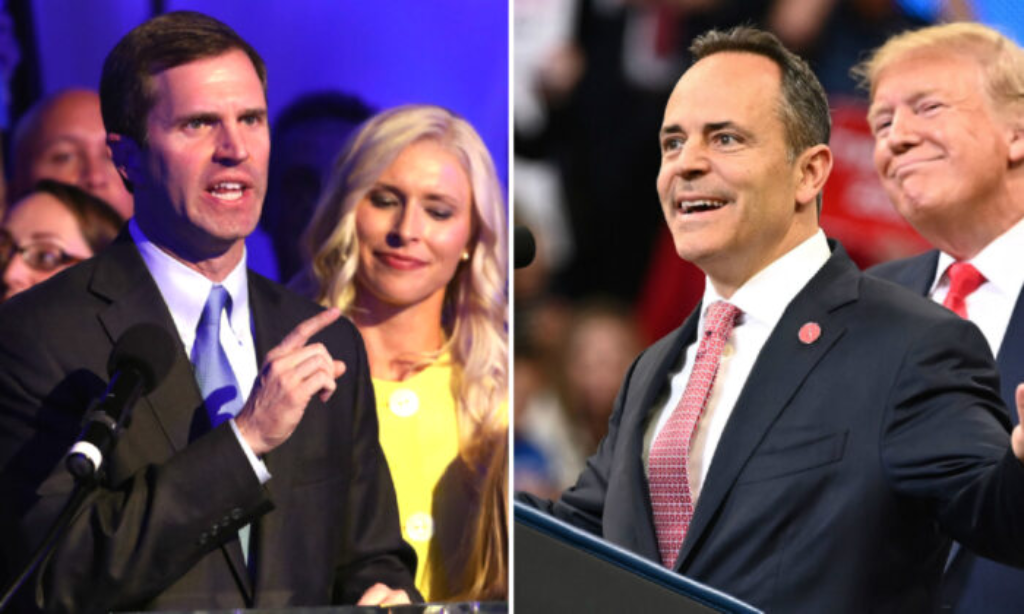 As of this morning, the Kentucky Governor's race remains uncalled by any media organization, and it could be several days before we get a final result, it appears that Democratic nominee Andy Beshear will defeat Republican incumbent Matt Bevin in a race that has been widely seen as a bellwether indicator of what we might see a year from now:
Kentucky voters appeared to reject Gov. Matt Bevin Tuesday, bucking a statewide Republican trend as they turned their backs on a politician known as much for his blustery personality as his conservative values.

Democrat Andy Beshear, who ran a campaign as the anti-Bevin and stuck to a script of "kitchen table issues" — education, pensions, health care and jobs — declared a narrow victory over the incumbent governor.

As of 10 p.m., unofficial results from the Associated Press showed Beshear leading Bevin by 4,658 votes with 100 percent of precincts reporting. More than 1.4 million votes were cast.

"Would it be a Bevin race if it wasn't a squeaker? I mean come on," Bevin asked the crowd at the Galt House in Louisville. "This is a close, close race. We are not conceding this race by any stretch."

Instead, he said he wanted every vote to be counted and for the "process to be followed" before the next governor takes office. The State Board of Elections typically approves the official election results within a few days of the election.

Bevin did not specify whether he would challenge the results of the race, but he has 30 days after the results are certified by the State Board of Elections to decide whether to formally contest the results, according to state law. Typically candidates request a recanvass of voting machines, and then a recount, before contesting an election.

A contested election in Kentucky is extremely rare. According to Senate President Robert Stivers, R-Manchester, the last contested election for governor involved the 1899 election of Democrat William Goebel.

"After tonight this election is over," Beshear told supporters as he declared victory. "After tonight, we move forward with every other Kentucky citizen as team Kentucky."

The campaign was never really about Beshear. In a state that has grown more conservative, Democrats had an opening against a governor who angered one of the largest constituent groups in the commonwealth — teachers — as he attempted to overhaul Kentucky's ailing pension systems.

Beshear's apparent victory comes even as Bevin clinged tightly to President Donald Trump, with several administration officials visiting throughout Bevin's campaign, including two visits from Trump himself. Trump's inability to lift an unpopular Bevin in a state the president won by almost 30 percentage points creates a perception the president is weak as he heads into the 2020 elections and as talk of impeachment swirls in D.C.

Bevin never backed down from comments he made during the pension debate — at one point he "guaranteed" a child was sexually assaulted because teachers were protesting in Frankfort — and only doubled down on the campaign trail, scolding teachers who came out to protest him.
Beshear focused most on education during a campaign that stretched 16 months. He made a former assistant principal, Jacqueline Coleman, his lieutenant governor running mate and pledged to end Bevin's "war on public education" by giving teachers pay raises, increasing funding for public schools and shrinking class sizes.

In his victory speech, Beshear profusely thanked teachers, saying they helped galvanize the entire state.

"To our educators, this is your victory," Beshear said. "From now on, the doors of your state Capitol will always be open, we will treat each other with dignity and respect."

Stephen Voss, a political science professor at the University of Kentucky, said Beshear's decision to focus on education, an issue that crosses party lines, proved crucial.

"The way a Democrat wins in a red state and the way a Republican wins in a blue state is by taking a moderate message to swing voters," Beshear said.
As of this morning, with 100% of precincts reporting, the results show Brashear, the son of Bevin's predecessor the popular Democratic former Governor Steve Beshear, who served two terms in the Governor's Mansion after winning the election in 2007, with a margin of more than 5,000 votes over the incumbent Bevin:

As noted, Bevin is refusing to concede, leading many to wonder if he is ultimately going to demand a recount or a recanvass of the election results. While there is no provision of Kentucky law allows for an automatic recount, the law does allow for either a recanvass or a recount under circumstances. Essentially, though, there are three ways Bevin could attempt to stretch this out if he wanted to, along with a fourth that would likely prove to be highly controversial.
The first step would be a recanvassing of the vote in the race. Under this process, the results in each county would be reviewed by the appropriate agency in each of the state's counties. The last time that happened was in the 2015 Republican Governor's primary, which Bevin won by 58 votes. In the end, the result of the recanvass did not change the outcome of the election and the process end there.
The second step would be a formal recount of the statewide vote, but the law does allow a candidate to request such a recount. To do so, Bevin would have to file a petition with the Circut Court in Frankfort, the state capital, by next Tuesday. The recount would be supervised by the Circuit Court Judge to whom it is assigned. In a recount, the Judge would make the final decision on who won the race and that result could be appealed to Kentucky Court of Appeals or the Kentucky Supreme Court. The results of the court proceedings would be final. Additionally, while Bevin would not have to pay for a recanvass, he would have to pay for the costs of a recount.
A third option would be to formally contest the election, a move that would require specific allegations of wrongdoing backed up by at least some form of evidence to back up those allegations. Such a contest would set in motion a procedure that would likely push the seating of the next Governor beyond the early December date on which he would ordinarily take office.
Finally, Section 90 of the Kentucky Constitution allows for an election review that could prove to be controversial if Bevin decided to pursue it:
Last but not least, there is Section 90 of the state constitution, which addresses a "contest of election for Governor or Lieutenant Governor."
Section 90 states: "Contested elections for Governor and Lieutenant Governor shall be determined by both Houses of the General Assembly, according to such regulations as may be established by law."

Sam Marcosson, a constitutional law professor at the University of Louisville Brandeis School of Law, told The Courier Journal that this language of the state Constitution suggests there must be procedure established by law for a review of a contested election to take place by the House and Senate.

"They can't just make them up," Marcosson said.

Further, he said, such a review would be extremely risky for lawmakers to undertake without clear reasons for a contested election.

"If the House and Senate were just to proceed on vague allegations without proof, that raises serious questions about disenfranchisement of the voters who voted for Attorney General Beshear," Marcosson said. "It's an extraordinary proposition to suggest that the General Assembly would take vague allegations of unspecified irregularities and call into question a gubernatorial election."

Douglas, noting that he had "no idea" what irregularities Bevin referred to in his speech to supporters Tuesday night, said in the case of a legislative election contest, Bevin would have to call a special session of the General Assembly. Douglas said his session would involve a committee of 11 members, eight from the House and three from the Senate, which "would hear evidence and make a final determination. And that determination would be final."

After that committee decision, no lawsuits could be filed over the decision, Douglas added.


With regard to this procedure, it should at least be noted that Republicans overwhelmingly control both houses of the state legislature.
What procedure, if any, Bevin might choose is unknown at this time. However, it is worth noting that historically speaking recounts and similar procedures rarely lead to a change in the outcome of the race on Election Night. This is especially true when the margin between the two candidates is as large as it is. In such circumstances, the margin may tighten somewhat but the odds that we'd see a net gain of more than 5,000 votes in favor of Bevin, which is what would be required for him to pull off a win, are very low.
On Twitter, President Trump chose to highlight the fact that five other Republicans running for statewide races managed to win but largely ignored Bevin's loss:
In reality, while some late polls did show that Bevin was losing badly to Beshear the polls were starting to lose well before Trump showed up on Monday night. While Trump's rally did no doubt help to get Republicans to the polls yesterday, the fact that the Republican candidates for other statewide offices managed to pull off wins at the same time that the Republican incumbent of the most important race on the ballot appears to have lost should cause concern for Republicans and for President Trump:
Democrats' claim of victory Tuesday in Kentucky's gubernatorial race, as well as the Democratic takeover of the Virginia state legislature, left Republicans stumbling and increasingly uncertain about their own political fates next year tied to an embattled and unpopular president.

Many allies of President Trump rushed to explain away the poor performance of incumbent Kentucky Gov. Matt Bevin (R) as an anomaly, while other GOP veterans expressed alarm about the party's failure in a state where Trump won by nearly 30 percentage points in 2016 — and where he just campaigned this week.

Although Bevin was controversial and widely disliked, he was also a devotee of the president, embracing Trump's agenda and his anti-establishment persona. And in the contest's final days, Bevin sought to cast his candidacy as a bulwark against House Democrats' impeachment inquiry of Trump.

But Bevin's attempt to nationalize his cause by stoking conservative grievances about the impeachment process was not enough to overcome his problems nor was Trump's raucous rally for the governor on Monday — raising questions about Trump's political strength as he faces a barrage of challenges and a difficult path to reelection.

The outcome — with Democrat Andy Beshear claiming victory with a lead of several thousand votes and Bevin refusing to concede — underscored how Republicans are struggling to navigate choppy political waters as the 2020 campaign now begins in earnest. Trump continues to dominate the party, but many lawmakers are uneasy about their ability to defend his conduct and hold on to suburban support.

Few Republicans, however, are willing to even lightly criticize Trump since they widely believe they will need his voters' backing and enthusiasm in order to survive next year.

Still, the Kentucky defeat has sparked concern among the party's donors and many longtime GOP leaders who are worried that the nonstop twists of the House impeachment inquiry and Trump's growing fury are making it increasingly difficult for Republicans to make a clear and compelling case to voters.

"It was a rough night," said Scott Reed, the chief political strategist for the U.S. Chamber of Commerce. "The Republican Party is lacking message discipline, and that needs to be addressed. There is a lot of positive news around President Trump's governing on the economy, on regulations and judges, and it seems to be overwhelmed by the drama."

"It's a definite shot across the bow, even though Republicans picked up the state attorney general position in Kentucky," said former Republican National Committee chairman Michael Steele, referring to Republican Daniel Cameron, who became the first African American to ever win that office. "But losing the governorship is a smack at both Mitch McConnell and the president, sending up a cautionary note."
The most significant thing about the race in Kentucky, and the one that should worry Republicans the most is the way in which Bevin chose to run his race. While Beshear ran a race that focused on substantive issues such as health care and education, Bevin tied himself closely to the President to the point that, by the end of the campaign, he seemed to be spending more time talking about impeachment and his loyalty to President Trump than he did defend his own record as Governor and talking about the issues that his opponent was focusing on. While that was a somewhat understandable strategy given the fact that polling was showing Bevin trailing his Democratic opponent and that the President won the state by roughly 600,000 votes in 2016, it obviously wasn't enough to pull off a win. Additionally, Beshear himself had won election statewide previously as Attorney General and was the son of a popular former Governor who was probably best suited to win a race against a Republican incumbent.
The fact that Bevin was unable to close a win with his strong pro-Trump push in the final weeks of the race is significant, then, because it appears to show the President's coattails in even an ostensibly red state were not enough to put him over the top should be setting off alarm bells for Republicans this morning. Much like we've seen in other states such as Virginia, Democrats did very well among suburban voters in areas such as the Kentucky suburbs of Cincinnati, Ohio in the northern part of the state and in the areas around Louisville, Kentucky. This continues a trend we saw throughout the country in 2018 in which suburban voters, especially suburban women, were responsible for putting Democrats over the top. This is a demographic that Republicans had previously been able to win, but which is slipping out of their fingers now that they have become the party of Trump.
As much as Trump and his supporters might try to spin this otherwise, Bevin's loss here was a clear rebuke of the President, especially given the fact that he had appeared in the state the night before the election and essentially admitted that a loss in the state would reflect badly on him:
LEXINGTON, Ky. — President Donald Trump made a last-minute push on Monday night for Kentucky Gov. Matt Bevin, a strong ally who is facing a tough re-election bid in a deep-red state that should be a shoo-in for Republicans.

"Here's the story," Trump told thousand of supporters ahead of Tuesday's election. "If you win, they are going to make it like, ho hum. And if you lose, they are going to say Trump suffered the greatest defeat in the history of the world. You can't let that happen to me!"
Well, it did Donald, and it should make you very nervous.