It May Be Time For Rand Paul To Start Concentrating On His Senate Seat
Rand Paul's flailing Presidential campaign seems to be raising concerns about his Senate seat among some Republicans.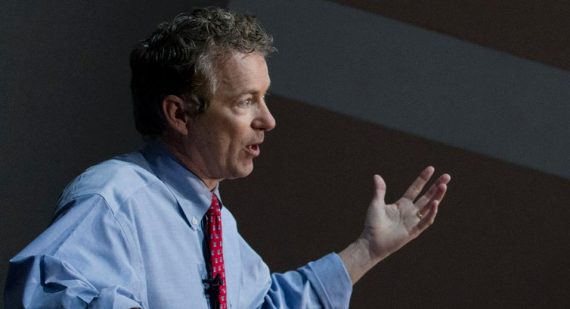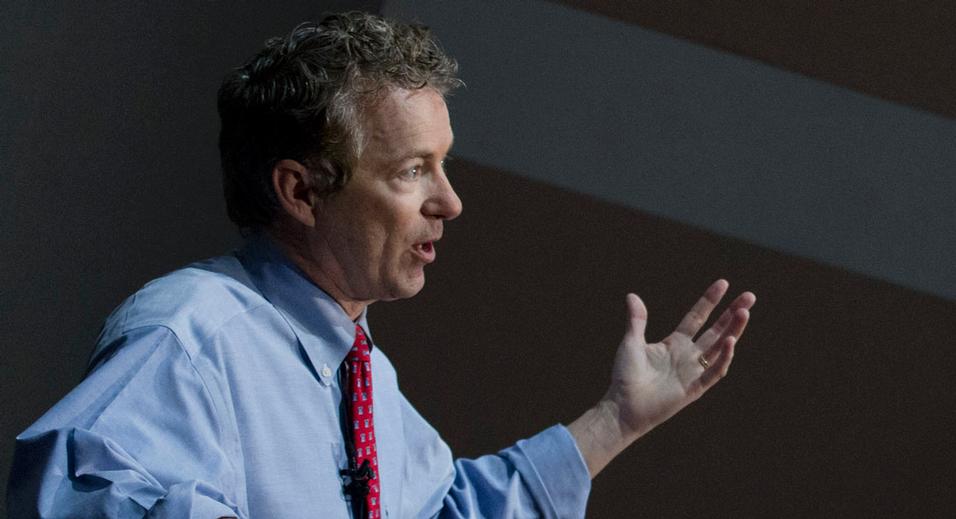 Republican insiders in Washington and Kentucky are reportedly getting concerned that Rand Paul's seemingly dying Presidential campaign could endanger their chances of holding on to his Senate seat:
FRANKFORT, Ky. — Rand Paul is under increasing pressure from Republicans here and in Washington to pull the plug on his stagnant presidential campaign and instead recommit his resources to keeping his Senate seat in GOP hands.

D.C. Republicans think Paul's poll numbers have flat-lined — and operatives worried about retaining control of the Senate are ready for him to start spending a lot more time in Kentucky and a lot less time in Iowa and New Hampshire.

"This presidential dream needs to come to an end," said a national Republican strategist, granted anonymity to discuss Paul's situation candidly. "Senate Republicans can't afford to have a competitive race in Kentucky."

Paul, however, is showing little sign of giving up. Even with poll numbers so low that he might not appear on the main stage for the third GOP debate and his fundraising slowing to a crawl, Paul has a message for those who say it's time to suspend his run for the White House and focus on his Senate reelection: I can handle both.

Paul arrived at a recent campaign event here for GOP gubernatorial nominee to a uniformly positive and presidential-focused reception. The approximately 60 people who trudged to the basement of a Baptist ministry across the street from Kentucky State University welcomed Paul with chants of "President Paul! President Paul!" Many attendees wore T-shirts and signs emblazoned with Paul's torch-like presidential campaign logo.

Rep. Andy Barr (R-Ky.) introduced Paul as "our candidate for president of the United States." GOP gubernatorial nominee Matt Bevin said the first-term senator "would be an extraordinary president of the United States."

"Who would say such a thing? Rebuke them!" Paul sarcastically told reporters after the event who asked about suggestions that he drop out and focus on his Senate reelection. "They don't know anything about politics. They all write for a living."

Asked directly if he was worried about his Senate seat, Paul was blunt: "No."

The Republican's confidence isn't completely misplaced. With statewide elections set for November, Democrats have yet to secure a challenger — although most expect state Auditor Adam Edelen to jump into the contest if he can win reelection to his post next month.

Still, Paul's presence in the state has been far from constant. He skipped the annual Fancy Farm gathering in early August, traditionally a must-attend for Kentucky politicians. And local Republicans have noticed.

"He needs to pay attention to the Senate race, or we could lose the seat," said one member of the Kentucky GOP's executive council. "Why don't you ask around the state to see how many Lincoln Day dinners or parades he's been too? It's not many."

Republicans in D.C. aren't yet panicking about losing Paul's Senate seat — only about having to spend money to retain it in a year when they need that cash in at least a half-dozen other competitive states.

Paul's team insists the candidate can run successfully for both offices at the same time. Just last month, Paul demonstrated his commitment to running simultaneously for both by ponying up $250,000 to pay for the Kentucky GOP to hold a presidential caucus instead of a primary — circumventing a Kentucky law that prevents a candidate from being on the ballot for two offices. About three-quarters of executive committee members signed on to Paul's plan.

Meanwhile, his Senate campaign is staffing up, bringing on Chris LaCivita, the strategist who helped turn around Kansas Sen. Pat Roberts' faltering reelection bid last year, as a senior adviser. Longtime Paul hand Doug Stafford is also advising the Senate bid. Kelsey Cooper, who worked as the Kentucky GOP's spokeswoman during McConnell's reelection, is running the communications operation. Laura Haney is running the campaign's finance team. The campaign has also started hiring field workers and is on the verge of opening offices in both Louisville and Lexington.

(…)

Despite the behind-the-scenes grumblings, Republican officials in D.C. and in Kentucky aren't ready to push Paul out of the race publicly just yet. Barr, interviewed after the rally, said Paul would know what was best.

"I'm not going to give Sen. Paul advice," he said. "I trust him to make the right judgment. Obviously, we're proud of Sen. Paul for representing Kentucky in the presidential race. And if [it] doesn't work out in the presidential race for Sen. Paul, the Republican Party in Kentucky will rally around him and get him reelected."

Jim Skaggs, a party veteran who represents Paul's hometown of Bowling Green on the executive council, has donated to Paul in the past. He sold Paul the plot of land on which the freshman senator's house now stands. But he said he still worries about Paul's ability to raise money for a Senate bid after likely losing a run for the presidency.

"Wouldn't it be easier to just run for a safe Senate seat than make a long-shot bid for the presidency?" he said, emphasizing the choice was ultimately Paul's to make: "Certainly, he has a right to run."
Based on the objective numbers available to us, the state of Paul's campaign hasn't improved much from where it was the last time I wrote about it, and in some sense may have gotten worse. Most recently, we learned that his campaign had raised a rather disappointing $2.5 million in the fundraising quarter that ended September 30th. This is well below the $6 million he raised in the first quarter of his campaign, and well below the $6 million raised by Marco Rubio, the $12 million raised by the Ted Cruz and the somewhat surprising $20 million raised by Ben Carson. Additionally, the campaign reported that it had $2 million cash on hand, which is both well below the $4.1 million it reported in the previous quarter (which suggests that it spend a lot more than it took in) and certainly not enough to finance a campaign heading into the final months before the Iowa Caucuses. In the polls, Paul's position has either held steady or deteriorated. He's at 2.3% in the RealClearPolitics National Poll average, at 3.3% in Iowa, and 4.0% in New Hampshire. At least in the immediate future, the national polls are the most important because they will determine eligibility for the main stage debate on October 28th, and Paul must average at least 2.5% to get that invitation. The RCP poll is slightly deceiving because it includes polls that will not be considered in making the selection, but according to Pollster, Paul is averaging 2.5% in the polls that will be considered after the October 17th cutoff date, putting him right on the bubble. If Senator Paul fails to make the main stage debate later this month, it will likely be yet another nail in the coffin for his campaign.
In reality, the concerns that Republican insiders seem to be having about Paul's Senate seat are probably overblown, at least for now. While Kentucky voters have had a long habit of elected Democrats to statewide offices, when it comes to the Presidency and the Senate, the state has been solidly Republican for some time now and seems likely to stay that way in 2016. Additionally, it doesn't appear that Kentucky Democrats have a strong candidate capable of taking on an incumbent right now. Their most promising candidate probably would have been outgoing Governor Steve Beshear but he announced some time ago that his final term as Governor would be his last flirtation with elected office and is now working on helping his son in his bid to succeed Jack Conway as Attorney General. Another possible candidate that's been mentioned has been Alison Lundergan Grimes, but her rather disappointing showing against Mitch McConnell just last year seems to have soured Kentucky Democrats on putting her up again. The candidate being mentioned now, State Auditor Adam Edelen, seems like an odd choice to take on a sitting Senator in a year when Republicans will be heavily favored in Kentucky. Given all that, Paul is probably right to dismiss these questions now, but there's not much time left. If his campaign for President doesn't start taking off soon, then many Republicans are going to wonder when he's going to start paying attention to a Senate seat that should be easy to win next year, and the pressure on him to drop out will likely increase.