Kentucky's Defense Of Its Ban On Same-Sex Marriage Is Absurd
Kentucky has offered the Supreme Court a defense of its ban on same-sex marriage that seems laughable.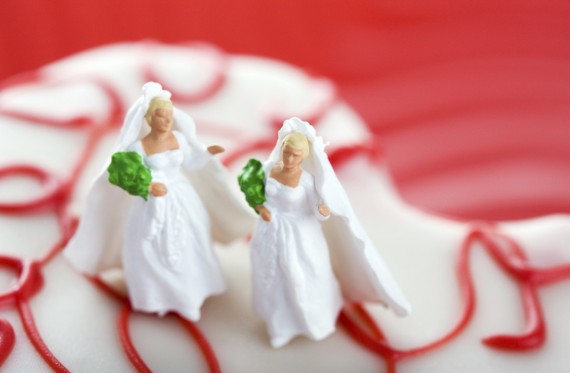 With the arguments in the same-sex marriage cases before the Supreme Court set for less than a month from now, the briefs on behalf of the four states defending the law as well as outside parties filing amicus briefs in support of the state's position have started to make their way into the Court. Each of these briefs make essentially the same arguments in defense of their laws that we've seen before, arguments that have only been accepted by one Federal Circuit Court of Appeals and two Federal Judges in Louisiana and Puetro Rico. The Louisville Courier-Journal, though, found one portion of the brief filed on behalf of the Commonwealth of Kentucky that makes perhaps the silliest argument in defense of those laws that has been advanced to date:
Kentucky Gov. Steve Beshear says the state's ban on gay marriage should be upheld in part because it is not discriminatory in that both gay and straight people are barred from marrying people of the same gender.

In an argument labeled absurd by gay marriage advocates, Beshear's lawyer says in a brief filed last week at the U.S. Supreme Court that "men and women, whether heterosexual or homosexual, cannot marry persons of the same sex" under Kentucky law, making the law non-discriminatory.

The argument mirrors that offered by the state of Virginia nearly 50 years ago when it defended laws barring interracial marriage there and in 15 other states, including Kentucky, by saying they weren't discriminatory because whites were barred from marrying blacks just as blacks were barred from marrying whites.

The Supreme Court in 1967 rejected that argument in the historic case of Loving v. Virginia, in which Richard Loving, a white man, and Mildred Jeter, a black woman, were charged with a crime for marrying.

Dan Canon, a lawyer for the six gay couples challenging Kentucky's gay marriage ban in a case to be argued at the Supreme Court on April 28, said Beshear's argument is "especially absurd" as applied to same-sex marriage.

"Kentucky is in essence saying that our clients are precluded from marriage entirely, unless they change their sexual orientation (or simply marry someone to whom they are not attracted)," he said in an email.

"It's akin to passing a law banning all Catholic churches within city limits, and then saying it's not discriminatory because you can still go to a Baptist church," he said.

Sam Marcosson, a professor of constitutional law at the University of Louisville's Brandeis School of Law, said Beshear's defense of "marriage inequality has really hit a new low."

"I wonder what Governor Beshear and his lawyers would say if the shoe was on the other foot, and if the only option for marriage was of the same-sex variety," said Marcosson, who is gay.

"Whatever his reasons, the governor has set Kentucky on a course of fighting to preserve invidious discrimination, and he has waged that fight in a deeply embarrassing way," Marcosson said. "The taint to his legacy will be difficult for history to ignore."

(…)

Defending their argument, Mathew Staver, founder of Liberty Counsel and dean of Liberty University School of Law, said that same-sex couples are not "similarly situated" by biology or history to opposite-sex couples and thus aren't entitled to equal protection under the law as it has been defined in Supreme Court decisions.

Beshear has declined to discuss his personal view of gay marriage and said he is defending the state's ban because he thinks the issue should be decided by the nation's highest court.

Fifty-seven percent of registered voters in Kentucky oppose gay marriage, according to a Bluegrass Poll conducted March 3-8. Beshear is barred from seeking another term as governor, although his son, Andrew Beshear, is running for attorney general.

Gov. Beshear hired Latherow's firm after Attorney General Jack Conway refused to defend what he said were discriminatory laws.

In a 42-page brief filed Friday, Latherow argues that Kentucky's same-sex marriage ban does not violate the Constitution's equal protection clause because it applies equally to men and women and gays and heterosexuals.

She also reiterates the argument she made in lower courts — that allowing only opposite-sex marriages promotes birth rates and supports "the formation of relationships that further the commonwealth's fundamental interest in ensuring humanity's continued existence."
Here's how Kentucky's brief, which I've embedded below, puts the argument:
The Petitioners argue that the marriage laws of Kentucky discriminate facially on the basis of sex. Pet. Br. 38. This argument ignores the reality that Kentucky's marriage laws apply equally to members of both genders and do not discriminate on that basis. The fact that, under Kentucky law, only men can marry women and vice versa demonstrates that the Commonwealth's marriage laws are sex neutral and not discriminatory. See Baker v. State, 744 A.2d 864, 880 n. 13 (Vt. 1999)("[T]here is no discrete class subject to differential treatment solely on the basis of sex; each sex is equally prohibited from precisely the same conduct."); Conaway v. Deane, 932 A.2d 571 (2007) (deciding that a Maryland statute prohibiting same sex marriages did not draw an impermissible sex-based distinction because the statute did not separate men and women into discrete classes for the purpose of granting to one class benefits at the expense of the other); Wolf v. Walker, 986 F. Supp. 2d 982, 1008 (W.D. Wis. 2014), aff'd sub nom. Baskin v. Bogan, 766 F.3d 648 (7th Cir. 2014), cert. denied, 135 S. Ct. 316 (2014)("[A] sex discrimination theory is not viable, even if the government is making a sex-based classifi cation with respect to an individual, because the intent of the laws banning same-sex marriage is not to suppress females or males as a class.").

Most courts to have considered this issue have rejected the Petitioners' sex discrimination theory. Wolf, 986 F. Supp.2d at 1008 (citing Geiger v. Kitzhaber, 994 F.Supp. 2d 1128, 1140 (D. Or. 2014); Latta v. Otter, 19 F.Supp.3d 1054, 1074 (D. Idaho 2014); Bishop v. U.S. ex rel. Holder, 962 F.Supp. 2d 1252, 1286 (N.D. Okla. 2014); Sevcik v. Sandoval, 911 F.Supp.2d 996, 1005 (D. Nev. 2012), rev'd on other grounds, 771 F.3d 456 (9th Cir. 2014); Jackson v. Abercrombie, 884 F. Supp. 2d 1065, 1098 (D. Haw. 2012), vacated and remanded as moot, 585 F. Appx. 413 (9th Cir. 2014); Griego v. Oliver, 316 P.3d 865, 880 (N.M. 2013); In re Marriage Cases, 183 P.3d 384, 438 (Cal. 2008), superseded by constitutional amendment as stated by Hollingsworth v. Perry, 133 S. Ct. 2652, 2656, 768 (2013); Hernandez v. Robles, 855 N.E.2d 1, 10 (N.Y. 2006); Kerrigan v. Comm'r of Pub. Health, 957 A.2d 407, 509 (Conn. 2008)(Borden, J., dissenting); and Conaway v. Deane, 932 A.2d 571, 601-602 (Md. 2007)), cf. Baehr v. Lewin, 852 P.2d 44, 59-63 (Haw. 1993)(plurality); Latta v. Otter, 771 F.3d 456, 482 (9th Cir. 2014)(Berzon, J., concurring). Kentucky's marriage laws simply do not discriminate based upon sex.
This, obviously a fundamentally absurd argument and while Kentucky was obligated to respond to the Petitioners argument one would have thought they could have come up with something more coherent than this. Arguing that the ban on same-sex marriage isn't discriminatory because it discriminates against everyone completely misses the point of the argument against same-sex marriage, which is that the law is discriminatory because it bars a certain class of people from getting married without any real justification for that discrimination. While raising the specter of the Loving case can certainly be inflammatory given the racial memories that it hearkens back to, it's entirely fair to say that Kentucky's argument here isn't all that dissimilar from the argument that the laws against interracial marriage weren't discriminatory because they didn't prevent African-Americans from marrying each other. Perhaps it is true to say that the law isn't a per se case of discrimination based on gender since it applies to both genders equally, that response completely ignores the point that it arbitrarily discriminates on the basis of sexual orientation, which is really the most important part of the argument.
There is much more to the arguments that Kentucky and the other states are making here, of course. In addition to this point, the brief also spends a considerable amount of time arguing that the state has an interest in only allowing opposite sex couples to gain the legal benefits of marriage. For example, as previous states have argued Kentucky argues that promoting birth rates is a rational basis upon which it can justify the decision to only sanction opposite sex marriage. As several Federal Judges have noted when this argument has been raised in previous cases, though, this argument ignores both the fact that state marriage laws do not bar people who are obviously too old to have children and that these laws don't bar marriage by people who either cannot physically have children or make the conscious choice never to have children. The argument also ignores the existence of adoption and in vitro fertilization, both of which make it possible for childless couples to have and raise children. Even under the relatively lax standards of the rational basis test, which essentially says that unequal treatment by the state can be justified if the state can show that there is a rational justification for it, the "encouraging higher birth rates" simply does not seem sufficient and it seems unlikely that the same Justices who struck down the Defense of Marriage Act will be convinced by it.
Here's the whole brief, if you're interested