Carly Fiorina To Enter Race For President On May 4th
Former Hewlett Packard CEO, and failed Senate candidate, Carly Fiorina will be running for President for some reason.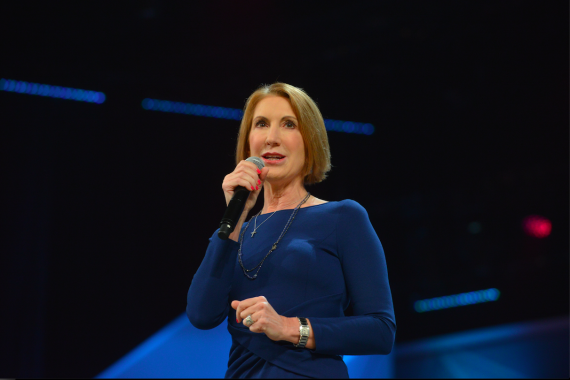 Carly Fiorina, the former AT&T and Hewlett Packard executive who ran an unsuccessful Senate race against Barbara Boxer in 2010, will enter the race for the Republican nomination for President in early May:
Carly Fiorina plans to launch her presidential campaign on May 4, in an online announcement that dispenses with the pageantry that has become de rigueur in 2016 White House runs.

Instead, Mrs. Fiorina, the former chief executive of Hewlett-Packard Co., will formally declare her Republican campaign online and hold a conference call for the national press, according to a person with knowledge of the campaign's plans.

The lack of fanfare stands in contrast to GOP candidates who already have declared. Sens. Ted Cruz of Texas, Rand Paul of Kentucky and Marco Rubio of Florida held choreographed events to officially launch their 2016 efforts. Mrs. Fiorina won't hold a public event the day she begins her campaign.

(…)

Instead of immediately heading to states with early nominating contests, Mrs. Fiorina will be in New York when her campaign formally launches. The former tech CEO is scheduled to speak at Techcrunch's Disrupt NY 2015 conference on May 5. She has a new book due out that day and is expected to sit for cable TV interviews as well.

Of course, the lone declared Democrat in the race, former Secretary of State Hillary Clinton, announced her candidacy in an email to donors and an online video. But with six years of anticipation for Mrs. Clinton's 2016 campaign, she hardly needed the publicity boost that comes with a bells-and-whistles campaign launch. But Mrs. Clinton did make her first public appearances as a candidate in Iowa and New Hampshire.

Mrs. Fiorina, who was the Republican nominee for Senate from California in 2010, has never held elected office. She faces a long road to contention—a national CNN poll released Monday found just 2% of Republicans named her as their first choice in the presidential election, less than 12 other candidates and likely candidates. A survey for New Hampshirecable network NH1 showed she has 2% of support there.

But Mrs. Fiorina, likely the lone woman in the 2016 Republican field, has a unique ability to attack Mrs. Clinton. Mrs. Fiorina has impressed activists at early-state candidate events by making the argument that by nominating a woman—namely her—the party would undercut the historic nature of Mrs. Clinton's campaign.

Mrs. Fiorina's first early-state stop as an official candidate will be May 7, when she is expected to speak in West Des Moines, Iowa, at an event for the Dallas County GOP. She is scheduled to appear at a dinner hosted by the New Hampshire High Tech Summit in Manchester. Mrs. Fiorina is also the commencement speaker at Southern New Hampshire University's undergraduate commencement on May 9 in Manchester.
Fiorina's entry into the race isn't entirely surprising, of course. At least since the Conservative Political Action Conference in February, she has been cris-crossing the country and speaking at a variety of conservative and Republican events, especially in early primary states like Iowa and New Hampshire. She has also made a number of media appearances on cable news and the Sunday morning news shows. On the right, the former CEO has made a name for herself on the right as perhaps one of the harshest critics of Hillary Clinton, which is saying quite a lot when you're talking about Republicans. Finally, as recently as last month Fiorina said that she was "90% percent" certain that she was running for President, a statement that most observers took to mean that she would be announcing at some point in the near future.
Fiorina's May 4th announcement may not get as much press coverage as her advisers hope for, though, because it will come amid what is turning into a crowded field of announcements. Retired John Hopkins neurosurgeon Ben Carson has an event scheduled that very same day in Detroit which seems to pretty clear by intended to be the kickoff to a national Presidential campaign, for example. The next day, former Arkansas Governor Mike Huckabee has an event scheduled in Hope, Arkansas that appears to all the world to be a kickoff event as well. The fact that these candidates are waiting until May to announce, rather than announcing next week for example, is no surprise since it means that there campaigns will not have to file Federal Election Commission reports for the first reporting period that ends on April 30th. Given that those campaigns would only be a few days old if they announced at this point, it's arguably smarter to announce after May 1st and have an entire reporting period in which to do the early As . In any case, what's seemingly inexplicable is all of these candidates announcing within a day of each other, and especially two candidates announcing on the same day. Fiorina, for example, could have scheduled her announcement for May 6th and then gotten whatever benefit their might be from being the last of the three to announce. As it is, her announcement is likely to be drowned out by coverage of the Carson and, especially, Huckabee announcements. s
As the linked article notes, Fiorina is pretty much a non-entity in the Republican race at this point. With the exception of the two polls mentioned there, she has not been included in many polls either nationally or in the early primary states. In fact, Fiorina does not have show up in the RealClearPolitics average of the national race at this point, although one assumes that if she did it would be somewhere near the bottom. The only state averages that she shows up in are for Iowa, where she is at the bottom of the pack with a 2.0% average along with Louisiana Governor Bobby Jindal, and New Hampshire where she averages a 2.0% showing in the polls and leads only former Pennsylvania Senator Rick Santorum. Fiorina does not even show up in the polls for South Carolina and Florida, but one suspects her performance in those states would be similar. Given these numbers, she obviously isn't going to be among the top tier of candidates for the nomination for the nomination, and most likely never will be. As I stated when I wrote about her last month, though, it's hard to see exactly what Fiorina brings to the race other than the fact that she's a woman. No doubt that fact, along with her experience in the business world, will result in her getting more media attention than a fourth tier candidate for President would otherwise get. At the end of the day, though, it's unlikely she is going to be a major factor in the race and she belongs on the list of those candidates who are likely to drop out of the race before the first votes are cast in Iowa in February 2016.
In any case, Jazz Shaw and I interviewed Fiorina for Politinerds earlier this year, and here's the interview: