Carly Fiorina "90% Certain" She Will Run For President
Carly Fiorina seems to be inching close to a Presidential run for some reason.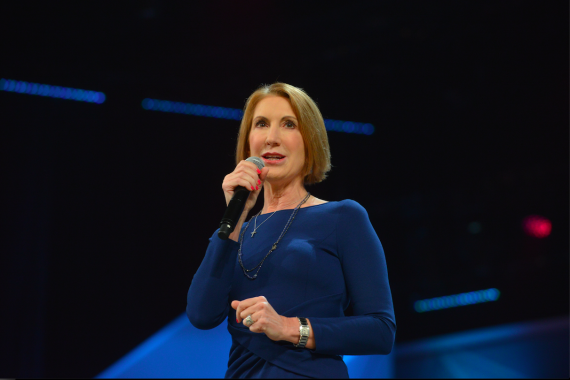 Former Hewlett-Packard CEO Carly Fiorina seems to be inching closer to a Presidential run:
Carly Fiorina, a former Hewlett-Packard chief executive, said her chances of running for the Republican presidential nomination in 2016 are "very high."

Speaking on "Fox News Sunday," the 2010 California gubernatorial candidate said she is "higher than 90 percent" likely to enter the race, with an announcement coming in late April or early May.

Fiorina said she could appeal to voters with a "deep understanding of how the economy actually works, having started as a secretary and become the chief executive of the largest technology company in the world."

She added that she has relationships with "many of the world leaders on the stage today" and that she understands executive decision-making, as well as how to change large bureaucracies for the better.

Discussing the economy, Fiorina said the government has "tangled people up from a web of dependence from which they can't escape." She also said the government is "crushing small businesses now."
Fiorina, of course, previously ran for office in 2010 when she challenged Senator Barbara Boxer in a race that was, in no small part, funded by Fiorina's own personal fortune. While it seemed for a time that she might had a chance of unseating Boxer, she ended up losing by some 1,000,000 votes in a year where Republicans won nationwide, including in states such as Illinois and Pennsylvania that have been traditional Democratic strongholds. If she does enter the 2016 race,  Fiorina would have the advantage of being the only woman in the Republican field since it seems unlikely at this point that prominent female Republicans like Nikki Haley or Susana Martinez will be entering the race. For that reason alone, she'd likely get more media attention than a candidate in her position would otherwise, but it's unclear whether that's going to be of much held to her in a year when there are going to be several far more more prominent Republican officeholders and former officeholders in the race ranging from Jeb Bush and Scott Walker to Ted Cruz and Rand Paul. Fiorina would probably be able to easily differentiate herself from these candidates, but it seems unlikely that would translate into votes, volunteers, and campaign donations.
At this point it's hard to judge Fiorina's level of support since she has not been included in nearly any of the polls of the Republican race, however it's likely that if she were included she would be polling at the bottom of the pack along with potential candidates such as Bobby Jindal and John Kaisch. Trying to break out from that position is likely going to be next to impossible. In addition to lack of name recognition and her low position in the polls, Fiorina's candidacy would also likely have to deal with questions arising out of her time as Hewlett-Packard's CEO, which many observers at the time considered to be largely unsuccessful. Since she has no political experience beyond running for office six years ago, her business record would be the sole basis that voters have to judge her on, and there seems to be plenty to question there.  Potentially, Fiorina could be seen as a Cabinet Secretary in a Republican Administration or perhaps, as a long shot, as a Vice-Presidential running mate, but I think you can put her chances at actually winning the nomination as being somewhere between slim and none.
In any case, Jazz Shaw and I interviewed Fiorina for Politinerds earlier this year, and here's the interview: