Ted Cruz To Name Carly Fiorina As "Running Mate"
In an unprecedented move that reeks of desperation, Ted Cruz is naming Carly Fiorina as his running mate before the primary process has even ended.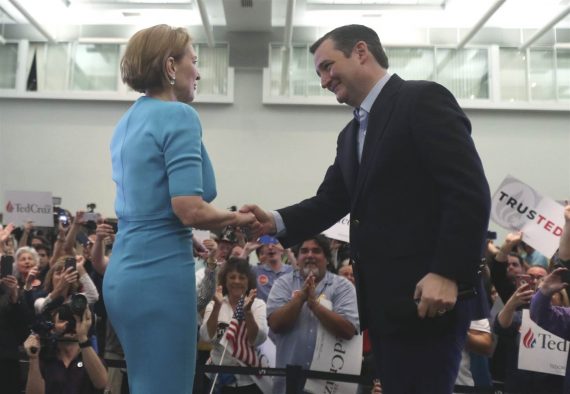 In what can only be described as a highly unusual desperation move, Ted Cruz will name former Hewlett-Packard CEO Carly Fiorina as his Vice-Presidential "running mate" at an event later today in Indiana:
INDIANAPOLIS — Senator Ted Cruz of Texas, desperate to alter the course of a presidential primary fight in which Donald J. Trump is closing in on victory, will announce Wednesday afternoon that Carly Fiorina will be his running mate if he wins the Republican nomination, two campaign advisers confirmed.

The move, a day after Mr. Trump scored unexpectedly wide victory margins in sweeping five East Coast states, amounts to the grandest diversionary tactic a presidential candidate can stage — or at least the grandest one available to a candidate trailing by more than 400 delegates who failed to win more than 25 percent of the vote in any state on Tuesday.

Mr. Cruz's decision to rush out a vice-presidential pick before next week's primary in Indiana, which is becoming make-or-break for his candidacy, could serve to direct attention away from unflattering headlines about both Mr. Trump's success and the wheezing alliance between Mr. Cruz and Gov. John Kasich of Ohio, who agreed to clear out of Indiana if Mr. Cruz withdrew from competition in Oregon and New Mexico.

And since endorsing Mr. Cruz last month, Mrs. Fiorina, the former presidential candidate and Hewlett-Packard chief executive, has proved to be an eager surrogate, attacking both Mr. Trump and Hillary Clinton with zeal.

Indeed, Mr. Cruz's gambit may present a perilous challenge for Mr. Trump, who faces mounting criticism for his derisive remarks about women, including his repeated claims that Mrs. Clinton's sole political asset is "the woman card."

Ted Cruz will announce Wednesday that Carly Fiorina will be his vice presidential nominee if he's the Republican Party's pick for president, according to three sources with knowledge of the announcement.

Fiorina, a former Hewlett-Packard CEO, has been among Cruz's most loyal and active surrogates since she ended her own 2016 GOP presidential bid after a poor finish in New Hampshire in February.

The announcement, which was teased early Wednesday morning and will be made official Wednesday afternoon in Indianapolis, comes the day after Cruz suffered a drubbing at the hands of Donald Trump in five northeastern primaries — losses that mathematically eliminated Cruz from getting the 1,237 delegates he'd need to clinch the GOP nomination.

Cruz's hopes now rest in a contested convention this summer in Cleveland, where the Texas senator would hope to stop Trump on the first ballot and then win in subsequent rounds of voting thanks to support from the loyal delegates his campaign has assiduously courted.

The Cruz campaign deliberated over whether to pick Fiorina for the last two weeks, according to one person familiar with the move. It has polled the potential ticket, examining it for its prospective strengths and weaknesses.

The hope within the campaign is that Fiorina will help Cruz in California, which will award 172 delegates on June 7. Fiorina is scheduled to give the keynote address at this weekend's California Republican Party convention, speaking hours after Cruz takes the stage.

The move comes at a time of growing desperation within Cruz circles. Some in the campaign worry that the Texas senator will lose Indiana on Tuesday and lose other key states in May, paving the way for a Trump nomination.
At first glance, this largely unprecedented move reeks of desperation on the part of a candidate who has been mathmatically eliminated from winning the nomination on a first ballot vote and whose path to victory now involves attempting to force a second ballot in the belief that delegates and party insiders will turn to him even though he came in second place in the primary race, lost most of the races he contested, and seemed to do worse as time went on. Historically speaking, the closest analogy one can find to this comes from 1976 when Ronald Reagan and Gerald Ford were locked in a fight for the nomination that resulted in neither candidate having a sufficient number of delegates to win the nomination outright. In an effort to appeal to unbound delegates from the Northeast and elsewhere, Reagan named Pennsylvania Senator Richard Schweiker as his running mate shortly before the convention opened in Kansas City in August of that year. Rather than helping him gain support, though, Reagan's move backfired because it ended up annoying conservatives such as North Carolina's Jesse Helms and the head of the Mississippi Republican Party to such an extent that they switched their support to Ford, guaranteeing him the remaining delegates he needed to win the nomination. In Reagan's case, though, the selection of Schweiker was something that was announced shortly before the beginning of the convention, not nearly two months beforehand when there are still primaries to be contested as Cruz is doing here.
Rather than trying to sew up a nomination fight, what Cruz is doing here can't help but come across as a desperate move to grab the media spotlight from Donald Trump, who has spent the day basking in the glow of his five state victory. Playing the media game against Donald Trump, though, is always a dangerous game and past history suggests that it's one Cruz will lose. As it stands, Trump is already set to make headlines of his own in the Hoosier State tonight when he appears at an event with former University of Indiana basketball coach Bobby Knight, who will endorse Trump for President and apparently campaign for him across the state in the coming week. In the grand scheme of things, it seems rather clear that Bobby Knight will likely have a bigger impact with Indiana voters than Carly Fiorina, and Trump will no doubt have something to say about Cruz bringing Fiorina on board in such an unusual manner.
More broadly, it's hard to see exactly what it is that Fiorina brings to the table that makes her a smart choice for Cruz at this point in the race. While there was a brief time at the beginning of the race when we saw her poll numbers increase sufficiently to get into several of the main stage, prime time, debates, that up tick in popularity did not last long and her star quickly seemed to fade as she was subjected to the increased scrutiny that comes with higher poll numbers. She didn't particularly attract female voters, for example, nor did she seem to draw much support from Silicon Valley, where she had made her fortune at Lucent Technologies and Hewlett-Packard. Some analysts are suggesting that Cruz hopes to use her to win support in some parts of California, but the fact that she lost her 2010 Senate race against Barbara Boxer so badly suggests that she likely doesn't have nearly that much influence in the Golden State as the idea might suggest. Finally, the fact that Republicans nationwide widely rejected Fiorina as they got to know more about her make the idea that she is going to help Cruz do anything other than perhaps draw some attention away from his devastating losses over the past two weeks fairly unlikely.
Daniel Larison comments:
As a matter of politics, it is difficult to see what Fiorina adds except for her being from California. Cruz reportedly sees her as a talented "attack dog," and I suppose she can do that well enough, but she also brings with her the baggage of her business record. Selecting a former CEO who was known for the large number of employees she fired is an odd choice under any circumstances, and it is likely going to create more headaches for Cruz than it solves. She has had no success in politics, so it's not clear why anyone would think that adding her to the campaign would lead to success. On top of all that, Fiorina isn't prepared to be president if necessary. For that reason alone, it is a mistake to select her as a would-be Vice President, and it reflects poorly on Cruz's judgment.

The main problem for Cruz is that naming a running mate this far in advance of the convention so reeks of desperation that it probably cancels out whatever small advantage having Fiorina as a running mate might give his campaign.
Larison is largely correct here, of course, both in his assessment of what Fiorina brings to the Cruz campaign, which is virtually nothing, and the fact that this is likely going to be perceived as a desperation move by many voters and largely irrelevant by most others. Additionally, the fact that Cruz is selecting Fiorina despite her rather obvious lack of qualifications for the job could end up having the same impact on his campaign that John McCain's selection of Sarah Palin ultimately did in 2008. As many observers have noted over the years, the selection of a running mate is perhaps the first 'Presidential' decision that a candidate makes, and it is above-all a statement to the public that the person selected is prepared to take over should something happen to the candidate for President. When it became apparent that this was not true of Sarah Palin, it called John McCain's judgment into question. Selecting a similarly unqualified candidate ought to call Cruz's judgment into question as well, and could end up doing his campaign more harm than good.