New Iowa Poll Seems To Set Up Inevitable Showdown Between Donald Trump And Ted Cruz
Another poll shows Ted Cruz rising and Ben Carson falls in the Hawkeye State. The only question is who attacks who first, Donald Trump or Ted Cruz?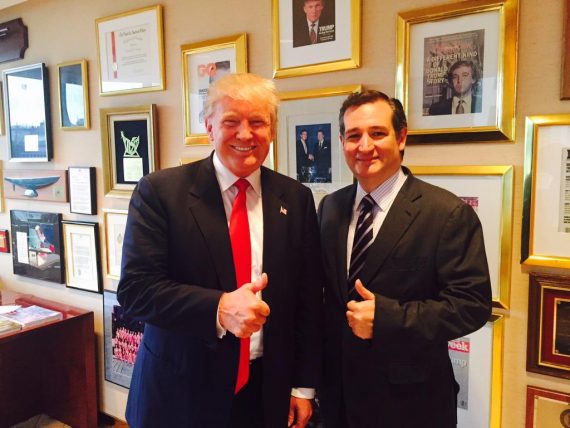 Seemingly confirming other recent polling, a new Quinnipiac poll shows a significant shift in the GOP race in Iowa, with Ben Carson falling and Texas Senator Ted Cruz pulling within striking distance of Donald Trump:
Ted Cruz, buoyed by tea party support and the backing of the conservative wing of the Republican Party, has surged to a virtual tie with Donald Trump in the first caucus state of Iowa, according to the results of a Quinnipiac University poll surveying likely Republican caucus-goers released Tuesday.

Trump took 25 percent of support, followed by 23 percent who opted for the freshman Texas senator, more than doubling his support in the same poll from October, when he earned just 10 percent. Trailing the two leaders is Ben Carson, who dropped from first to third, falling 10 points to 18 percent.

Florida Sen. Marco Rubio is next with 13 percent, while no other candidate registered in the double digits. Only Kentucky Sen. Rand Paul registers outside of the margin of error, at 5 percent. Former Florida Gov. Jeb Bush dropped a point from last month to 4 percent, followed by 3 percent for Carly Fiorina. No other candidate earned more than 2 percent support, and about 2 percent of Iowa Republicans said they were undecided.

Cruz drew 42 percent of his support from Republicans identifying with the tea party, nearly double the next closest candidate in Trump, with 23 percent of support from that group. While Cruz leads Trump among those who described themselves as very conservative (38 percent to 21 percent), Trump holds advantages over Cruz and Carson among those describing themselves as only somewhat conservative and, strikingly, those describing themselves as moderate or liberal. The Texas senator also narrowly outperformed Trump and Carson among white, born-again Evangelical Christians, earning 27 percent to Carson's 24 percent and Trump's 20 percent.

Trump's supporters do appear to be the most adamant about their candidate, with 51 percent saying they have made up their minds and 48 percent saying they might make another choice. By comparison, just 41 percent of Republicans overall said they had made a firm decision, with 58 percent still mulling over the field. Among Carson supporters, just 33 percent said they are set on the retired neurosurgeon, and just 22 percent said the same for Rubio. About 44 percent of Cruz's supporters said they had made up their minds.

Despite falling to third place, Carson still led the field in terms of overall favorability, at a net positive of 64 points (79 percent to 15 percent), followed closely by Cruz at a net positive 58 points (73 percent to 15 percent) and Rubio at a positive 52 points (70 percent to 18 percent). Trump's favorability rating is lower, but still a respectable positive 25 points (59 percent to 34 percent).

On the issues, 24 percent of Republicans indicated that the economy and jobs are the most important factor for deciding on the candidate they will ultimately support, while 15 percent each selected terrorism and foreign policy, roughly a week following the terrorist attacks in Paris. About 11 percent cited the federal deficit, and 10 percent called illegal immigration the top issue.

Nearly nine in 10 — 88 percent — said they were either "very worried" or "somewhat worried" about a Paris-style attack in the United States.
This new poll is consistent with polling from CBS News released yesterday that showed Carson slipping in Iowa and other early primary states while Cruz and, to some extent, Florida Senator Marco Rubio, rose in the polls to seemingly become the next candidates to take on Trump for the position at the top of the field. It's also consistent with other signs that Ben Carson's campaign may be seeing the beginning of the end of its dominance among conservatives thanks in no small part to Carson's own obvious shortcomings and the fact that the attacks in Paris seem to be having an impact on voters and their choices of who they might support in the election, at least for now.
At this point, Carson is still technically in second place in the poll average in the Hawkeye State at 20.3%, with Cruz averaging 17.3%, Rubio at 11.3%, and Trump in first place at 25.5%. Carson's standing, though, is being boosted to no small degree by the polling earlier this month that had him firmly in second place and is still being factored in the calculation of the average. If you look at the chart of the averages over time, though, you can already see Carson slipping while Cruz rises: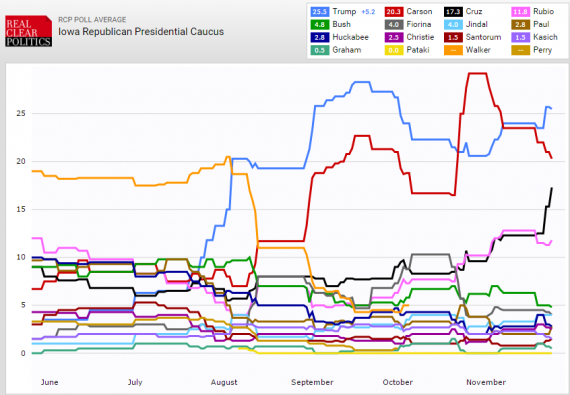 The Carson decline is also apparently, although somewhat less severe, in the Pollster numbers, which also don't show Cruz's rise to be as strong just yet. Again, that is largely due to the fact that Pollster uses a wider universe of polls to calculate its average, some of which may not be entirely reliable.
In any case, while we're only looking at a limited number of polls right now it does appear that we're seeing both the decline of Ben Carson in the Hawkeye State and the beginning of a rise by Ted Cruz that could make the race quite interesting going forward. Cruz rising in Iowa isn't entirely surprising, of course, since he appeals to many of the same evangelical and strongly conservative voters that Carson does, and also is at least perceived as having more gravitas and experience than the retired neurosurgeon. Combine that with the star power that Cruz has had ever since he surprised many political observers by winning the Republican nomination for Kay Bailey Hutchinson's open Senate seat in 2012 and going on to an easy victory in the General Election that year. Once Carson started exhibiting weakness both on foreign policy and his relationship to the truth, the path was open for voters who have been favorably inclined toward Carson to start looking elsewhere, and that seems to be what is happening here.
The biggest question, of course, is how Trump will respond to these polls, especially if they show Cruz continuing to gain or even surpass him in Iowa. In the past, Trump has routinely attacked candidates below him in the polls, including those such as Jeb Bush who haven't really posed a threat to him in quite some time. His attacks on Ben Carson over the past month were particularly brutal and seemed to have a real impact on the race, and Trump has also attacked Marco Rubio quite strongly. Ted Cruz, however, has been one candidate that Trump has tended to stay away from attacking the Senator, and Cruz has also stayed away from attacking Trump. In September, the two men even held what was effectively a joint rally against the Iran nuclear deal. With Cruz rising in the polls now, though, it will be hard for either man to ignore the other, and Trump's tendency to go after the next big challenger would seem to logically mean that Cruz will soon face his wrath. How voters will react to that remains to be seen.