Despite A Storm Of Negative Coverage, Donald Trump Keeps Rising In The Polls
Donald Trump has gotten almost nothing but negative press since entering the race for President, but it doesn't seem to be hurting him very much just yet.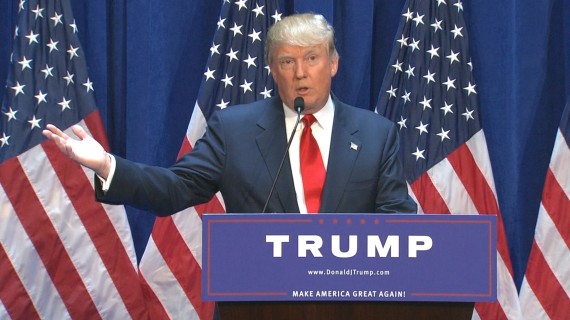 Today, Macy's joined NBC and Univision in ending its business relationship with Donald Trump over his comments about Mexican immigrants during his Presidential announcement more than two weeks ago, but Donald Trump doesn't seem to care. In addition to filing a lawsuit against Univision for $500 million, and threatening to do the same against NBC over their termination of his contracts, Trump continues to find himself advancing in the polls notwithstanding what can only be described as incredibly negative coverage from the press across the board.
First up, there the new CNN poll which has Trump in second place nationally behind Jeb Bush:
With nearly all of the expected 2016 presidential candidates formally in the race, a new CNN/ORC national poll finds two recent entrants to the GOP field on the rise, while Hillary Clinton maintains her position atop the Democratic field, though holding a slightly slimmer lead.

Former Florida Gov. Jeb Bush and businessman Donald Trump top the list of GOP presidential contenders following their back-to-back campaign launches in mid-June, and are the only two Republican candidates holding double-digit support among Republicans and Republican-leaning independents.

For his part, Trump specifically responded to the poll results Wednesday afternoon saying the numbers are "representative of the response we are receiving from all over the country."

"I am committed to addressing the issues our country is facing and am confident my business mindset and common sense solutions are resonating with the American people," Trump said in a statement Wednesday afternoon. "Politicians are all talk and no action and the American public is ready for a leader with a proven track record of success."

(…)

Bush stands at 19%, up from 13% in May — and his best showing in CNN/ORC polling since December. Trump follows at 12%, up from 3% before his announcement. Former Arkansas Gov.Mike Huckabee (8%), neurosurgeon Ben Carson (7%) and Kentucky Sen. Rand Paul (7%) round out the top five.

Notably absent from this top five — though statistically speaking not far behind — are Florida Sen. Marco Rubio (6%, down from 14% in May) and Wisconsin Gov. Scott Walker (6%, down slightly from 10%). Both had been top five candidates in each of the last two CNN/ORC polls, and Walker had been in the top five since February.

The poll, conducted just before New Jersey Gov. Chris Christie formally launched his campaign with a rally in Livingston, New Jersey, on Tuesday, also finds that Christie begins his push for the presidency with just 3% support.
On the state level, Trump has moved into second place in Iowa behind Scott Walker:
A new poll out Wednesday shows Wisconsin Gov. Scott Walker leading the GOP caucuses in neighboring Iowa — but with a slight decrease in support that suggests the first presidential nominating contest on the 2016 calendar remains wide open.

Walker, who is expected to make Iowa the centerpiece of his early campaign efforts after he officially joins the presidential field on July 13, has the support of 18 percent of likely GOP caucus participants, according to the Quinnipiac Universitypoll.

That puts him ahead of a crowded Republican field, though his support is slipping. The decrease from the previous poll — Walker was at 21 percent two months ago — is not statistically significant. But his decline is more pronounced from a Quinnipiac poll in February of this year, in which Walker led the next-closest competitor with a quarter of the vote.

The candidates finishing behind Walker are tightly bunched together: First-time candidates Ben Carson and Donald Trump tie for second place, with 10 percent of the vote. Just 1 point behind are Sens. Ted Cruz (Texas) and Rand Paul (Ky.). Former Florida Gov. Jeb Bush is at 8 percent, and Florida Sen. Marco Rubio is at 7 percent.

Former Arkansas Gov. Mike Huckabee, who won the 2008 Iowa caucuses, is at 5 percent, followed closely at 4 percent by former Texas Gov. Rick Perry and former Pennsylvania Sen. Rick Santorum, who won the 2012 caucuses. Former Hewlett-Packard CEO Carly Fiorina is at 3 percent, joined by Louisiana Gov. Bobby Jindal, who entered the race last week, while the poll was in the field.

Ohio Gov. John Kasich, who is expected to enter the race on July 21, is at 2 percent. New Jersey Gov. Chris Christie declared his candidacy on Tuesday, and he earns just 1 percent of the vote (the poll was conducted entirely before his announcement). South Carolina Sen. Lindsey Graham is also at 1 percent. Former New York Gov. George Pataki was offered to the 666 likely caucus-goers who responded to the poll as an option, but he drew no support.
And, finally, a new Public Policy Polling survey of Michigan puts Trump near the top with a group of other candidates:
PPP's newest Michigan poll finds a four way cluster at the top of the Republican field- Scott Walker's at 15%, with Jeb Bush, Ben Carson, and Donald Trump all right behind at 14%. Marco Rubio at 9%, Mike Huckabee at 8%, Chris Christie and Ted Cruz at 5%, and Rand Paul at 4% also all make the top 9. Rounding out the field are Carly Fiorina and John Kasich at 3%, Rick Santorum at 2%, Lindsey Graham and Rick Perry at 1%, and Bobby Jindal and George Pataki with less than 1%.

It's interesting to note that Trump is in the top tier despite having an underwater favorability rating at 41/44. What he has going for him is that much more so than for most of the rest of the field, the people who do like him also say he's their first choice for the nomination.
These three polls come on  the heals of a national poll that showed Trump in second place behind Jeb Bush, and a New Hampshire poll that showed the same thing, and they are coming out at the same time that Trump is getting what can only be described as rather negative press from the political media, the cable networks, and the blogosphere. Even most of the hosts of Fox News Channel aren't defending him. If nothing else, I suppose that this proves that those two earlier polls were not flukes and that Trump is likely to be around for some time to come. Leaving the jokes, and the possibility that people are just messing with pollsters, behind I suppose it's somewhat understandable why Trump is doing so well in the polls right now. First of all, this is a man who very well known before getting into the Presidential race, and as strange as it may seem there are apparently some people out there who consider themselves his fans. A second factor that 's probably working to his his benefit is the fact that the populist rhetoric we're hearing from him on issues like immigration and trade does have a constituency in this country, and when combined with the general frustration with Washington that has been reflected in polling for the better part of a decade, it's perhaps not surprising that there'd be a group of people who might be attracted to him as a candidate even for a short period of time. Finally, the fact that the Republican field is so crowded right now, and that there really isn't anyone who can considered a frontrunner, means that it doesn't take much for someone like Trump to get enough support to end up in second place either on his own or as part of group. Given all this, the fact that he has some of the highest disapproval numbers of any candidate who has run in recent times, never mind any candidate currently in the field, doesn't really matter very much at the moment.
The question, of course, is how long this Trump boomlet can actually last. Four years ago, for example, we saw him jump to the top of the polls without even getting in the race based largely on the coverage he was getting for his insane birther rants only to see those numbers drop off rather quickly when it became apparent that his entire exercise was a public relations stunt for the next season of Celebrity Apprentice. Later in that process, we saw Rick Perry, Michele Bachmann, Herman Cain, and Newt Gingirch also rise to the lead in the polls only to see each of them fall away under scrutiny. By the time the voting had started, Mitt Romney was securely at the top and ended up winning the nomination. It's logical to assume that the same thing is likely to happen this time around, and that we're just seeing the beginning, or perhaps even the peak, of the Trump Boomlet for this election cycle.
Even if that's true, though, this cycle is going to last long enough to allow Trump to gain access to the early debates that start in just over a month from now, while candidates that arguably ought to be heard from get excluded because they aren't in the top ten out of sixteen declared candidates. As I said when he entered the race, Donald Trump in the debates is going to be a force of nature that neither the moderators nor the candidates are going to be able to control. It's possible, indeed highly probable, that he will do or say something that will turn people off enough that he'll fade away quickly. It's also possible, that he'll hit a populist nerve that will push him higher in the polls even just temporarily Whichever way it goes, he will likely be the main thing that everyone is talking about after the debates, and that's going to be bad news for a lot of the candidates hoping that the debates would help them rise in the polls before it starts becoming time to trim the fat in the GOP field.