NBC To Donald Trump: You're Fired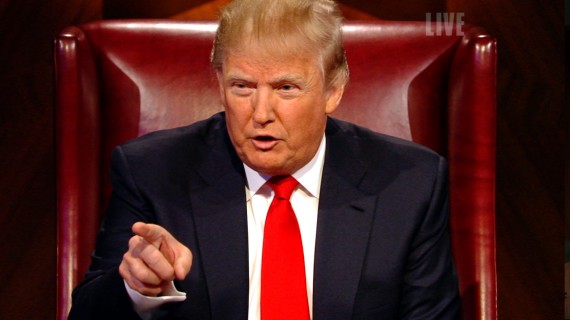 Following up on the disputes with Univision that arose in the wake of Donald Trump's derogatory comments toward Mexican immigrants, NBC Universal has cut its ties with Donald Trump:
Amid mounting public pressure, NBCUniversal announced Monday that it will cut business ties with Donald Trump due to "recent derogatory statements" the Republican presidential hopeful made regarding Mexican immigrants.

"At NBC, respect and dignity for all people are cornerstones of our values," the network's statement reads. "Due to the recent derogatory statements by Donald Trump regarding immigrants, NBCUniversal is ending its business relationship with Mr. Trump."

"To that end, the annual Miss USA and Miss Universe Pageants, which are part of a joint venture between NBC and Trump, will no longer air on NBC," the statement continues. "In addition, as Mr. Trump has already indicated, he will not be participating in 'The Apprentice' on NBC.

NBC's announcement comes four days after Univision announced it would end its business relationship with the Miss Universe Organization based on what it described as Trump's "insulting remarks about Mexican immigrants." Trump subsequently promised to sue the Spanish-language broadcaster for breach of contract and defamation, and banned Univision employees from his Miami Doral golf resort.

By Monday morning, more than 200,000 people had signed a Change.org petitioncalling on NBCUniversal to cut its ties with Trump and cancel the Miss USA and Miss Universe pageants, which are co-owned by Trump and NBC, as well as "The Apprentice," which Trump hosts. The petition accused NBC of "supporting a hateful and narcissistic individual without any kind of values" and "supporting a growing trend of bigotry and division in this country."
NBC licenses The Apprentice through a deal with a production company owned by Mark Burnett, who created that show along with Survivor, so theoretically that property could continue although it's unclear if the network has any plans to actually do that. The last season of the show aired in January in a rapidly accelerated season to what were apparently lackluster ratings, so perhaps there really isn't much of a loss there for NBC in any case. At the very least, though, this announcement would seem to put to rest the rumor that Trump himself helped to feed that perhaps one or more of his children would host the show while he was running for President. In any event, it's obvious that the show itself probably would not have aired at all while Trump was running and, indeed, it is not currently listed on NBC's fall schedule.
Trump, of course, responded as only Trump can:
Donald Trump called NBCUniversal "weak" and "foolish" on Monday and said its decision to violate its contract with the Miss Universe Organization will be determined in a court of law.

(…)

In Monday's statement, Trump doubled down on his commitment to "strong borders" that would keep illegal immigrants from "pouring across our borders unabated. Public reports routinely state great amounts of crime are being committed by illegal immigrants," he said. "This must be stopped and it must be stopped now."

"Long ago I told NBC that I would not being doing The Apprentice because I am running for President in order to Make our Country Great Again," Trump continued. "If NBC is so weak and so foolish to not understand the serious illegal immigration problem in the United States, coupled with the horrendous and unfair trade deals we are making with Mexico, then their contract violating closure of Miss Universe/Miss USA will be determined in court."

Trump also took a shot at NBCUniversal over its handling of the recent Brian Williams controversy: "They will stand behind lying Brian Williams," he said, "but won't stand behind people that tell it like it is, as unpleasant as that may be."

An NBCUniversal spokesperson declined to comment on Trump's statement.

Trump also addressed NBC's decision at a press conference in Chicago on Monday, where he cast the move as a mutual decision: "I think as far as ending the relationship, I have to do that," he said.'
I suppose the extraordinary thing is that all of this is happening in the middle of a Presidential campaign and that, so far at least, Trump seems to be rising in the polls. Sometimes I wonder if the people who are telling pollsters that they would vote for Trump are all just part of a massive practical joke.