Whether Republicans Are Ready Or Not, Hurricane Trump Is Coming
Whether Republicans are ready or not, Donald Trump is coming.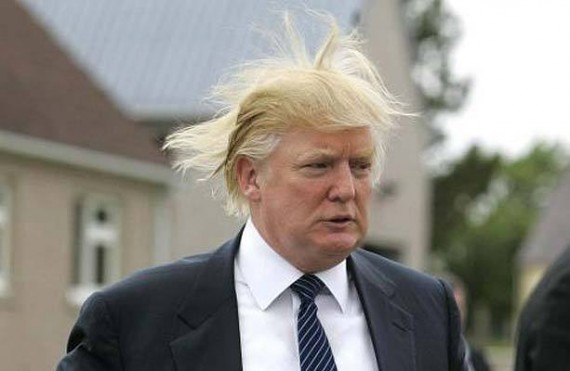 Now that we've gotten through yesterday's bizarre piece of performance art and of course the obligatory responses of Stewart and Colbert, let's get a few things out of the way before we get too far into this post. Donald Trump is not going to be the next President of the United States, nor is he ever going to hold that position at any point in the future. He is not going to be the Republican nominee for President either, and it's highly unlikely that he is going to win, or come close to winning, any of primary or caucus that will take place next year. He is not interested in the future of the Republican Party, indeed one wonders if he's really interested in politics at all except perhaps as it might impact his business interests. When this race is over, he is not going to be a New York City version of Mitt Romney, hosting candidate forums and working behind the scenes to influence the direction of his party while making occasional appearances on Meet The Press or any of the other Sunday shows. When this is over, and it won't really end until Trump himself is ready to let it end, Donald Trump will go back to being whatever it was he has been for the past, which at this point seems to be some weird combination of real estate mogul, television host, P.T. Barnum-esque promoter of the "Trump" brand, and media gadfly. In between that time, though, Donald Trump, ably assisted by the reporters who will follow him around and report on him simply because he is a guaranteed source of great television, will move like a hurricane through American politics. He's going to have some kind of an impact on the 2016 political process, especially in the Republican Party, and it's unlikely to be a good one.
You might ask how this is possible. After all, notwithstanding the fact that he has a celebrity status equal to anyone in Hollywood, he has been something of a joke on the national stage for the better part two decades or more. Yes, there was a time back in the 1980s when Trump's no-nonsense talk and celebration of excess fit into the tenor of the times. It earned him widespread media coverage, guest appearances on sitcoms like The Jeffersons and Fresh Prince of Bel Air, book deals, and invitations for media appearances from producers, reporters, and hosts who quickly realized that Donald Trump was, well, great material. Personal crises such as an affair that ended a marriage that had lasted nearly fifteen years only seemed to enhance his appeal to the public. It wasn't until very recently, really, that he morphed into the clown that we see today, although you could certainly see hints that it was coming when he started spending more time showing up at professional wrestling matches and Howard Stern's show than more "serious" media. Given the fact that, whatever one might say about him, Donald Trump is not an unintelligent man — you don't graduate from the Wharton School of Business if you're not smart — one always got the impression that much of the craziness was all part of the act designed to enhance the Trump brand, and that is largely what this Presidential run is all about.
All of that notwithstanding, though, Trump is likely to appeal to some segment of the electorate even at the same time that most everyone realizes that this is all an act.  Andrew Malcom at Investors Business Daily gives one reason why that's likely to happen in his column today:
Trump's very presence on a crowded Republican debate stage with serious contenders not only denies a genuine candidate priceless national exposure. It makes a mockery of those putting themselves through the rigorous selection process of a political party's leader. And of conscientious voters watching.

Remember now, Trump was an original birther who credits himself with forcing Obama to release his birth certificate. There's a qualification to occupy the Oval Office, right?

Yes, Trump is a TV/casino/real estate showman. "You're Fired!" So was Barnum. Both provided popular entertainment. But Barnum focused on harmless hoaxes like the Fiji Mermaid and General Tom Thumb, the "Smallest Person Ever to Walk Alone."

But Trump says he wants to be commander-in-chief of the the most powerful nation on Earth to talk loudly and carry a big stick. That's a different tent entirely.

Trump's clear-cut, un-nuanced declarative sentences can sound enticing to a public starved for a real leader with vision: "I will be the greatest jobs president that God ever created."

Especially after these past six-plus years of unfulfilled blather.
Matt K. Lewis makes a similar point, while Seth Abramson argues that the very absurdity of Trump's candidacy is likely to appeal to some:
This is one reason I've termed Trump a "metamodern" politician. He's a true believer in his own metanarrative, even as he can't help but notice that most others don't take it seriously. Trump is smart enough to know when he — or his speeches; or his haircut; or his political ambitions — are being mocked, but in the Metamodern Age we can develop metanarratives that animate us even as we fully recognize that they're farcical to everyone else. The reason we rely on such metanarratives is that they're a better option than despair, degradation, and decay — which is all postmodernism offers either cultural critique or individuals invested in constructing their own subjectivity. Trump has found a way to navigate a world that finds him preposterous, and the resolution he shows in pursuing that course of navigation so enthralls America that, somehow, we bring him back into the fold as a curio again and again.

So yes, of course Trump won't win the presidency, and of course he knows that running for President will increase the financial value of his "brand." But seeing Trump's candidacy as merely cynical, or ironic, or somehow merely a brief manifestation of late capitalism's excesses (as played out in the civic sphere) misses the point: this is also a serious candidacy that will have serious repercussions for both Democrats and Republicans alike.

Specifically, we can expect that both those attracted by irony and those attracted by sincerity are and will be drawn to metamodern politicians like Trump. For instance, disaffected young voters who believe politics is a farce will flock to Trump's cause because they see, in his ridiculous public persona, a reification of how preposterous politics has become. So they'll be Trumpets (Trump followers), but cynical ones. On the other side of things, the Tea Party will be attracted to Trump because his latent bitterness — packaged as merely arrogance — appeals to their earnest instincts. Tea Partiers are angry, and sincerely so, and this manifests as an almost impossible-to-credit arrogance which we find, also, in Trump. (Consider, for a moment, the "constitutional" critique the Tea Party offers of the Obama presidency, a critique so entirely devoid of specifics about the Constitution or any knowledge whatsoever of constitutional law or the history of the Republic that its self-righteous ignorance is both awesome and spectacular. Ask a Tea Partier how Obama has weakened the Constitution and either they won't know or they'll offer a paper-thin explanation that folds under even the slightest scrutiny; none of this, however, puts even the slightest dent in their sincere outrage on the topic.)
In other words, there is going to be some group of potential Republican primary voters who are going to be attracted to Trump. Add into that group the reporters and pundits who will follow Trump's movements across the country simply because it makes for great copy and the people who simply see his candidacy as the apotheosis of the absurdity that has become American politics, and that means that Donald Trump is likely to gather at least enough support to remain a presence in the race for at least the next six to eight months, if not longer. He's already averaging roughly 4% in national polling and 8% in New Hampshire polling and those numbers will likely increase at least somewhat in the coming weeks. If the first round of Republican debates were behind held right now, he is well within the range of the top ten in the polls to qualify for an invitation, and if that remains the case over the next six weeks it will be next to impossible for either CNN or Fox News Channel to deny him a spot, Although the prospect of a debate featuring Donald Trump would be the kind of media extravaganza that no network executive is ever doing to turn down. If you think all of this is impossible or unlikely, I merely point you to the a poll released earlier this week that shows Ben Carson leading Republicans nationally, although there was a poll released this morning that puts Scott Walker in that spot with Carson down in fourth place, although only five percentage points behind Walker.
This will mean, of course, that candidates like George Pataki, John Kaisch, and Lindsey Graham, who at the very least have a resume far more relevant to the Presidency than Trump does, would be denied slots in the debate. It will also mean that whatever rules the moderators set for these debates will most probably fly out the window once Trump gets on the stage. As yesterday demonstrates, Trump doesn't care very much who he insults, how bluntly he speaks, or whether he sounds politically incorrect. Do you honestly think that style is going to change if he's on a debate stage with Jeb Bush, Scott Walker, Rand Paul, and the rest of the candidates? Of course it won't. The rest of the Republican field is going to have to find a way to deal with Trump as something other than a circus act, even though that's largely what he actually is. Republican media adviser Rick Wilson has some good pointers for Republican candidates in that regard, and Daniel Drezner argues that Trump's presence in the race may actually help the other candidates by making them seem sane by comparison. Drezner may well be right on that point, but before that happens we're going to see a period where Donald Trump does nothing but cause headaches for the rest of the field. They will have to find a way to get media attention while competing against a guy who has been a master at media manipulation for thirty years. They will be forced to respond when he says something controversial or outrageous, something he' already did in his speech yesterday.  He will power through this process like a hurricane, or like Godzilla taking an afternoon stroll through Tokyo, and he won't care about the damage he leaves behind. Republicans better be ready for it