Donald Trump Is Surging In Yet Another Poll
Republicans aren't going to like this one.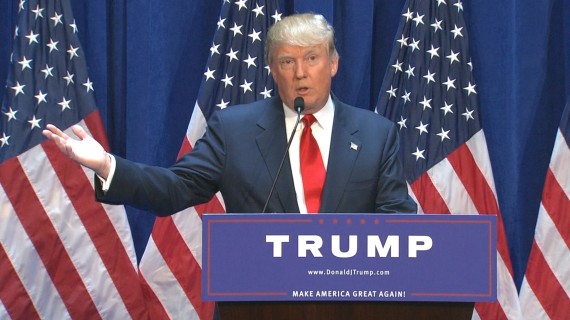 Donald Trump has jumped into second place in a new national poll:
There's been a lineup change in the race for the GOP nomination, as businessman Donald Trump moves up after declaring his candidacy. He's now second in the order after former Florida Gov. Jeb Bush, who also got an uptick in support after his formal announcement.

For Democrats, former Secretary of State Hillary Clinton is still — by far — the team leader, according to a new Fox News national poll on the 2016 presidential election.

Bush tops the list of GOP contenders with 15 percent support among Republican primary voters.  That's up from 12 percent last month and his best showing yet.  Support for Trump more than doubled since his announcement and that catapults him into the top tier at 11 percent. He's followed by retired neurosurgeon Ben Carson at 10 percent.  No one else receives double-digit backing.

Bush officially kicked off his campaign June 15 and Trump launched June 16. It's common for candidates to see a bump in their numbers in the days following their formal announcement and the media coverage that comes with that.

The bad news for Trump is that only 29 percent of GOP primary voters consider him a serious candidate.  More than twice that many — 64 percent — think he's a side show.  Among all registered voters, nearly 8 in 10 say Trump is a side show (77 percent).

Wisconsin Gov. Scott Walker, who has not announced whether he will run, comes in at nine percent.  That's down from 12 percent a month ago and the first time Walker has been in single digits since January.

The poll finds support for Kentucky Sen. Rand Paul (9 percent), Florida Sen. Marco Rubio (8 percent) and former Arkansas Gov. Mike Huckabee (6 percent) holding steady among GOP primary voters.

Texas Sen. Ted Cruz receives 4 percent, and businesswoman Carly Fiorina and former Pennsylvania Sen. Rick Santorum get 3 percent apiece.

Louisiana Gov. Bobby Jindal, who announced his candidacy June 24, gets 2 percent.
The fact that Trump has so much animosity toward him by people who say that they would vote for another candidate or are undecided likely means that, at least for the time being, his upside potential in these polls isn't very good. That doesn't mean that there isn't some upside potential for him, though, so it wouldn't be surprising to see him jump up in the polls at least in the short term. Additionally, it's important to note that the short-term, and these national polls which are not very useful in terms of figuring out the battle is going on the ground in the states themselves, is really all that matters right now.
The national polls conducted over the next month will be the ones that determine which candidates are invited to the early debates and which are not, which will likely determine the future of more than a few of the candidates at the bottom of the pack because failure to get into the early debates could be fatal to candidates who are already polling in the 1-3% range. As of right now, Trump would be included in the top ten in the polls based on the polling average while candidates such as Carly Fiorina, Rick Santorum, John Kaisch, Lindsey Graham, Bobby Jindal, and George Pataki would be excluded. If you just based the selection on this new Fox poll, the top ten would include Jeb Bush, Donald Trump, Ben Carson, Scott Walker, Rand Paul, Marco Rubio, Mike Huckabee, Ted Cruz, Carly Fiorina, and Rick Santorum. The candidates excluded would be people such as Rick Perry, Chris Christie, John Kaisch, Lindsey Graham, Bobby Jindal, and Scott Walker.Either way, Donald Trump would make the debate cut, and if that happens then there are likely to be headaches for everyone else on the stage. 
It's going to be insane, it's going to cause you to want you to pound your head into a desk. It's going to be glorious.
Update: Late Thursday afternoon a new CNN/WMUR poll was released showing Trump pulling into second place in New Hampshire behind Jeb Bush.