Republican Race Shaken Up After First Debate, But Trump Still Leads
There have been some changes in the race for the Republican nomination.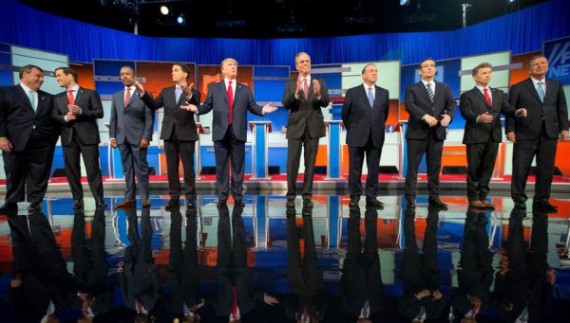 A new Fox News poll of the Republican race for President shows that there has been some significant movement by some candidates, but Donald Trump remains the leader by an increasingly comfortable margin:
The explosive first Republican debate has shaken up the 2016 GOP presidential race.

Who's up?  Retired neurosurgeon Ben Carson, Texas Sen. Ted Cruz and businesswoman Carly Fiorina.  Who's down? Kentucky Sen. Rand Paul, former Florida Gov. Jeb Bush and Wisconsin Gov. Scott Walker.

(…)

Businessman Donald Trump still leads the field for the Republican nomination.  He gets 25 percent among GOP primary voters.  He was at 26 percent before the debate.  Trump's support among women went from 24 percent two weeks ago to 21 percent now.  He mostly held steady among men (28 percent).

The real-estate mogul maintains his first-place status despite also being judged in the poll as having the worst debate performance and being considered the least likeable Republican candidate.  More on that later.

The August 6 Republican presidential debate was hosted by Fox News Channel in Cleveland.  Several of the exchanges at the debate remained in the news for days after.

Next in the GOP race is Carson, who garners 12 percent.  That's up five percentage points since the debate and puts him in double-digits for the first time since mid-June.  Cruz captures 10 percent, up four points.

Bush has dropped to nine percent.  That's down six points — and puts him in single digits for the first time since April.  That's likely a result of his debate performance, which was judged subpar by those who watched.  Bush does well on other measures — he's seen as both likeable and qualified.

Former Arkansas Gov. Mike Huckabee held steady at six percent.  Walker slips to six percent — down three points and the lowest support he's received for more than a year.

Fiorina garners five percent support (+3 points), with Kasich (+1) and Rubio (-1) both at four percent.  New Jersey Gov. Chris Christie and Paul each get three percent.  The remaining candidates are at one percent or less.

The top favorites among the white evangelical Christians are Trump (27 percent), Carson (14 percent), Cruz (12 percent), Bush (10 percent) and Huckabee (9 percent).
The biggest losers in the poll are the same people who have been seeing their poll numbers dropping for the past couple months. Former Texas Governor Rick Perry, who saw his numbers slip below 3% before the debate, which caused him to be disqualified from the main debate stage, is now down at 1% in his second post-debate national poll. Combined with this meager fundraising and a debate performance that was less than memorable, this is likely to increase the speculation that Perry may drop out sooner rather than later. Kentucky Senator Rand Paul was also obviously not helped by what has been nearly universally agreed to be a sub-par debate performance. Combined with his fundraising problems and new signs of trouble at home with a Kentucky GOP that may not be as eager to revise its nomination rules to allow him to run for President and Senate at the same time, and the bad press for Paul seems likely to continue. If he continues falling in the polls, Paul is likely to miss the main debate on September 16th. New Jersey Governor Chris Christie, who was involved in what became a shouting with Paul at the debate, has the same problems as the Kentucky Senator, and there are already rumors that Christie may drop out unless there are signs that he can turn his numbers around. Scott Walker and Jeb Bush have also seen their numbers fall since the debate to some degree, but it's unclear if this is because of the debate itself or just part of the Trump phenomenon and the GOP electorate's fascination with other candidates.
On the winning side, the big winners from the debate are clearly Ben Carson and Carly Fiorina. Carson had been in the middle of the pack prior to the debate, but how he finds himself in second place behind Trump both nationally and in Iowa. Carson has always been popular with the evangelical and socially conservative wing of the Republican Party, but that popularity exists largely because of what he says rather than any actual policy knowledge on his part. Indeed, when one listens to Ben Carson talk policy one quickly recognizes that he is completely out of his element. Much like Herman Cain four years ago, it's likely that Carson will continue to rise but it seems unlikely that he will ever really be a serious contender for the nomination. Carly Fiorina's rise in the polls obviously can be attributed almost completely to her performance in the early debate and the media attention that she has gotten from that. Because of it, she has no risen in the polls high enough to qualify for the main stage debate on September 16th assuming that she continues at this pace. As with Carson, most voters don't seem to know very much about Fiorina other than the fact that they like what she says. Now that she's rising, she's likely to come under far more scrutiny, and her record at Lucent and Hewlett -Packard will once again become public knowledge as it did during the 2010 California Senate race. That's not likely to happen any time soon, though. For the time being, Carson and Fiorina are likely to continue rising in the polls.
At the top of all of this, of course, is Donald Trump. Trump actually dropped a percentage point from the Fox poll that was released prior to the debate, but a small drop like that within the margin of error is essentially insignificant enough that it can be ignored. As with other polling we've seen since the debate, Trump doesn't seem to be harmed at all from either his debate performance or the bizarre aftermath during which he attacked Fox News host Megyn Kelly. It seems unlikely that there's anything that's going to happen between now and the next debate that will dethrone Trump from his current position so, for better or worse, he will once again be the center of attention on September 16th. How long this spectacle lasts is anyone guess, but as I've said before it isn't likely to happen any time soon.