Rick Perry's Campaign May Be At The Beginning Of The End
Rick Perry's campaign is already showing signs that it may not last long.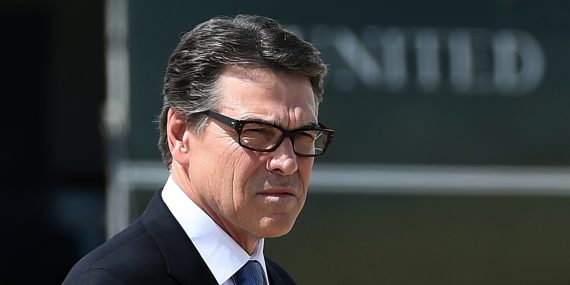 Rick Perry's campaign seems to be in crisis as The Washington Post reports has stopped paying his campaign staff:
Former Texas governor Rick Perry's presidential campaign is no longer paying its staff because fundraising has dried up, while his cash-flush allied super PAC is preparing to expand its political operation to compensate for the campaign's shortcomings, campaign and super PAC officials and other Republicans familiar with the operation said late Monday.

Perry, who has struggled to gain traction in his second presidential run, has stopped paying his staff at the national headquarters in Austin as well as in the early caucus and primary states of Iowa, New Hampshire and South Carolina, according to a Republican familiar with the Perry campaign who demanded anonymity because of the sensitivity of the situation.

Perry campaign manager Jeff Miller told staff last Friday, the day after the first Republican presidential debate, that they would no longer be paid and are free to look for other jobs — and, so far at least, most aides have stuck with Perry — according to this Republican.

"As the campaign moves along, tough decisions have to be made in respect to both monetary and time related resources," Miller said in a statement. "Governor Perry remains committed to competing in the early states and will continue to have a strong presence in Iowa, New Hampshire and South Carolina."

Katon Dawson, Perry's South Carolina campaign chairman and head of a six-person staff there, said, "Money is extremely tight. We all moved to volunteer status." But, he added, "Our team is working as hard as it was last week."

News that Perry campaign had stopped paying its staff in South Carolina was first reported late Monday afternoon by the National Journal. News that the campaign was not paying any staff was first reported Monday night by CBS News.

The Perry campaign reported raising $1.14 million in the second quarter of this year and on July 15 reported having $883,913 on hand. The campaign is scaling down its expenditures to bare essentials – commercial plane tickets and hotel rooms for the candidate and an aide or two — and hoping for a breakthrough moment, perhaps in the Sept. 16 debate, that could boost fundraising.

Meanwhile, a group of Opportunity and Freedom super PACs promoting Perry's candidacy — which are in far healthier state financially, having raised nearly $17 million by mid-July — are planning to compensate for the shrinking campaign.

Austin Barbour, senior adviser to the super PAC, said the group would step up "to aggressively support the governor in a number of different ways."

"We've got plenty of money," Barbour said. "That's what I know. And we're going to put that money to use in Iowa to make sure the governor is in the top three there. The super PAC is not going to let Rick Perry down."

Barbour added, "He's going to get one breakout performance at a debate and he'll really jump up in the polls. Voters need to see him perform very well at a debate…This is a very fluid field, things will change a lot, and we will continue to be very patient."
Perry's supporters are trying to put a positive spin on this by noting that at least some portion of Perry's staff has apparently decided to say on in an unpaid role for now, but there's no doubt that this is bad news for the former Texas Governor. From the moment he entered the race, the ghosts of his failed campaign in 2012 hung over him and many wondered if he would ever be able to live that particular disaster down. While Perry has been an earnest campaigner since getting in the race, he has not seen anywhere near the level of support that accompanied his entry into the race in during the 2012 cycle.  At the end of the reporting period that ended on June 30th, Perry's campaign had raised a pathetic $1.1 million, which far short of the $17 million that he rose in just the first 49 days of his campaign back in 2011. Additionally, Perry has struggled significantly in the polls. With only a handful of notable exceptions, Perry has not polled above 3% in any national poll since he entered the race and his polling in the past month declined so badly that he was unable to make the cut for the prime time debate last Thursday. Given that his performance in the early debate was nothing to write home about, and that he was largely out shined by Carly Fiorina. it's unlikely that he will rise high enough in the polls high enough to be included in the prime time debate in September. All of this points in one inevitable direction for Perry, and it isn't a pretty one.
It's still possible, of course, that Perry could find a way to bounce back from all of this. Candidates have been in situations not dissimilar to his in the past and managed to turn things around, after all, and there is certainly at least enough time for that to happen. The most notable recent example of that, of course, is John McCain whose campaign was in a very bad spot of its own in the summer of 2007 only to turn things around and win the nomination in 2008. That seems unlikely to happen in Perry's case, though. Unlike Perry, McCain was facing what ended up being a fairly weak field that was unable to take advantage of the political climate of the time. Perry has a host of opponents who are just as qualified as he is and come without much of the same baggage. More importantly, though, it seems rather apparent that the Perry has not outlived the impression he created in 2011. It comes up almost every time his name comes up in discussions of the state of the race, and it was quite prominent on social media during the early debate on Thursday, as if everyone was just waiting for Perry to make another mistake. Fair or not, first impressions are often hard to overcome and Perry clearly doesn't seem to have overcome his. Until he does, he's unlikely to be one of those names we see at the top of the Republican field.