Taking A Look At The Second Quarter Money Race
The big winners are Jeb Bush and Hillary Clinton.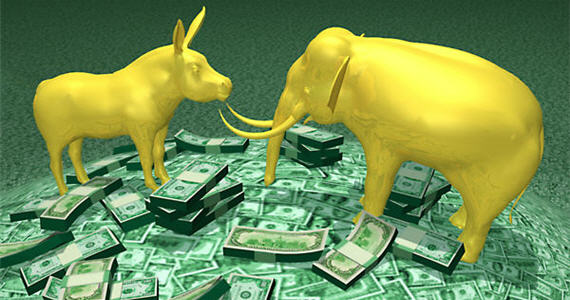 Taking into account money raised by both the campaigns and supporting SuperPACs, Jeb Bush seems to have clear won the money race for the second quarter of 2015 according these figures which I obtained from The New York Times:
Jeb Bush — $120 million raised ($11.4 million by the campaign, $108.5 million by SuperPACs)
Hillary Clinton — $67.8 million raised ($47.5 million by the campaign, $20.3 million by SuperPACs)
Ted Cruz —- $52.5 million raised ($14.3 million by the campaign, $38.1 million by SuperPACs)
Marco Rubio — $42 million ($8.9 million by the campaign, $4 million converted from Senate campaign fund, $17.3 million by SuperPACs, $15.8 million by other groups)
Bernie Sanders — $15.2 million, all raised by the campaign
Rick Perry —- $15 million raised ($1.1 million by the campaign, $13.8 million by SuperPACs)
Chris Christie —- $14 million, all raised by SuperPACs as Christie did not enter the race until after the reporting period had ended
Rand Paul — $13.9 million raised ($6.9 million by the campaign, $6.9 million by SuperPACs)
John Kasich — $11.7 million raised by "other groups." Kasich did not enter the race until after the reporting period had ended
Ben Carson — $10.8 million raised ($10.6 million by the campaign, $200,000 by SuperPACs)
Everyone else raised under a combined $10 million dollars.
As with my initial observations of the first round of reports early in July, there are a few conclusions we can draw from this. Namely, Jeb Bush and Hillary Clinton are clearly out in a world by themselves when it comes fundraising and they are likely to stay there. While the haul by Bush's campaign seems small, it should be remembered that this only covers the two weeks or so that he was actually in the race whereas Clinton, and many of the other names on this list, have been in the race far longer than Bush. When it comes to judging Bush's fundraising power, it's better to look at the SuperPAC numbers because that is money that was raised virtually from the beginning of the second quarter and is arguably a good reflection of the kind of numbers we should see from Bush when the third quarter numbers are released in October. Clinton, meanwhile, raised more money through he campaign than the top three Republican fundraisers combined. Her SuperPAC numbers are smaller than I thought they would be, but I 'm sure that will change as the campaign goes on. Being the top fundraiser doesn't guarantee victory, of course (just as John Connolly or Rudy Giuliani about that), but it is a pretty good indication of the strength of the campaign and it provides the campaign with the resources they will need to fund a plausible path to victory. In Clinton's case, the outcome of the nomination fight seems largely assured and I support to some extent she needs to be careful about not appearing to bulldoze her opponents too soon. In Bush's, of course, the nomination is far from assured. In addition to Jeb's long standing problems with the hard right wing of the GOP, the presence of Donald Trump in the race somewhat nullifies Bush's fundraising advantages as long as Trump is willing to spend his personal wealth to finance his campaign. If and when Trump fades, though, these numbers mean that Bush will be well positioned to rise to the top while those below him fight it out.
As for the other candidates, especially on the Republican side, it seems apparent that SuperPAC fundraising is making up for relative weakness in fundraising by the campaign. We saw this same thing in 2012, of course, when wealthy SuperPAC donors like Sheldon Adelon and Foster Fries kept Newt Gingrich and Rick Santorum in the race longer than they might have otherwise been thanks to the fact that SuperPAC media buys were helping their campaign. In the end, though, there are many things that SuperPACs can't do that are essential the running a successful political campaign. This includes everything from get out the vote efforts to paying the daily expenses that incurred in the running a campaign for President. Candidates can rely on these SuperPAC dollars to keep them in the race longer than they might have been able to stay otherwise, but as we saw with Santorum and Gingrich it won't be enough to make up for declining support in the polls.