Apparently, Citizens United Didn't Ruin The Election After All
The impact of outside spending on the election turned out to be far less consequential than many had feared.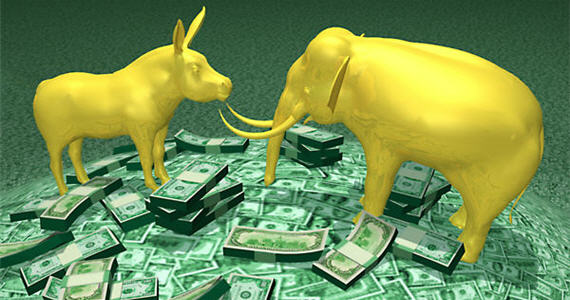 Practically since the day that the Supreme Court handed down its decision in Citizens United back in January 2009, we've been told by people on the left that it was going to ruin American democracy. The ability of outside groups to insert themselves in election campaigns with virtually unlimited amounts of cash, we were told, would pervert the system and allow "the rich" to buy elections. SuperPACs, we were told, were going to be the method by which corporations and those evil Koch Brothers, who have donated more money to universities and the arts than they have to all their political causes but together, took control of the political process and drowned out the voice of "the people." Of course, there seemed to be little complaint about the pro-Obama SuperPACs and where they were getting their money from, or the independent expenditures made by unions such as the SEIU during the course of the election. But, all of that is a battle for another day, or perhaps an entirely unnecessary battle, because it turns out all those independent expenditures didn't have nearly the impact on the election that certain people feared:
Never before has so much political money been spent to achieve so little.

Record spending by independent groups, which in many ways defined how campaigns were waged this year, had no dis­cern­ible effect on the outcome of most races, according to an analysis by The Washington Post.

A clutch of billionaires and privately held corporations fueled more than $1 billion in spending by super PACs and nonprofits, unleashing a wave of attack ads un­rivaled in U.S. history. Yet Republican groups, which dominated their opponents, failed to achieve their two overarching goals: unseating President Obama and returning the Senate to GOP control.

In the Senate, Republicans lost ground, after pouring well over $100 million in outside money into seven races that went to Democrats. In the presidential race, GOP nominee Mitt Romney nearly matched Obama with the help of outside money, yet he lost decisively in the end.

Even in the House, which remains comfortably in Republican hands, GOP money groups struck out repeatedly in individual races they targeted, according to the Post analysis of data from the Center for Responsive Politics. In 24 of the most competitive House contests, Democratic candidates and their allies were outspent in the final months but pulled out victories anyway. That compares with eight competitive races in which Republicans were outspent and won.

Spending by outside groups, it turns out, was the dog that barked but did not bite. Obama and other Democrats had long made dire predictions about the potential impact of the Supreme Court's 2010 decision in Citizens United v. Federal Election Commission, which allowed corporations and unions to spend unlimited money on elections and created a new class of wealthy political groups.

The money clearly did change the focus and tenor of many campaigns. Candidates up and down the ballot were forced to spend more time seeking donations, while political ads funded by outsiders gave a profoundly negative shine to many contests.

Wealthy donors were so central to Romney's campaign that a swarm of private luxury jets caused a traffic jam at Boston's airport Tuesday just before the nominee's election-night party.

But conservative super PACs and secretive nonprofit groups — which spent up to $10 million a day on the presidential race alone — couldn't move the needle far enough to prevail in almost any of the major races they targeted. Romney's reliance on outside money also gave him less control over spending, while his campaign was plagued by high personnel costs and lavish consulting fees.
While the loss in the Presidential race is perhaps the biggest defeat for the the conservative SuperPACs, it gets even worse when you look at what happened in the Senate:
In the Senate, the conservative push was a resounding failure. Crossroads, the U.S. Chamber of Commerce and other GOP-leaning groups spent at least $94 million targeting Democrats Tammy Baldwin (Wis.), Sherrod Brown (Ohio), Joe Donnelly (Ind.), Heidi Heitkamp (N.D.), Timothy M. Kaine (Va.), Bill Nelson (Fla.) and Jon Tester (Mont.), according to FEC data; all emerged victorious Tuesday.

"Our victory proves neither corporations nor billionaires can buy Montana," Tester said after his race was declared on Wednesday.

The Sunlight Foundation, which tracks money in politics, calculated Wednesday that two-thirds of the money spent by outside groups backed losing candidates. Success rates varied dramatically from group to group: American Crossroads and its nonprofit affiliate spent about 6 percent of their funds on winners, while the Service Employees International Union had a 70 percent victory rate, Sunlight found.
It's worth mentioning, of course, that some of the candidate's backed by these groups were flawed to say the least. Todd Akin and Richard Mourdock both ended up shooting themselves in the foot by making comments about rape and abortion which, while they clearly represented their own beliefs, were seen by many people and even many Republicans as being stupid and offensive. No amount of outside spending was going to save either of those guys even if, as in the case of Missouri, the Democrat that they were running against entered the race with a job approval rating that made it seem as though victory was inevitable for whichever Republican ran against her. By a similar measure, it seems fairly clear that Josh Mandel in Ohio and Connie Mack in Florida were simply not up to the task of taking on relatively popular incumbent Senators. Beyond those mistakes, though, it seems rather clear that all that outside spending in Wisconsin, Virginia, North Dakota, Montana and elsewhere did next to nothing to move the needle in any of those races. In fact, if I were a billionaire who had been writing checks to Karl Rove's group or any of the others, I'd be asking myself right now what the heck I had gotten for my money.
Several thoughts come to mind here.
First of all, this strikes me as fairly persuasive evidence that the fearmongering that we saw in the wake of Citizens United and the rise of the SuperPacs, which were actually made possible by FEC' regulations in response to a completely different Court decision, was not surprisingly over-stated. Tens of millions of dollars were spent on the Presidential race as well as Senate and House races across the country and what, exactly, is there to show for it? If money can indeed buy elections as these critics were telling us, then why did all of these candidates lose? It's possible that these SuperPACs played a role in the race by shifting the debate between the candidates from one issue to another, thus causing them to focus on things they might not have planned to. However, that's far different from saying that these organizations, or the independent outside expenditures that Citizens United recognized as being a valid exercise of First Amendment rights "bought" the election. For those who would say that these outside expenditures are somehow detrimental to democracy, I would argue that the 2012 Election season stands as very strong evidence that their assertions were overblown and completely incorrect.
Second, this is pretty good news for free speech. Both sides had their arguments that they put forward, the people evaluated them, and they voted accordingly? The fact that some of the people speaking had a lot of money behind them quite clearly didn't do anything to advance their merits of their arguments, or to make bad candidates look good, and it didn't cause the race itself to veer off in a direction that it wouldn't have gone otherwise. A group of people spent a lot of money to advance their political ideas but, in the end, they lost. Isn't that how free speech is supposed to work?
Finally, as Ed Morrissey notes, our entire experience with SuperPACs and outside expenditures this year points out the absurdities of campaign donation limits to begin with. As the Post notes, the main thing that all these outside expenditures forced candidates to do is to engage in more fundraising to respond to attack ads from outside groups rather than retail campaigning. If we had a campaign finance system where there were no limits on the amount someone could donate to a candidate, combined with more rigorous and immediate disclosure requirements, then the candidates themselves would have been responsible for the message that was presented to the public. There might still be outside groups intent on presenting their own message, but they'd likely be far less well-funded than they were this year because most people would want to give their money directly to their candidate rather than to an organization with an agenda that may not be in sync with the candidate.
Even if we don't go that far in revamping our campaign finance laws, though, it's fairly clear from our experiences this cycle that Citizens United  and SuperPACs were not the boogeymen that some people feared that would be. For that reason alone, we should view with skepticism any proposal that would change the law as it is exists today in a manner that would restrict political speech.