Rand Paul's Campaign Seems To Be Fizzling
Rand Paul's Presidential campaign isn't going so well at the moment.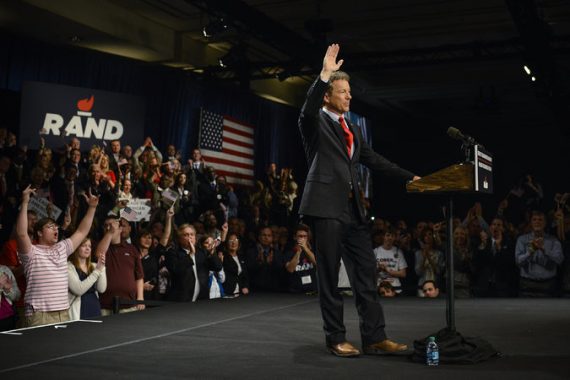 The Wall Street Journal's Reid Epstein takes note of something that I've been noticing myself over the past several months, namely that Kentucky Senator Rand Paul's Presidential campaign seems to be fizzling:
Sen. Rand Paul had counted on building from the grass-roots base of his father, former Rep. Ron Paul, and winning enough support from the Republican mainstream to compete for the party's 2016 presidential nomination.

Instead, the Kentucky lawmaker is slipping in the polls, lagging in fundraising and losing some of his father's loyalists over foreign-policy disagreements. Campaign metrics suggest he's no longer a first-tier candidate after falling behind the front-runners on all those measures.

The crowded Republican field—Ohio Gov. John Kasich will be the 16th major candidate when he announces his campaign next week—and Donald Trump's surge in recent polls have made it tougher for Mr. Paul to win media attention. No billionaire donor has emerged to singularly fund his super PAC, leaving Mr. Paul more dependent than any other GOP candidate on small donors.

aul campaign officials said they are meeting their fundraising goals and are satisfied with their current standing in the polls because he is still among the top candidates in Iowa and New Hampshire, home to the nation's first two nominating contests. Though Mr. Paul has lost ground in national polling, he remains likely to qualify for the first two presidential debates. Those platforms will give a broad audience of voters an unfiltered look at their candidate. Mr. Paul's aides declined to make him available for an interview.

Like his father, Mr. Paul finds the sort of schmoozing required to court big donors unpleasant. While his top rivals spent the past year making inroads with wealthy Republicans who are now helping their campaigns, Mr. Paul didn't. "He finds the fundraising distasteful and hasn't put in the investment," said a source familiar with Mr. Paul's political operation.

The result was a second-quarter fundraising number that has Mr. Paul looking more like his father's idealistic-but-doomed-to-lose campaign than a serious contender for the nomination.

He raised $2.1 million in this year's second quarter from donors who gave $200 or more, less than the $2.3 million his father received in same period in 2012. Mr. Paul also transferred $1.6 million from his Senate campaign accounts to boost his total fundraising to $6.9 million.

"Rand Paul should be doing much better," conservative pundit Erick Erickson wrote Thursday. "He actually has positions that set him apart from the GOP field. He has a built in base of support from his father. But remarkably it appears Rand Paul will be less a factor on 2016 than his dad was in 2012."

Mr. Paul's campaign maintains it is less critical for him to match the fundraising pace set by others because of his small-donor base. That was the bright spot in his financial disclosure report that showed he received $3.2 million from donors who gave less than $200. That is about $1 million more than his father raised during the same period four years ago from an army of small donors who ultimately generated $41 million for his 2012 race.

"Rand's fundraising surged with grass-roots supporters because average Americans know he's the candidate who will stand up to the Washington machine. His median donation was $25 because he's funded by Main Street, not the special interests," said Chip Englander, Mr. Paul's campaign manager.

Drew Ivers, who was the Iowa chairman for Ron Paul's 2008 and 2012 presidential campaigns, is uncommitted so far in the 2016 race. He said Rand Paul has lost a substantial portion of his father's following because he has deviated from his father's isolationist foreign-policy view.

While Ron Paul backs the nuclear agreement with Iran, Rand Paul is opposed. Ron Paul called for decreasing military spending; Rand Paul is for increasing the military's budget. Ron Paul blames the U.S. and European powers for the troubles in Ukraine; Rand Paul last year wrote an op-ed in Time magazine saying "Putin must be punished."

"Rand needs to be articulating the negatives of our foreign policy. But he has chosen not to articulate that," Mr. Ivers said. "These kinds of things would energize his base but he has moved away from them."
NBC's First Read makes a similar observation:
Remember Rand Paul?

Just a year ago, if he wasn't considered a leading prospective presidential candidate, he certainly was an interesting one — given his libertarianism and less-hawkish views on foreign policy.

But now that the presidential contest is well under way, Rand Paul has gone missing — both figuratively and literally — from a big part of the 2016 conversation.

"What the hell happened to Rand Paul?" asked prominent conservative writerErick Erickson.

But Paul's campaign team argues that this absence from the campaign conversation is by design — to play the long delegate game, and to avoid sharing the crowded space with other Republican presidential candidates.

For Paul, there have been two kinds of absences. The first has been away from the candidate "cattle calls" other presidential hopefuls have attended.

For instance, back in June, seven GOP hopefuls (Scott Walker, Marco Rubio, Rick Perry, Mike Huckabee, Ben Carson, Carly Fiorina, Lindsey Graham) were in Iowa attending Senator Joni Ernst's Roast and Ride, but Paul ditched the event to be in New Hampshire to host four "Stand with Rand" meet and greets across the Granite State.

Later in the month, Walker, Perry, Huckabee, Carson, Santorum, Pataki were in Colorado at the Western Conservative Summit, but Paul was fundraising andmeeting with winners of his campaign's "Hackathon" in Monterey, California.

And this Saturday, Paul will be a no-show — again — at the Family Leader summit in Iowa, where Walker, Rubio, Carson, Ted Cruz, Huckabee and Donald Trump will speak. Instead, Paul is campaigning Friday in Houston.

Why the different campaign scheduling? According to multiple conversations with the Paul campaign, the candidate is playing the long delegate game — thus campaigning in states beyond the early contests of Iowa, New Hampshire and South Carolina.

(…)

The second absence for Paul has been away from the political conversation of the day, especially on subjects tricky for the libertarian-leaning candidate who wants to reach out to minorities, and who holds less hawkish foreign-policy views in an increasingly hawkish Republican Party.

He was late to weigh in on removing the Confederate flag from South Carolina's statehouse grounds (he eventually said it should be removed); on the Supreme Court's opinion legalizing gay marriage (he eventually said government shouldn't be in the marriage business at all); and on President Obama's Iran nuclear deal (he eventually said he opposed it).

Yet Paul's team says its strategy is standing apart from the pack. While the responses to various events from rival Republican candidates get lumped together in articles and television segments, the campaign believes that Paul's responses (despite being delayed) get their own coverage — without having to share the page or screen time with rivals.

It also stresses that there's an advantage to taking time to respond to complicated issues.

"No one takes bolder stands than Senator Rand Paul," said Doug Stafford, the Paul campaign's chief strategist. "Whether it's scrapping the entire tax code, taking on the Washington machine, filibustering for his principles, Sen. Rand Paul has led on issue after issue during his time in DC."

Stafford added, "He also believes in being thoughtful, reading bills or decisions, and generally not reducing complicated policy matters to knee-jerk reactions or bumper-sticker solutions. There's something to be said for making sure he has both the right diagnosis and prescription on an issue, instead of racing to see who can tweet about it first."
Perhaps the best example of Paul's fall from the top tier can be found in the polls. Whereas the Kentucky Senator used to show up in the top tier of national polling and in the early primary states, he has steadily declined as more candidates have entered the race and the campaigning has begun in earnest. Nationally, for example, Senator Paul is in fourth place behind Jeb Bush, Donald Trump, and Scott Walker in a second tier that has him basically tied with candidates such as Marco Rubio, Ben Carson, Mike Huckabee, and Ted Cruz. Going by the poll average, he's arguably in better shape in Iowa, where he's essentially tied for second with Jeb Bush but the important thing there seems to be the fact that he has been stuck at basically the same poll numbers for the better part of the past six months, which suggests he does not have much upward potential in the Hawkeye State, especially given Scott Walker's momentum there. In New Hampshire, he's slipped into fourth place behind Bush, Trump, and Walker, but the most significant thing there is that his numbers have steadily fallen in the Granite State since he entered the race in April. In South Carolina, Paul comes in at eighth place, which is roughly where he's been stuck for months now. Finally, in Florida, Paul is in sixth place in the polling at the moment, and given the fact that this is likely Rubio and Bush territory next February it seems unlikely that he will get very far in the Sunshine State.
Paul's fundraising hasn't been much better. As noted, he raised a total of $7,000,000 in the quarter than ended June 30th, which isn't an entirely impressive figure when you consider the fact that his campaign was active for almost the entire quarter, and yet he still raised less than Jeb Bush did in just sixteen days. Additionally, the fact that Ben Carson, who didn't enter the race until a month after Paul, raised more money than he did is not a good sign either. Finally, unlike most of the other candidates, we have not seen any report of fundraising by the principal SuperPAC supporting Paul's candidacy. This would suggest that their numbers are indeed rather disappointing, because otherwise they would have released them already with a triumphant press release.
Added all together, the poll numbers and the fundraising don't paint an optimistic picture for Senator Paul, but it goes beyond that. As Epstein and First Read both mention in their pieces, Paul has largely faded from the political conversations surrounding the Presidential race at this point. To some degree, of course, this is because of the same problem that many other Republican candidates are facing, the over-sized presence of Donald Trump in the race. In addition to that, though, Paul's campaign has been making some odd choices lately. In addition to missing the events noted above, Paul was also a no-show at last weekend's Freedom Fest event in Las Vegas, a libertarian conference that would have seemingly been the perfect place for him to speak and get coverage from friendly media. Considering that other candidates for President such as Marco Rubio showed up to speak, his absence seemed notable.
The biggest issue for Paul, of course, is that in many ways he is out of step with the Republican base voters that show up on Election Day, most notably on issues such as foreign policy, civil liberties, and criminal justice reform. While Paul has made some efforts over the past year or more to reach out to social conservatives on issues such as same-sex marriage, much of his campaign strategy seems to be reliant upon getting younger voters who typically don't vote in Republican primaries to come out for him. As I noted when he began his campaign, if he could do this it's a plan that might actually work but it's a risky one that seems unlikely to succeed. So far, that risk seems apparent. Paul will have a chance to sell himself to voters in the upcoming debates, but he's also likely to get attacked on several fronts from other candidates. If he can do well in those debates, then he may be able to revive what has been to date a rather lackluster campaign. If not, then he may need to think about heading back to Kentucky and concentrating on getting re-elected to the Senate.