Facing An Uphill Battle, Rand Paul Enters The Race For President
Rand Paul is the latest Republican to enter the race, but his path to even becoming a contender is a difficult one at best.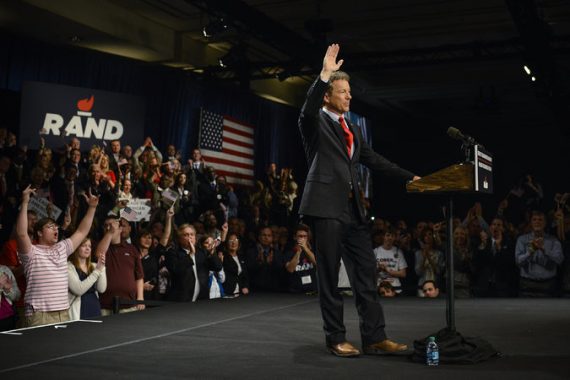 To the surprise of nobody considering the fact that it had been telegraphed to supporters and the media for at least the past two weeks, Kentucky Senator Rand Paul became the latest candidate in the race for the Republican nomination for President in 2016:
LOUISVILLE, Ky. — Senator Rand Paul of Kentucky officially declared himself a candidate for the Republican presidential nomination on Tuesday, promising a crowd of cheering supporters that he is ready to shake up Washington and disprove those in his own party who doubt that a fiercely libertarian conservative can be a serious contender.

"The Washington machine that gobbles up our freedoms and invades every nook and cranny of our lives must be stopped," Mr. Paul told a jubilant audience at the Galt House hotel. "I want to be part of a return to prosperity."

In a speech outlining his small-government vision for the country, Mr. Paul leaned heavily on his biography, describing his experience as an eye surgeon, a career that inspired him after his grandmother's vision failed. Recalling his own story of living the American dream, Mr. Paul scolded both Republicans and Democrats for failing Americans.

"What kind of America will our grandchildren see?" he asked. "It seems to me that both parties and the entire political system are to blame."

Mr. Paul sought to fend off criticism that he is overly isolationist and potentially weak against defense.

"Conservatives should not succumb to the notion that a government inept at home will somehow succeed at building nations abroad," he said. "I envision an America with a national defense unparalleled, undefeatable, and unencumbered by overseas nation building."

Regarding negotiations with Iran over its nuclear program, Mr. Paul said any deal must be approved by Congress.

"I will oppose any deal that does not end Iran's nuclear ambitions and have strong verification measures," he said. "I will insist that any final version be brought before Congress."

Mr. Paul drew loud cheers by criticizing President Obama's domestic surveillance program, arguing that the United States has been compromising liberty for a false sense of security.

"The president created this vast dragnet by executive order," he said. "As president, on Day 1 I will immediately end unconstitutional surveillance."

Mr. Paul also outlined his positions on economic policy, saying that poor cities should benefit from "economic freedom zones" and manufacturing jobs could be created by cutting taxes for American companies that return overseas profits to the United States.
Paul's campaign is likely to be the most unique in terms of the constituencies that it will seek to appeal to, something which makes the task ahead of him even more difficult that current numbers may indicate. In addition to the Tea Party movement that helped propel him to the Senate five years ago, Senator Paul has also relied heavily in the past on the network of support that this father developed during his campaigns for President in 2008 and 2012. At the same time, though, Paul has also sought to distinguish himself from his father both in terms of ideology, such as in the form of a foreign policy that is assuredly more open to an active role for the United States in the world, and in the manner in which he has worked to build coalitions in ways that his father never did. Early on, for example, Paul made peace with Kentucky's senior Senator Mitch McConnell, who had supported Paul's opponent in the 2010 Republican Senate Primary. As I've said before, this was a smart political move for both Senators since it allowed Paul to put to rest any worries about an attack from the Kentucky GOP at home and McConnell to at least some extent bring many of the Tea Party supporters who had backed Paul into his camp. Paul has also reached across party aisles on issues such as sentencing reform, and at least made an effort to reach into minority communities and other areas where Republicans typically can't be found. Not all of these efforts have met with success, of course, but they offer something of a preview of the kind of campaign we're likely to see from Paul. The open question is whether its the kind of campaign that can win a Republican nomination.
As it stands, Paul faces some rather obvious uphill battles inside the GOP as the nomination battle heats up.
The most obvious of these, of course, will be over the area of foreign policy where Paul has staked out positions that are quite often far different from the far more belligerent positions of other Republicans such as Ted Cruz, Marco Rubio, Scott Walker, or even Jeb Bush. While Paul's positions on these issues are far more open to the idea of American intervention abroad than his fathers have been, they are still far more anti-interventionist than what is arguably the mainstream in the Republican Party. Long before today, in fact, Paul's views on these issues have been the subject of criticism from Rick Perry, Dick Cheney, John Bolton, and others who have attempted to falsely label the Senator as an isolationist. Without a doubt, those same messages will be heard from many of Paul's opponents in the months to come, as well as from the SuperPACs and other groups that will make their presence in the race known. That process already started today, in fact, with the announcement of a $1,000,000 campaign from one such group that will fund anti-Paul commercials that will air in Iowa and New Hampshire just as he is touring those states this week. This is likely to just be the beginning of the negative attacks on Paul.
Paul's other battle will come with the need to figure out how to balance the need to appeal to traditional Republican constituencies in early primary states such as Iowa and New Hampshire with the need to keep the appeal to other groups. As I noted last week, for example, in recent months Paul has made some rather obvious overtures to social conservatives on the issue of marriage which are likely necessitated by the composition of the electorate in those early states. At the same time, though, his campaign is relying on what would be some rather unprecedented support from younger voters who don't typically vote in Republican primaries and who are likely to be turned off by the appeals he's made to the far right on marriage and other issues. It's a risky strategy on both sides of the equation, and one that certainly seems more likely to fail than succeed.
As it stands right now, Paul seems stuck in the middle of the prospective GOP pack, with a large uphill battle ahead of him. In national polling, he's currently tied with Ted Cruz in the RealClearPolitics polling average at 8.7%, behind both Jeb Bush and Scott Walker. Paul does a little better in Iowa where he's currently tied with Jeb Bush at 11.3% in the polling average behind Walker and Mike Huckabee. In New Hampshire, he's averaging 11.2% in the polls behind both Scott Walker and Jeb Bush. Beyond those two states, though, Paul's numbers are less impressive at the moment. He's down at 6.0% in the South Carolina polls and just 4.3% in the polling that has been done to date in Florida. Obviously, these numbers will likely tick up over the next couple weeks in the wake of Paul's announcement, but the real test will be what happens once all the candidates are in the race, and once the debates start, and once the negative ads start having their impact. If, at that point, Paul still finds himself near the top of the pack then he might have a slim chance of, at the very least, becoming the challenger to whomever the frontrunner will be in 2016. As things stand right now, though, it seems like it's a slim chance at best.