GOP Hawks Getting Worried About Rand Paul?
There seem to be some signs that defense hawks in the GOP are concerned about Rand Paul's growing popularity in the party.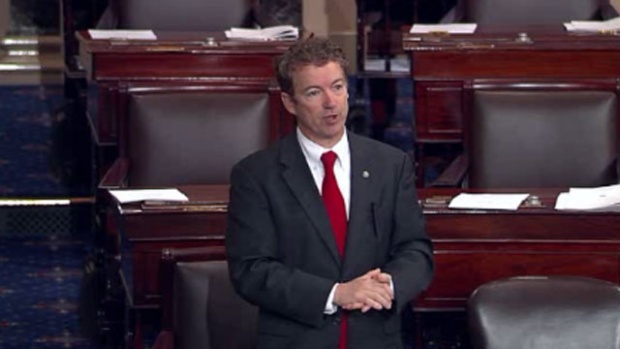 National Review's Robert Costa reports that former U.N. Ambassador John Bolton is planning to take on Rand Paul and the success that he's had in bringing his libertarian-oriented foreign policy into the mainstream of the Republican Party:
As Paul, a Kentucky senator, plans for a 2016 presidential run, he is talking up his views on foreign policy, which, broadly speaking, include less intervention in foreign conflicts and a smaller military budget.

But Paul's positions and rapid ascent have alarmed many Republican hawks. Behind the scenes, they're worried that he has a shot at the nomination.

Enter John Bolton. Bolton, a former U.S. ambassador to the United Nations, is being encouraged by several leading conservative power brokers to consider a presidential bid.

Bolton, who briefly considered running for president in 2012, hasn't made up his mind. But sources tell me that he is moving closer to giving the idea serious consideration — serious enough to travel to Iowa and New Hampshire.

Later this year and throughout 2014, the former Reagan and Bush official will begin an informal national tour. He'll give speeches, huddle with GOP leaders, and push back against the party's libertarian shift. He'll make the case for a muscular foreign policy.
Not surprisingly, the hawks on the right are pleased, as Jonathan Tobin makes clear:
[T]hough the odds are he never makes it to the starting line, let alone the finish line, the idea of a Bolton candidacy is not quite as insane as it may seem at first glance. With many Republicans starting to flock to the neo-isolationist banner put forward by Rand Paul and with many conservative activists now treating the ongoing war on Islamist terror as being not as important as their dislike of Barack Obama, it is arguable that there is no longer a solid Republican consensus in favor of a strong American foreign policy. Though some of the other possible candidates do differ from Paul about the impulse to pull back from a forward posture abroad, none have prioritized that issue. If Bolton is even talking about what would probably be a quixotic run it is only because he knows it is vital for there to be a vigorous debate about foreign and defense policy so as to turn back the Paulite push.

(…)

Paul is certain to be a first-tier candidate and strong showings by him in primaries and caucuses could encourage other contenders to start to echo him in an attempt to please war-weary and libertarian-inclined voters. That will leave an opening for someone to speak up on foreign affairs, and perhaps Bolton feels it might as well be a candidate who actually understands the issues.

It is to be hoped that Paul will find himself challenged on foreign and defense policy in 2016 by stronger opposition than a former ambassador who isn't likely to win a delegate. But though it will probably crash before it takes off, the Bolton trial balloon shows us that there is a desperate need for a GOP foreign policy debate that will head off the surge for Paul.
The fact that the hawks on the right feel it necessary to trod out John Bolton, who seems to have no popularity or credibility outside the Republican Party seems to me to be a sign of how concerned they are that Paul's foreign policy positions may end up resonating with the GOP base. If you look at recent polls, it's clear that Republicans are  just as skeptical of an adventurous foreign policy as the rest of America after a decade of war. For example, there's as little support for American involvement in Syria, even to the limited extent of providing arms to the Syrian rebels, as there is among the American public as a whole. The  public reaction to the revelations about NSA data mining have struck a chord with the public as a whole, and most especially with Republicans, although that may be due in no small part to the fact that these were revelations about the actions of a Democratic case. Finally, Senator Paul's nearly 13 hour filibuster in March became so popular among the Republican base online that even hawkish Senators like Ted Cruz and Marco Rubio, not to mention Senate Minority Leader Mitch McConnell, felt compelled to come to the floor of the Senate to lend their voices to his effort whether they agreed with it our not. All of this is happening while hawks in the party like John McCain, Lindsey Graham, Congressman Mike Rogers, and others are calling for more intervention in Syria than the President has proposed and defended things like the NSA surveillance programs. For the most part, their words seem to be falling on deaf ears with the Republican base.
Given all of this, it's understandable that the hawks in the GOP might be just a little worried that Paul's message will resonate with the base should he decided to run for President and that his efforts to pull the GOP away from its current interventionist foreign policy will actually be met with success. As unlikely as this actually seems given the GOP's history in this area, it's certainly not beyond the realm of possibility. What I have to wonder, though, is why anyone would think that Bolton is the guy to take Paul on, either as a Presidential candidate or just a talking head. As I've noted, he doesn't really have much credibility outside the hawkish circles inside the GOP in which he travels, and he's hardly someone that should be taken seriously as a Presidential candidate in 2016. Is it that other more political hawks like Rubio and Cruz aren't willing to take up the fight right now? If that's the case, then it could be a signal that the Bush-era views that Bolton represents may be more out of style inside the party than it appears from a distance. If that's the case, then it's a good thing. In any event, it would certainly be interesting to have a real foreign policy debate inside the GOP, we haven't had one of those in a very long time.