Poll: Gridlock Is The Biggest Problem With Congress
Congress gets bad grades in Gallup's latest poll, and gridlock is the main reason
A new Gallup poll finds respondents saying that gridlock is the top reason that they are critical of Congress:
PRINCETON, NJ — Nearly four in five Americans in June, 78%, disapprove of the way Congress is handling its job, marking the 45th consecutive month that more than two-thirds of Americans have given Congress the thumbs down. Americans' high level of disapproval is less about what Congress is doing than about what it isn't doing: putting aside partisan bickering and getting things done.

These results are based on a June 1-4 Gallup poll in which Americans were asked to explain, in their own words, "some of the reasons" they either approve or disapprove of Congress.

The top reason Americans who disapprove of Congress give for their view is partisan gridlock, named by 28%. Relatedly, another 21% cite Congress' failure to accomplish anything or make decisions, and 11% say Congress puts politics ahead of the country. More policy related, 2% cite Congress' failure to address unemployment, and 1% mention lack of action on the economy. Overall, 59% of Congress' detractors mention at least one of these reasons, making congressional inaction the overwhelming criticism Americans express regarding the legislative body.

Aside from this, a net 19% of Americans who disapprove mention congressional action on a specific issue, such as healthcare, taxes, immigration, or gun control as the main reason they disapprove of Congress. Nine percent have complaints about congressional ethics or behavior, ranging from lack of transparency and failure "to listen," to dishonesty and frequency of vacations. Another 8% cannot provide a specific reason for their negative view of Congress.
The poll also finds that inaction is the main problem that both Republicans and Democrats have with Congress: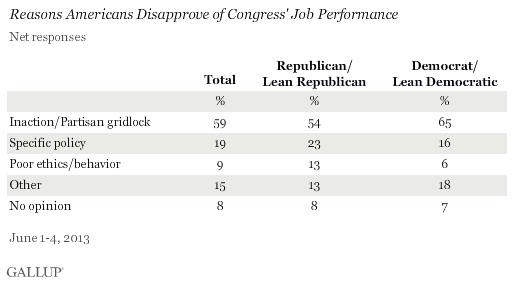 Given this, it's not surprising that public Confidence is at a record low:
WASHINGTON, D.C. — Americans' confidence in Congress as an institution is down to 10%, ranking the legislative body last on a list of 16 societal institutions for the fourth straight year. This is the lowest level of confidence Gallup has found, not only for Congress, but for any institution on record. Americans remain most confident in the military, at 76%.

(…)

The percentage of Americans expressing a great deal or quite a lot of confidence in Congress is the lowest for a trend that dates back to 1973. The high point for Congress, 42%, came in that year.

Confidence in Congress has been at its lowest points for several years, while it was higher in the mid-1980s and in the early 2000s.
And the lack of confidence is basically the same among Republicans, Democrats, and Independents: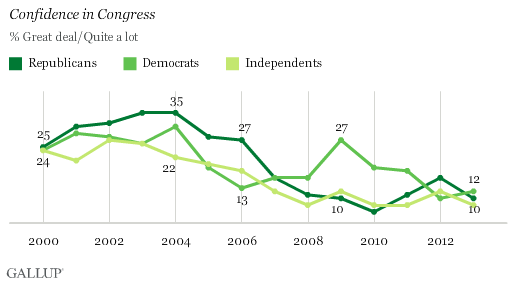 Taken together what these two sets of numbers tell us is that the public highly disapproves of the job Congress is doing, says that the main reason for their opinion is Congressional gridlock, and has almost no confidence in Congress as an institution at all. This suggests that Congress could change its image at least somewhat if the partisan games and jockeying position were put to a minimum so that they could get their jobs done.  At the moment, of course, we've got one political party on Capitol Hill with a sizable group of members who want nothing to do with compromise and working together, and have proceeded to act accordingly for two years now. To the extent the public is watching you'd think that this would hurt the party most associated with gridlock. However, if you look at actual election results, along with polls and the realities of the battle for control of the House and Senate, you see that it's likely that the GOP will hold on to the House in 2014, and at least has a good shot of cutting down the size of the Democratic majority in the Senate. It's one of those things that make you wonder just how much the public really does hate Congress.