John Bolton Reportedly In Line For Number Two Spot At State Department
A controversial member of George W. Bush's foreign policy team is up for a post in Donald Trump's State Department.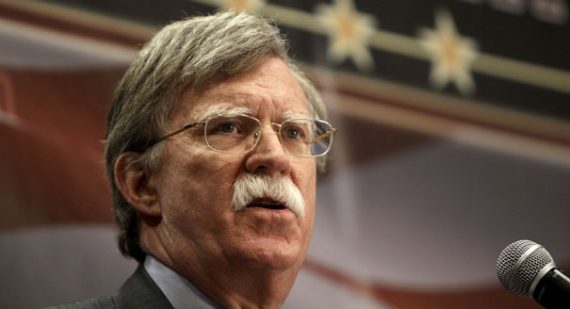 In addition to the possibility of Exxon/Mobil CEO Rex Tillerson as Donald Trump's selection for Secretary of State, reports over the weekend also indicate a potential high-level role for John Bolton, the controversial former U.S. Ambassador to the United Nations under George W. Bush, to become the second highest ranking person at Foggy Bottom:
WASHINGTON ― President-elect Donald Trump will nominate John Bolton to be the nation's No. 2 diplomat, handling day-to-day operations at the State Department, according to NBC's Andrea Mitchell and confirmed to HuffPost by a source close to the transition.

Bolton, who had been on Trump's short list for secretary of state at one point, is among the most hawkish members of the Republican foreign policy community, a bellicose enemy of Russia and Iran.

He is a former acting U.S. ambassador to the United Nations, but served less than two years, as Democrats banded together to block his long-term appointment. His time at the U.N. was marked by a rapid uptick in anti-American sentiment among the global diplomatic community. Bolton remains one of the most disliked foreign policy operators on the world stage.

Trump's search for State Department leadership has been particularly dramatic. Former New York Mayor Rudy Giuliani was in the running, and then he bowed out on Friday. The GOP's 2012 presidential nominee, Mitt Romney, was also considered. But media outlets reported Saturday that Trump had settled on Exxon Mobil CEO Rex Tillerson for the top State Department job.

Even as the second in command at State, Bolton is an aggressive selection from Trump, shattering the president-elect's pledge to work peacefully with other countries. Bolton, who has called for the bombing of Iran, held high-level roles in three different Republican administrations between 1998 and 2006. He is now a senior fellow at the American Enterprise Institute, a conservative think tank whose vice president has described Trump as "an idiot."

He would be reporting to a commander-in-chief who appears to espouse a worldview diametrically opposed to his own. Bolton has repeatedly slammed President Barack Obama for his willingness to engage in limited cooperation with Russian President Vladimir Putin in Syria and Iran.

"While Mr. Obama sleepwalks, Mr. Putin is ardently pursuing Russia's Middle East objectives," Bolton wrote in a 2013 op-ed that argued against assuming the U.S. has common interests with Russia in Syria.

In 2014, speculating that Russia was responsible for the downing of a Malaysian plane over Ukraine, Bolton told Fox News, "I think we've got to begin to treat Russia like the adversary that Putin is currently demonstrating it to be."

Two years later, Bolton expressed hope that Obama wouldn't do anything in his final year in office to legitimize Russia's military efforts in Syria, where U.S. defense officials say Russia is focused on bombing Syrian opposition fighters rather than Islamic State forces. "Until Mr. Obama departs the White House," Bolton wrote in October 2015, "Washington must not do anything perceived as legitimizing Moscow's new Latakia air base, or the presence of Russian aircraft and cruise missiles in the skies over the region. The suggestion that we exchange deconfliction codes with Russia is what the French call a fausse bonne idee, a superficially appealing bad idea."
While Bolton's history of comments critical of Trump during the campaign, and his seeming opposition to what Trump has outlined as his own foreign policy, make him an odd choice for such an important role at the State Department, there is far more about Bolton that raises serious concerns about whether or not he is an appropriate nominee for such a position of responsibility. As noted, Bolton previously served as Ambassador to the United Nations during George W. Bush's second term, but his time in office was limited due to the fact that the Senate refused to confirm his nomination due to his long history of writings revealing exceedingly controversial views on foreign policy. Both before and after his nomination, Bolton proved himself to be a vociferous advocate of the interventionist foreign policy advocated by other Bush Administration members such as Vice-President Dick Cheney and Paul Wolfowitz, views that proved to be controversial specifically with regard to Iraq and American policy toward detainees in the War On Terror. During his confirmation process, allegations also surfaced that Bolton had been verbally abusive toward employees in previous positions and that he had made statements that proved to be controversial to say the least when repeated in public. As a result of these extended series of revelations, support for Bolton's nomination eroded and Democrats in the Senate were able to successfully filibuster the nomination. While his nomination was still pending, it was revealed that he may have made false statements to the Senate during the confirmation process and, after that, his nomination was considered dead until President Bush made a recess appointment that put Bolton in the position of Ambassador to the U.N. until the end of the then-current Congress at the end of 2006. When Congress reconvened, of course, the Senate was now controlled by Democrats and opposition to Bolton's nomination made confirmation impossible. As a result, he was forced to step aside and has since spent his time at the American Enterprise Institute and elsewhere, although he did briefly consider a run for the Presidency in 2016, but announced in May of 2015 that he would not do so.
Because of his past problems with the Senate, it's likely that Bolton's nomination would prove to be a difficult one, and even the mere mention of his name has made that clear. Several Democrats have already spoken out against Bolton, as has Kentucky Senator Rand Paul, who is promising to block the nomination if it is presented to the Senate:
Sen. Rand Paul is threatening to block President-elect Donald Trump's likely pick of John Bolton as the No. 2 in the State Department.

The Kentucky Republican, who serves on the Senate Foreign Relations Committee, could stop the hawkish former ambassador to the United Nations from getting out of committee if there is unanimous Democratic resistance. The committee is narrowly divided among 10 Republicans and nine Democrats, and Paul said Sunday on ABC's "This Week" that he's an "automatic no on Bolton."

"John Bolton doesn't get it. He still believes in regime change. He's still a big cheerleader for the Iraq War," Paul said. "John Bolton is so far out of it and has such a naive understanding of the world."

Paul's vows to vote against Bolton could create the most significant confirmation fight thus far. Bolton would need a bare majority of the Senate to get confirmed, but if he were to stall in committee or face more Republican resistance, his nomination might be in serious jeopardy next year.

The libertarian-leaning lawmaker said he is "going to reserve judgment" on Rex Tillerson, the CEO of Exxon Mobil, who POLITICO reported on Saturday is the favorite to be secretary of state. Paul said he'd ask the same questions about Tillerson's worldview that he has been asking of all secretary of state nominees: Whether they have learned the mistakes from the Iraq War and share the foreign policy philosophy of Trump.
Whether Paul could be successful in blocking Bolton's nomination depends entirely on what his fellow Republicans do. In all likelihood, this is a nomination that Senate Democrats are likely to be unanimously opposed to, so it would only take a handful of Republicans to block his nomination. In addition to Paul, that could include people like Senator Mike Lee, who has often joined Paul on foreign policy and civil liberties issues, if Democrats could find two more Republicans to peel away on the nomination, then President Trump could find it as difficult to get Bolton confirmed as President Bush did a decade ago. Even if they don't succeed in ultimately blocking the nomination, though, Paul and other Senators who stand against Bolton could go a long way toward alerting the public to the kind of person Trump is putting in such a significant position of power and influence. Additionally, since Senators might not be able to remain united in opposition to a nominee like Tillerson, and would be unable to do anything to stop retired General Mike Flynn's nomination to be National Security Adviser, it's possible that Bolton could face the same result in the Senate that he did a decade ago.