Immigration Reform Bill Passes Senate, Faces Bleak Future In House
The Senate passed an immigration reform bill today, but it's not going to go anywhere.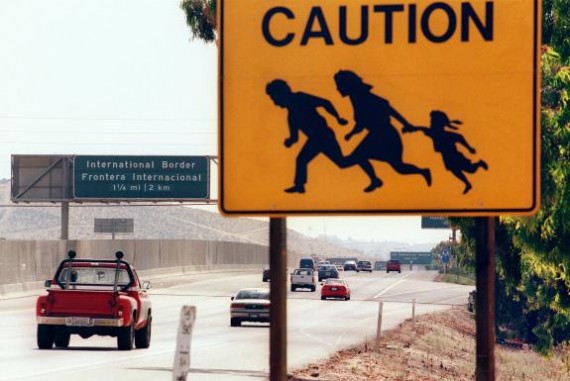 After some two months or more of work and debate, the Senate passed a comprehensive immigration reform bill today that probably won't go anywhere in the House of Representatives:
WASHINGTON — The Senate on Thursday approved the most significant overhaul of the nation's immigration laws in a generation with broad bipartisan support, sending the bill to the Republican-controlled House, where there is significant opposition from conservative members and where the fight could extend into 2014.

But given the strong 68-to-32 vote, with 14 Republicans voting in favor, the Democratic leadership and the bipartisan group of eight senators who drafted the original bill seemed determined to savor the moment. Vice President Joseph R. Biden Jr. presided over the vote as senators announced their positions from their desks, in a ceremonial procedure reserved for special occasions.

Leading up to the vote, many in the "Gang of Eight" that drafted the framework of the legislation took to the Senate floor to give impassioned speeches, including Senator Marco Rubio, Republican of Florida, who is one of his party's leading Hispanic voices. When Mr. Rubio finished, the other senators in the bipartisan group surrounded him on the floor, patting him on the back and offering words of encouragement. "Good job," said one. "I'm proud of you," said another.

During the vote, Mr. Rubio buttoned his suit jacket as he stood and said "aye." Later, as Mr. Rubio walked around the Senate floor receiving congratulations, he passed by the pages sitting on the steps just below the podium and called out, "You picked a good day to be here."

The Senate bill provides a 13-year path to citizenship for the 11 million unauthorized immigrants in the country, as well as tough border security provisions that must be in place before the immigrants can gain legal status.

Though overhauling the nation's immigration system became a priority for many Republicans after the 2012 presidential election, in which the Republican nominee, Mitt Romney, was rejected by Hispanic voters, immigration opponents have mounted last-ditch efforts to derail the bill, which they say would offer amnesty without any real enforcement measures.

As the bill heads to the House, Republican elites and their well-financed pro-immigration groups are running up against opposition from the chamber's most conservative members. Speaker John A. Boehner threw cold water on any hope that the House would vote on the Senate plan, and he insisted that whatever immigration measure his chamber took up would have to be supported by a majority of his Republican conference.

"I issued a statement that I thought was pretty clear, but apparently some haven't gotten the message: The House is not going to take up and vote on whatever the Senate passes," he said Thursday morning. "We're going to do our own bill."

The legislation — drafted largely behind closed doors by the bipartisan group — brought together an unlikely coalition of Democrats and Republicans, business groups and labor unions, farmworkers and growers, and Latino, gay rights, and immigration advocates. Along the way, the legislation was shaped and tweaked by a series of backroom deals and negotiations that, in many ways, seemed to mirror its inception.

Even late Wednesday, Senator Charles E. Schumer, Democrat of New York and an author of the bill, found himself on the phone with Gov. Chris Christie of New Jersey, trying to shore up support. In a 30-minute phone call, according to an aide, Mr. Schumer urged Mr. Christie to help persuade Senator Jeffrey S. Chiesa, Republican of New Jersery — newly appointed by Mr. Christie — to vote for the bill. (Mr. Chiesa was one of 14 Republicans who voted "yes" on Thursday afternoon to end debate).

The first big deal, however, came early on, at the end of March, when the nation's top labor and business groups reached an agreement on a guest worker program for low-skilled immigrants. Disagreements between the U.S. Chamber of Commerce and the A.F.L.-C.I.O., the nation's main federation of labor unions, had helped doom a 2007 attempt at a similar overhaul, but the two groups came together to create a program that will expand and shrink based on economic indicators — like the unemployment and job openings figures — and offer a maximum of 200,000 guest visas annually.

The group of senators who wrote the legislation had originally hoped it would receive overwhelming bipartisan support — as many as 70 votes, some senators suggested — to help propel it through the House, and when the bill moved to the Senate Judiciary Committee, the group took pains to win bipartisan support there, too.

In an effort led by Mr. Schumer, the group wooed Senator Orrin Hatch, Republican of Utah, addressing his concerns about visas for skilled foreign workers who could fill jobs in the high-tech industry. Ultimately, the panel agreed to provisions by Mr. Hatch that raise the annual minimum number of visas for high-skilled foreign workers and create a market-based mechanism to ensure that companies in the United States can bring in qualified foreign workers for jobs that cannot be filled by Americans.

On the final night of consideration by the panel, in emotional and moving testimony, both Democratic and Republican senators argued against taking up a measure that would have allowed United States citizens to apply for permanent resident status, known as a green card, on behalf of their same-sex partners. Though Democrats supported the measure, Republicans said such a provision would have doomed the overall bill, and the debate largely became moot on Wednesday, when the Supreme Court ruled that married same-sex couples were entitled to federal benefits.

The bill passed through the committee, in a process that stretched over five days and included the consideration of more than 300 amendments, on a strong 13-to-5 bipartisan vote, with Mr. Hatch, as well as Senators Jeff Flake of Arizona and Lindsey Graham of South Carolina, both Republicans and members of the bipartisan group, supporting the bill. (In a recent op-ed article, Mr. Hatch also declared his support for the final legislation).

The bill's largest, and perhaps most critical, change came in the form of a border security package that promised to substantially bolster security along the nation's southern border. The proposal, by Senators Bob Corker of Tennessee and John Hoeven of North Dakota, both Republicans, would devote roughly $40 billion over the next decade to border enforcement measures, including adding 20,000 new Border Patrol agents and 700 miles of fencing along the southern border.

The amendment, which passed Wednesday with broad bipartisan support, helped bring along more than a dozen reluctant Republicans, who were hesitant to support the overall bill without a clear plan to secure the southern border, in order to ward off a future wave of illegal immigration.

"I'm proud to vote for this, and I hope it continues to improve as it moves along, and hopefully we'll put this issue behind us," Mr. Corker said.
On some level, it looks as though we're likely headed for a replay of what happened to immigration reform in 2006, the last time Congress tried to put together a bill to fix problems with our immigration system that everyone seems to acknowledge exist. Back then, when the Republicans still controlled both Houses of Congress, a bill also passed the Senate, in that case by a vote of 62-36, while a different bill passed the House by a vote of 293-182 but reform efforts died because the two chambers were unable to agree to even take the matter to a Conference Committee, at that point the bill died.
It seems quite likely that something very similar to this will happen this time around. Speaker John Boehner has already made it clear that the Senate Bill will not come to the House floor unless it has the support of a majority of the House GOP Caucus. We already know that this isn't the case, so while House Democrats may try to pull of some parliamentary maneuver to bring they bill to the floor, that effort will fail and the Senate bill can effectively be considered dead on arrival in the House.  Speaker Boehner and other Republicans are saying that the House will be working on its own bill but, so far at least, there's absolutely no indication of anything substantive coming out of the House or, if it does, that it will come out any time in the near future. Any bill(s) we do so are likely to focus on the conservative's favorite topic "border security," while ignoring the real and existing problems with our immigration laws. That may make the GOP base happy, but it's not going to solve the real problems the nation faces, the fact that there are millions of people living in the shadows because of their immigration status, or the fact that our current laws are the primary reason that people have the incentive to come into this nation illegally rather than trying to comply with a labarynthian process that even the people who are responsible for running it clearly don't understand.
As I've said before, there was much to criticize in the Senate bill, most prominently the mandatory e-verify program, but it was at least a serious attempt to deal with a serious problem. Rather than responding to it with ideas of their own, most on the right responded by attacking people like Marco Rubio and Jeff Flake for daring to work across political aisles to come up with a solution. Instead of coming up with viable alternatives, conservatives are calling Rubio a RINO and people like Sarah Palin are encouraging primary fights against people like Rubio and New Hampshire's Kelly Ayotte because of their support for the bill. The fact that polls have consistently showed that a majority of the public supports the major components of the Senate bill doesn't really seem to matter to them.
So, there's really nothing good for advocates of immigration reform today. Yea, the Senate did something but, in the end, it seems pretty clear to me that we're headed to a very similar outcome to what happened in 2006. Of course, the GOP has payed  price for that debacle, but they seem not to have learned their lesson.