Rand Paul's Pandering To Social Conservatives Likely To Turn Off Other Supporters
Rand Paul has been cozying up to social conservatives lately, but he risks alienating the people most likely to support his campaign for the White House.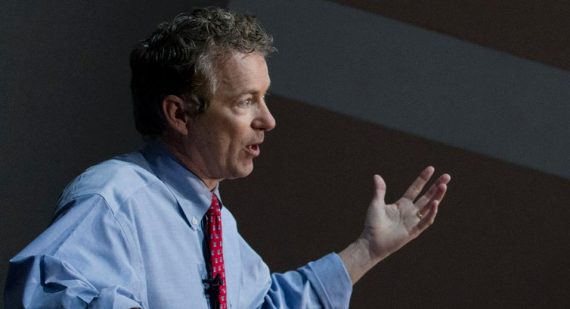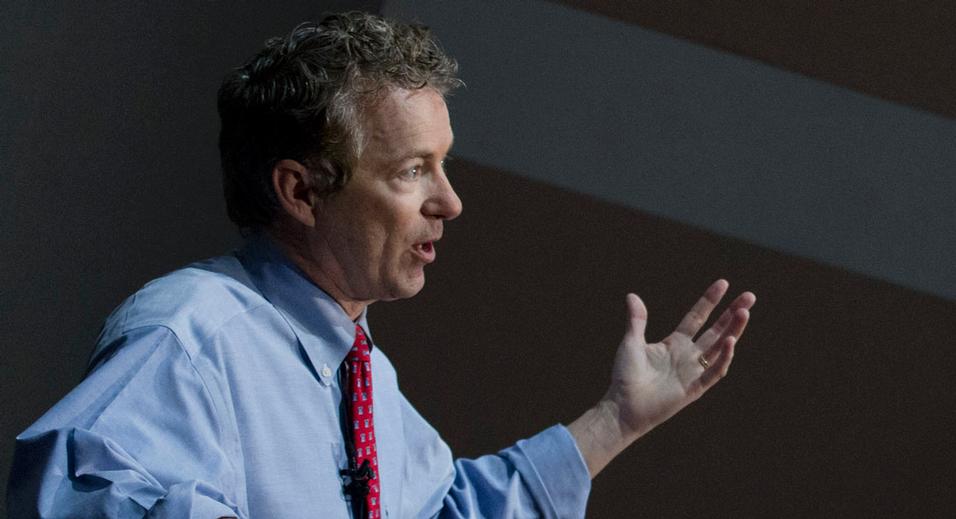 Kentucky Senator Rand Paul, who seems to be engaging in some heavy pandering toward social conservatives in recent weeks:
Earlier this week, Sen. Rand Paul (R-Ky.) made an about-face on defense spending. He also shifted on same-sex marriage.

Speaking to a group of pastors in Washington on Thursday, Paul said that a moral crisis is leading people to believe that same-sex marriage is acceptable.

There is a "moral crisis that allows people to think there would be some other sort of marriage," aside from traditional marriage, Paul said, according to a video from CBN News/The Brody File. Attendees included Jerry Johnson, chief executive of National Religious Broadcasters, and David Lane of the American Renewal Project.

The video and amendment that Paul put forward to boost defense spending show a sharp tack to the right from the libertarian-leaning Kentucky Republican as he moves toward an expected presidential bid announcement next month.

In an interview with CNN in October, Paul said he believes in "old-fashioned marriage," but he said that the government shouldn't be involved and that the Republican Party can "have people on both sides of the issue." When asked if he could rethink his opposition to same-sex marriage, Paul shrugged.

A spokesman for Paul said the senator's position "has not changed" and "continues to believe that marriage is an issue that should be dealt with at the state level."

Paul told the pastors that they have a role in Washington and that prayer is a part of government.

"The First Amendment says keep government out of religion. It doesn't say keep religion out of government," Paul said, according to the video.

Paul also called for "another Great Awakening, with tent revivals" of people calling for reform. "Or see what's going to happen if we don't reform," he said.\
On a related note, Buzzfeed reported yesterday on a previously unnoticed 2013 interview in which Paul said that he did not believe in gay rights, because being gay is a behavior:
Sen. Rand Paul said he doesn't buy into the concept of gay rights because they are defined by a gay person's lifestyle.

"I don't think I've ever used the word gay rights, because I don't really believe in rights based on your behavior," the Kentucky Republican told reporters in a videotaped interview that has received little attention since it was recorded in 2013.

But it's unclear how far — and to whom — Paul extends the argument that rights cannot be defined by behavior.

Practicing religion, for example, is a behavior enshrined as a primary American right. Free speech is behavior protected by the Bill of Rights. Likewise, a person's right to be free from discrimination for his or her nation of origin — which entails the behavior of moving from one country to the United States — is embedded in America's civil rights laws and broader code of values.

Eleanor May, a spokesperson for Paul's 2016 re-election campaign to the U.S. Senate, said the rights that count are those in the country's founding charter. "What he is saying in this video is that he does not classify rights based on behavior, but rather recognizes rights for all, as our Constitution defines it," May told BuzzFeed News.

"Sen. Paul is the biggest proponent for protecting the Bill of Rights, which, as you know, protects the rights of all Americans as stated in our Constitution," May said.
Explicitly religious rhetoric like this isn't new for Republicans, of course, but it's generally something you'd expect to hear more from Mike Huckabee, Rick Santorum, or Ben Carson than from a candidate who has spent most of his time in the political limelight trying to walk a very fine line between the libertarians that have been the strongest supporters of him and his father and the social conservatives that make up an important constituency in the Republican Party, and especially in states such as Iowa and South Carolina that will play a big role in deciding who the front runners for the GOP nomination in 2016. Previously when it came to the marriage issue, Paul walked that line by taking the position that marriage is an issue that should be left to the states, that the Federal Government had no role in the matter, and in some cases even that marriage itself should be something that the state wasn't involved in at all. With comments like this, though, Paul seems to be clearly coming down on the side of the social conservatives more than he has in the past, and as Olivia Nuzzi notes, in doing so he risks alienating another part of the political coalition that he depends on:
Paul supporters will tell you they like him because he is different. Compared to someone like Ted Cruz, who arrives onstage looking like he has just climbed out of a vat of oil, speaking in tongues and promising everyone liberty and candy, Rand Paul, who talks slowly but thinks fast like Daria and isn't particularly good at shaking hands, is about as real as it gets.

But Paul keeps testing their patience. With the rise of ISIS, we learned that Paul's skepticism of military intervention was milder than he advertised. By signing the GOP's open letter to Iran, it became clear that the senator values political expediency to the degree that he will sign a document explicitly designed to do the opposite of what he claims he wants, which was to halt the nuclear negotiations between the U.S. and Iran – the very negotiations Paul claimed (and continues to claim) to be in favor of.

And, now, in the setting of an intimate gathering of evangelicals, Paul transforms from keep-the-government-out-of-it to a full-fledged gay marriage interventionist.
Paul's recent comments, as well as the interview from 2013,  have the potential to undermine another part of the coalition his strategists seem to be relying upon in the upcoming campaign. One part of that coalition, of course, are libertarian oriented voters including, but not necessarily limited to, the people who supported his father's campaigns in 2008 and 2012. Seemingly anti-gay rhetoric such as this from Paul doesn't seem as though it is going to go over very well with this crowd. As one of those potential supporters, I can say that my opinion of Senator Paul has diminished the more he has pandered to the social conservative wing of the GOP, and rhetoric like this just makes that pandering seem all the worse. This group of voters may not be very large in many primary states, but it has been enthusiastic in the past but in terms of willingness to volunteer for campaigns and turn out to vote. If Paul starts to turn those voters off, then that makes the task of staying near the top of the GOP pack all the more difficult.
It isn't just with the libertarian wing of the GOP that Paul risks discrediting himself with his supporters, though. More so than any of the other potential Republican candidates, Senator Paul has made a conscious effort to appeal to younger voters, primarily by emphasizing his positions on civil liberties issues, sentencing reform, and other issues.  As Shane Goldmacher noted in National Journal recently, this is a risky strategy to begin with given the fact that Republican primary voters tend to be older, and the fact that younger voters don't tend to vote in large numbers to begin with, particularly in Republican primaries. Given their strength in states like Iowa and South Carolina, it's not surprising that Paul is trying to appeal to social conservatives. He's going to be competing for those voters with a number of other candidates, though, many of whom have far deeper ties to that wing of the Republican Party than he does. As it stands, his current round of pandering seems as likely to turn off others who might be inclined to vote for him as it does to help him with that one segment of the party.