Can We Really Get Government Out Of Marriage?
Is the answer to the same-sex marriage debate as simple as getting the government out of the marriage business, or is it more complicated?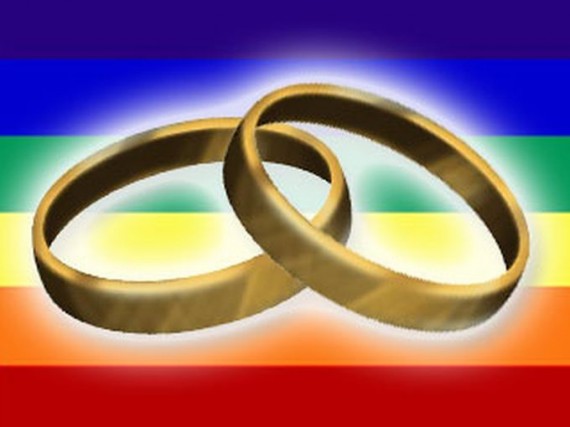 In an interview with National Review's Robert Costa, Kentucky Senator Rand Paul takes a position on marriage equality that is very familiar to most libertarians:
Paul says foreign policy is an instrumental way to expand the GOP, but it's not the only way. Social issues are another area where he thinks Republicans can make a better argument to independents and centrists without departing from their principles. Gay marriage, for instance, is one issue on which Paul would like to shake up the Republican position. "I'm an old-fashioned traditionalist. I believe in the historic and religious definition of marriage," he says. "That being said, I'm not for eliminating contracts between adults. I think there are ways to make the tax code more neutral, so it doesn't mention marriage. Then we don't have to redefine what marriage is; we just don't have marriage in the tax code."
Jennifer Rubin reacts positively to this suggestion:
In other words, let's get the government out of the marriage business, he says. If we were starting a system from scratch, I suspect that would be an easier sell. But getting the federal government out of the marriage business, deferring to the states and allowing individuals to, as he says, enter into contracts with one another, can be the way out of the gay marriage thicket for the GOP, I would argue.

The Supreme Court, depending on its ruling in the same-sex marriage cases, may assist this process by striking down the Defense of Marriage Act, the biggest aggrandizement of federal power on marriage in my lifetime (maybe ever).

Conservatives understand that there is a realm of conduct left to churches, synagogues, families, localities and individuals. The essence of Burkean conservatism is a healthy regard for and respect for those realms and for the customs, habits and beliefs that flow from those free associations. Whatever the methodology, conservatives at the national level need to extract themselves from a losing battle that should not be within the purview of the federal government.
And, reacting to the news of Senator Rob Portman's change of heart on the issue, Stephen Green says much the same thing:
[T]he proper course is to abolish marriage as a government institution. Civil unions for all who want them, gay or straight, for legal purposes of wills, benefits, hospital visitations, etc. But leave marriage where it originated: With the churches. My church will proudly marry gay couples, maybe yours won't. But no one will be forced to do or recognize anything they don't want to. Everyone's rights are protected; everyone's liberties are respected.
It's an appealing position on many levels for persons such as myself who favor limited government and maximum autonomy for individuals to define their relationships. Additionally, it would not necessarily be as radical a change as it might seem to be at first. As I noted elsewhere, the heavy government involvement in marriage that we are familiar with today, wherein one is not "married" unless one has been granted a license by the state, is of relatively recent vintage in the long history of Western Civilization. For centuries, millennia actually, marriage was an institution that was handled at the church level or via other informal means. People didn't apply for marriage licenses, and there weren't a class of people authorized by the government to perform marriage. In nations governed by English Common Law, marriage could come into existence merely by a pattern of behavior between the parties such as cohabitation for an extended period of time. That form of  "common law marriage" is still permitted in eleven states, although the requirements for it are typically governed by statute now rather than the informal,  judge-made, rules traditionally associated with Common Law. Therefore, the idea of turning marriage into something far less legally formal than we have today, wherein people would be free to enter into contracts as they wished and religious institutions would be free to define marriage as they wish, would arguably be a return to the way things were before the state stepped in and asserted more and more control over an area that it traditionally had not been involved in.
The "get government out of marriage" argument is also appealing to me as a libertarian because, well, it involves getting the government out of people's lives. I've long believed that the ideal world would be one in which consenting adults would be free to enter into any kind of personal relationships they wish without having to seek the permission or imprimatur of the state. It doesn't matter to me if that means a man and a woman, two men, two women, or more than two people to be completely honest about it. I realize that a more radical position than most advocates of same-sex marriage take, but as far as I'm concerned people should be enter into whatever consensual relationships they want for whatever reason. For that reason, the idea of separating marriage and state does appeal to me.
At the same time, though, I have to wonder whether "getting the government out of marriage" is something that can ever actually be accomplished.
To start, I think it's important to realize just how involved in marriage the government actually is. Except for those eleven states where Common Law Marriage is still recognized, in order to be married in the United States of America you have to go through the hoops that state governments have set up in order to get a marriage license.  At the very least, that means that the ceremony must be presided over by someone authorized by the state to perform marriages. In four states, it still means that you must take a pre-marriage blood test, originally intended to screen both parties to a marriage for venereal diseases. In many states, you are required to wait a certain number of days before actually undertaking the wedding ceremony and some of them have restrictions on how long non-residents must be in the state before they can apply for a marriage license. So, even before you've put on the tuxedo or wedding gown, you've had to comply with a host of legal requirements in order to have your union blessed by the state.
There may be a rational basis for some of these requirements, but they all appear to me to be hanging on by a very weak string. What's the justification, for example, for requiring blood tests at this point in time? Or what about the requirement that only people licensed by the state can perform marriages? Why couldn't a couple decide that they wanted a close friend to officiate at their ceremony, what's the harm in the fact that he doesn't have a piece of paper from the state? Waiting periods also seem especially dubious.  Eliminating most or all of these regulations would strike me as being particularly difficult or complicated, but that's only the beginning.
Once a couple is married, they become the beneficiaries of a whole host of legal benefits that are not available to single people, and which are difficult if not impossible to mimic via private contracts. When a married couple buys property, for example, they typically buy it under a legally unique type of property called "Tenancy By The Entirety." What this means in a practical respect is that the property is not only deemed to be owned by both parties equally, which is also the case when property is owned by individuals via a Joint Tenancy, but that also includes the additional protection that the property is immune from attack by a creditor that only has a claim against one of the parties. Legally, there's no way to create this kind of protection for non-married couples outside, possibly, of the cumbersome and expensive process of placing the property in a Trust. Married couples also obtain the protection of the Spousal Testimonial Privilege which, with exceptions that vary from state to state, generally say that one spouse cannot be compelled to testify against the other on matters that are considered "marital communications." Again, that is not a protection that can be created by contract.  Other legal benefits granted to married couples that are difficult to replicate via contract include the benefits provided in the tax code, the privileges that a spouse has when the others spouse dies without a will, and a myriad other benefits that are difficult if not impossible to re-create via contract. Finally, getting that piece of paper from the state saying that you are married means that you suddenly become entitled to a host of benefits offered by private companies. You can add your spouse to your health insurance, for example. That's something that isn't possible unless you have an insurance plan that allows you to do so.
There are two other final complications relating to marriage in which the government gets heavily involved. As everyone knows, we live in an era where marriages don't necessarily last forever. Depending on which statistic you follow, the divorce rate is either 50% or something pretty close to that. Many divorce cases end up being uncontested and with little courtroom drama between the parties, but for each one of those cases there are the ones where the separation was bitter and the court proceedings lengthy. Even if we replaced our current legal regime with one where people are free to contract among themselves, there were still need to be a legal method for dealing with the dissolution of those contracts. If children are involved, the matter becomes even more complicated, because then the Court becomes the arbiter of the best interests of the child, something that also cannot be dealt with via legal contracts.
There's one final point that the advocates of this position make that needs to be addressed largely because it is also an argument utilized by opponents to same-sex marriage. Legalizing same-sex marriage, they argue, would lead to churches being forced to marry gay couples even if that is against their religious doctrine and religious people being forced to provide services to gay couples even though it might be offensive to their religious beliefs. As to the first point, I would suggest that it's perfectly clear that the First Amendment would bar any governmental effort to force any religious institution to solemnize a marriage that was in contradiction to their religious beliefs. For example, there are Federal laws that bar discrimination based on religious belief, but nobody is seriously arguing that the rules of the Catholic and Orthodox Churches which generally forbid interfaith marriages absent certain exceptions are illegal. Similarly,  nobody is seriously arguing that legalizing same-sex marriage means that the Archbishop of New York will be required to preside over same-sex marriages. Indeed, as someone who supports same-sex marriage I say without qualification that I would oppose any effort by the state to impose such a regime on religious institutions.
The issue becomes slightly more complicated when you're talking about individuals engaged in private business who may claim to have a religious objection to same-sex marriage. Should a wedding planner, or a photographer, caterer, baker, or florist, be able to refuse to provide services to a same-sex couple on the grounds that acknowledging such a union would violate their religious beliefs? This is precisely the issue that Federal Court's throughout the country are dealing with in connection with the legal challenges to the mandate from the Department of Health and Human Services, pursuant to the Affordable Care Act, that employer provided health insurance plans must include coverage for contraceptives. As I've noted before, I'm slightly skeptical of the religious liberty arguments against this mandate mostly because I don't think the Federal Government ought to have the authority to impose such mandates on any employer and I can't see the logic in carving out an exemption for employers who claim to have a religious objection to the mandate.  If you take that argument to it's extreme, then it would mean that an employer who was  a Jehovah Witness could object to covering health insurance expenses for blood transfusions. That leaves us with two options, either the employer  mandate is Constitutional (and I don't think that it is) or only employers who can come up with a religious reason to oppose it are exempt from it.  The second option doesn't seem very logical to me. In either case, the government is still "involved."
So, there are a whole host of legal and sociological issues that arise from a relationship, whether it s called a marriage or a civil union. In the end, I don't see how the government can ever be totally "out of the marriage business," but I'm willing to listen to some arguments.