Italy Expected to Elect Post-Fascist Premier
Democratic backsliding appears to be spreading to another European country.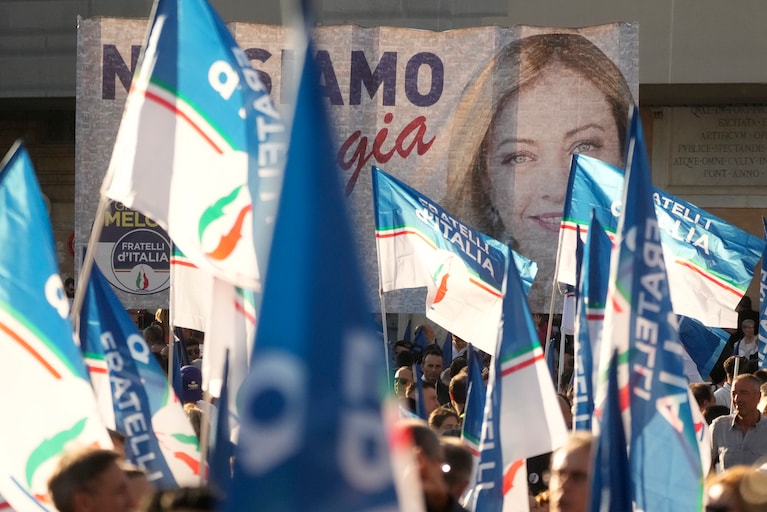 Chico Harlan and Stefano Pitrelli report for WaPo "Italy poised for glass ceiling-shattering vote, hard right turn."
Italy is poised on Sunday for a norm-breaking election that's expected to give the country its first-ever female prime minister — and its farthest-right government since the fall of Mussolini.

The vote is forecast to deliver victory to a coalition that includes two far-right forces, including the Fratelli d'Italia party of Giorgia Meloni, a once-marginal figure who vows to defend "traditional" social values, close off pathways to undocumented immigrants and push back against the "obscure bureaucrats" of Brussels.

While the rise of Meloni and the far right could ultimately turn into an epochal event in European politics — pushing Italy into an illiberal bloc with Poland and Hungary — it's difficult for leaders to hold on to power in Rome, where zigzags are the norm, and the typical government lasts no more than 400 days. Meloni would face immediate tests at home and in Europe, given fatigue over soaring energy prices and divisions within her own coalition on Russia and its invasion of Ukraine.

The vote Sunday only fills the seats of parliament; the prime minister will be chosen later, indirectly. But if Fratelli d'Italia emerges with the most votes of any party in the fragmented system, it will give Meloni — a 45-year-old Roman who quotes pop songs and delights in bashing the "woke" left — the best shot at receiving the mandate from Italy's president to form a government.

It's not an easy country to lead. Household wealth has scarcely improved in a generation. And mountainous national debt means any government, with missteps that scare investors, could edge toward a financial crisis. That would make for high stakes as Meloni began the job, as officials in other capitals watched to gauge her taste for disruption.

In her decade as leader of Fratelli d'Italia — Brothers of Italy — she has espoused some extreme positions. She's advocated for the dissolution of the euro zone. She's warned, conspiratorially, that unnamed forces are guiding immigrants en masse to Italy in the name of "ethnic substitution."

But she has clearly tacked toward the center on some issues as her party widened its support. She says Italy belongs in Europe, but will fight for its interests. She promises to maintain Italy's Atlantic alliances and says the country won't take an authoritarian turn. In an interview with The Washington Post this month, she also pledged financial stability, and said "people abroad" would see her government's seriousness "once we'll present our first budget law."

Her party's rise is the culmination of a decades-long process of image rehabilitation — and moderation — of a political wing started by Mussolini loyalists soon after World War II. Fratelli d'Italia is a descendant of an earlier, more extreme post-fascist party. Meloni has said that the Italian right long ago handed fascism "to history," but her opponents say that her party still includes some fascist sympathizers.

Italy's right-wing parties, in banding together, have given themselves an overwhelming electoral advantage over the fragmented left, which failed, amid infighting, to create a comparable coalition. When polls were halted two weeks before the vote, a YouTrend projection showed the right-wing bloc commanding 45.9 percent of the support, compared with 28.5 for the center-left and 13.2 for the amorphous, vaguely anti-establishment Five Star Movement. Some pollsters say the Five Stars have made progress since that point by arguing for the preservation of their signature welfare plan — a so-called citizens' income that is popular in the south. Meloni opposes it.
In a companion explainer ("Italy's election will likely bring the far right to power. Here's why.") Harlan and Pitreli elaborate on the rules of the game and how they influence the outcome:
Italy doesn't feel like a country that's about to swing to the far right.

Two-thirds of Italians say they're optimistic about the future of the European Union, whose stimulus helped buoy the country — and boost the image of the bloc — after the pandemic's economic shock. What's more, the country has been led for the last year and a half by economist Mario Draghi, a paragon of centrist stability who continues to earn high approval ratings.
So, why isn't he a shoo-in for another term?
Instability is at the heart of Italian politics, and incongruous zigzags are a feature of the system, not a bug. Since the end of World War II, Italy has cycled through governments every 400 days or so. Careers rise and crash at super-speed. Voters coalesce around parties and then drop them. To the extent that there's any recent constant, it's that 40 to 50 percent of voters tend to favor the right. And Meloni, in recent years, has pulled votes away from competing parties — in part because Fratelli d'Italia has remained in opposition.
So . . . Italians are happy with the current guy but, because they're Italians, they have to vote for someone else because they like instability? That doesn't seem quite right.
The system's design also plays to Meloni's benefit. Voters don't directly pick the prime minister. And because there's such fragmentation, a figure like Meloni needs to only convince a plurality of voters of her party's fitness. In this instance, Fratelli d'Italia is expected to be the choice of about one-quarter of would-be voters — enough to make it Italy's most popular party. And based on its coalition with others on the right — in contrast to infighting on the left — it has overwhelming odds to prevail in the vote.
So, even though the centrist Draghi is popular, his party is unlikely to attract a plurality of voters in a very fragmented field. And not only are there more supporters of right-leaning parties than centrist and left-leaning parties but that bloc is more able to work in a coalition. That makes more sense.
Strangely, while this is more democratic than our de facto choice between two parties, it doesn't necessarily translate into putting the people's policy preferences into action.
But national votes, even seemingly decisive ones, rarely bring the tidal change that they might in, say, France or the United States. Italy's last national vote, in 2018, is a good example. That election looked as if it were the start of a populist revolution, and it led initially to a government of anti-establishment forces on the left and right. But their agreement was brittle. One government collapsed and then the next. Eventually, in the middle of the pandemic emergency, Italy's president handpicked Draghi to lead a unity coalition. In other words: Three years after a populist revolt underpinned by heavy Euroscepticism, Italy was being run by a former European central banker chosen by one man and devoted to burnishing Italy's stature in Brussels.
Despite all that, Meloni seems like bad news.
In her social views, Meloni has much the same profile as Viktor Orban, the orchestrator of Hungary's autocratic turn. Meloni is emphatic about the importance of protecting what she says is Europe's Christian identity. She blasts the "wokeness" of the left and its positions on gender identity.

But on other issues, Meloni has tried to make herself more palatable to Italy's center, a tactic that has helped take her party from the fringes. She once argued for the dissolution of the euro zone; now she says Italy's place is within Europe. She used to trot out conspiratorial ideas about unnamed forces deliberately orchestrating mass migration to Italy; she no longer speaks in those terms.

She compares Fratelli d'Italia to the Tories of Britain and Likud in Israel — conservative parties, not norm-wreckers. And she has portrayed herself as working at times to support the initiatives of Draghi, including on measures related to Ukraine, a country that she has backed unequivocally against Russia.

"She has developed a way to talk to international interlocutors, sounding reasonable," said Nathalie Tocci, director of the Italian International Affairs Institute. "But she is also able to speak with her Roman accent, fiery voice, in a way that gets the message across [to her base]. So she's an effective politician."
Ruth Ben-Ghiat, a professor of history and Italian studies at NYT, minces no words, seeing this as "The Return of Fascism in Italy."
The election of the first woman prime minister in a country always represents a break with the past, and that is certainly a good thing," Hillary Clinton said to an Italian journalist at the Venice International Film Festival earlier this month. She was speaking of Giorgia Meloni, a member of the Chamber of Deputies, who could make history if the Brothers of Italy party does as well as expected in Sunday's elections.

That would be one sort of break with the past. But Meloni would also represent continuity with Italy's darkest episode: the interwar dictatorship of Benito Mussolini. As Clinton would surely concede, this is not such a good thing.

[…]

Brothers of Italy, which Meloni has led since 2014, has an underlying and sinister familiarity. The party formed a decade ago to carry forth the spirit and legacy of the extreme right in Italy, which dates back to the Italian Social Movement (MSI), the party that formed in place of the National Fascist Party, which was banned after World War II. Now, just weeks before the 100th anniversary of the March on Rome—the October 1922 event that put Mussolini in power—Italy may have a former MSI activist for its prime minister and a government rooted in fascism. In the words of Ignazio La Russa, Meloni's predecessor as the head of the Brothers of Italy: "We are all heirs of Il Duce."

Meloni in many ways sounds more like other modern national-conservative politicians such as Hungary's Viktor Orbán and America's MAGA Republicans than Il Duce. "There's a leftist ideology, so-called globalist," she told The Washington Post recently, "that aims to consider as an enemy everything that defined you—everything that has shaped your identity and your civilization."

Meloni's enemies list is familiar: "LGBT lobbies" that are out to harm women and the family by destroying "gender identity"; George Soros, an "international speculator," she has said, who finances global "mass immigration" that threatens a Great Replacement of white, native-born Italians. Meloni shows affinity for authoritarian strongmen: Like Marine Le Pen, until recently the leader of the National Rally party in France, Meloni has expressed support for Russian President Vladimir Putin—although she has muted that enthusiasm since his invasion of Ukraine.

Meloni is comparable to Le Pen in other ways. Both are examples of what political scientists call "genderwashing," when female politicians adopt a nonthreatening image to blunt the force of their extremism. Meloni's signature look involves flowing outfits in pastel shades. To uninformed foreigners, her ascent could look like female empowerment; she poses as a defender of women, even as her party has rolled back women's rights.
This is followed by a lengthy discourse about the evolution of far-right parties in the country—a key point of which is that "Italy never underwent a process equivalent to Germany's de-Nazification after World War II," because Western leaders were more concerned, rightly, about Communist parties taking over.