Amanda Knox And Extradition: More Likely Than You Might Think
Yes. Amanda Knox could be extradited.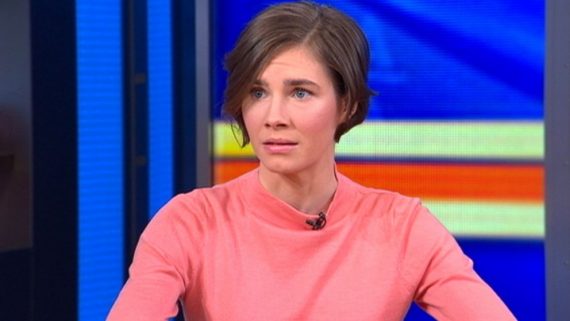 In my post yesterday, I discussed the supposed double jeopardy issues raised by the legal proceedings against Amanda Knox in Italy and her re-conviction for the murder of British student Meredith Kercher last week. As I noted there, much of the analysis asserting that what happened to Knox would amount to double jeopardy under American law is based on two errors. First, there seems to be a misunderstanding of what actual double jeopardy is under American law. Additionally, people are making evaluations about the Italian justice system that don't seem to take into account the fact that, like many European countries, Italy has a legal system that differs from our own in several important respects. To a large degree, those two errors are influencing much of the discussion I've seen regarding the one issue in this case that actually matters when it comes to American law in this case, the question of whether Knox might ultimately be extradited back to Italy if her final appeal fails to result in dismissal of the charges and Italy requests extradition.
While there's been much commentary that, because of the alleged "unfair" nature of Knox's conviction and the way the matter has been handled on appeal, the United States might actually oppose an extradition request by Italy, or that an American Court might turn down the request should, as expected, Knox's lawyers challenge it if it is made. On the first point, it's important to note that, based on what I've read, it seems to be quite rare for the United States, via either the State or Justice Departments, to refuse an extradition request that is otherwise proper under an applicable treaty unless there's a clear exception under the terms of the treaty or we're talking about a nation or a proceeding that clearly violated fundamental standards of justice.
As a preliminary point, it's important to note that the United States has an Extradition Treaty with Italy. The current version, which I've embedded below, has been in place since it was ratified by the Senate back in the early 1980s.  While the ultimate decision on the issue of whether or not Knox should be extradited will likely rest with the Federal Courts, most legal experts seem to agree that the odds of Knox being able to avoid return to Italy are low assuming that the Italians make the proper requests under the treaty:
The Knox case is special because it raises the question of whether the U.S. government would send one of its own citizens to a foreign country to face a long prison term.

The answer: It's been done before, though in less high-profile cases involving the governments of Canada, Mexico and other nations.

The U.S. has extradition treaties with more than 100 countries, including Italy, providing what would appear to be a strong legal foundation in favor of a request for Knox's return to Italy.

"It's absolutely not the case that an individual will not be extradited just because they are a U.S. citizen," says Douglas McNabb, an international criminal defense attorney and an expert in international extradition law.

(…)

Mary Fan, a former federal prosecutor, suggested that any decision by the State Department on whether to return Knox to Italy is "a matter of both law and politics." From a U.S. standpoint, the case at first seems to raise questions about double jeopardy — being tried twice for the same offense, something that's barred by the U.S. Constitution. Knox was first convicted, then acquitted, then, on Thursday, the initial conviction was reinstated.

Some observers dismiss the double-jeopardy argument because Knox's acquittal was not finalized by Italy's highest court.

Questions also have been raised about whether the State Department might conduct a review of the evidence and ultimately decide it doesn't support extradition. The treaty says the country requesting extradition shall provide a summary of the facts and evidence in the case that establish "a reasonable basis to believe that the person sought committed the offense."

But Christopher Jenks, a former Army attorney who served as a State Department legal adviser and now teaches at Southern Methodist University's law school, said that's a low bar, and that there's "no reason why Italy wouldn't be able to put together a sufficient extradition request."

He also noted that although any request would wind up before a U.S. federal judge, the court's role would largely be to ensure the paperwork is in order and that basic requirements are met.

"She's not going to be able to relitigate 'did she do it' in a federal court," he said. "Your chances of anything coming of that are slim to none."
Harvard's Alan Dershowitz and other legal experts agree:
"As popular as she is here and as pretty as she is here — because that's what this is all about, if she was not an attractive woman we wouldn't have the group love-in — she will be extradited if it's upheld," said Harvard law professor Alan Dershowitz.

While Knox has won a great deal of support in the United States where she is seen as the innocent victim of a miscarriage of justice, Dershowitz said there are no legal grounds for preventing extradition.

Nor would it play well diplomatically, given that the United States demands more extraditions than any other nation, he said.

"The Italian legal system, though I don't love it, is a legitimate legal system and we have a treaty with Italy so I don't see how we would resist," he told AFP.

"We're trying to get Snowden back — how does it look if we want Snowden back and we won't return someone for murder?" he asked, referring to fugitive intelligence contractor Edward Snowden.

Knox's supporters argue she should be protected from extradition because the Italian system — which allows prosecutors to appeal a verdict — violates the US legal prohibition on double jeopardy: trying someone twice for the same crime.

Legal experts attach little weight to this argument.

"They always forget she was convicted first," said Julian Ku, who teaches transnational law at Hofstra University.
Knox and her former Italian boyfriend Raffaele Sollecito served four years in prison for the murder before being released after an appeal led to their 2011 acquittal.

The Italian Supreme Court overturned that ruling in 2013, sending the case back for re-trial.

Italy must first file an extradition request with the US State Department, which will then determine if it should ask the Justice Department to detain Knox.

Knox then has the right to challenge her extradition in a US court.

"The chances of her winning that are not high because there has to be some very strong claim she'd have to make to block her extradition," Ku said in a telephone interview.
Ultimately, though, it seems clear to me that this is going to come down to the question of what position the United States Government wishes to take on any extradition request. If the Obama Administration decided for some reason to deny the request, then its unlikely that Knox would ever be extradited as long as she stayed in the United States or only visited nations with no extradition treaty with Italy. This strikes me as unlikely, though. As noted both in the articles posted here and my post yesterday, the proceedings against Knox appear to have complied fully with Italian law and procedure, and while those laws and procedures are different in many ways from our own it seems like an incredible stretch to argue that those differences are so extreme that they violate fundamental rights. After all, throughout these proceedings Knox has been represented by counsel, she has been granted the same protections under Italian law that a citizen of Italy would receive, she has had, and continues to have, access to the full range of appeals that any other defendant in that system would have, and all of the proceedings have been as open to the public as any other proceeding in the criminal courts of Italy. The fact that she's an American citizen and that her family has managed to put on a good PR campaign on her behalf really shouldn't matter. Finally, if the U.S. Government really did try to oppose a proper request by the Italian Government under the treaty, it would likely create a serious diplomatic crisis with an ally of long standing.
In the far more likely scenario where the Federal Government backs the extradition request, the odds that Knox and her attorneys will be successful in their effort to convince a Federal Judge to deny  proper request or extradition seem to be pretty low, for the reasons noted above.
All of this remains off in the future, of course. Knox has at least one more round of appeals that she can take advantage of, and it seems unlikely  that the Italians will request extradition before those  appeals are resolved. Assuming she loses those appeals, though, Once the matter comes to the courts in the U.S. she would have the ability to have the matter heard by a Federal District Court Judge, a panel of the appropriate Circuit Court of Appeals, and potentially even the Supreme Court itself. In the end, though, I'd put my money on Knox eventually being extradited if her new conviction is upheld
Here's a copy of the U.S.-Italy Extradition Treaty for those interested:
Italy International Extradition Treaty With the United States by Doug Mataconis