Was Amanda Knox Subjected to "Double Jeopardy?" Don't Be So Sure About It
The idea that Amanda Knox was subjected to what we consider "double jeopardy" doesn't seem to withstand scrutiny.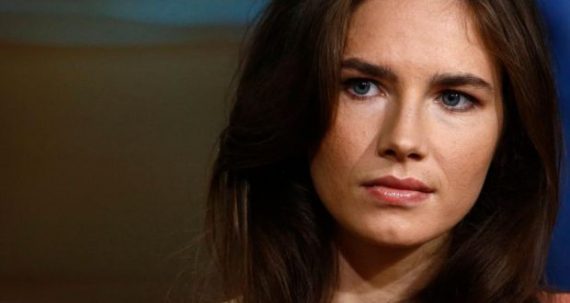 As James Joyner noted last week, Amanda Knox was re-convicted on charges of murdering Meredith Kercher, a British student was was Knox's roommate while the two were attending college in Italy. Knox's first trial, for which she was present and which  received a lot of media coverage here in the United States, ended in her conviction back in 2009 despite the vociferous objections of Knox, who continued to assert her innocence even after conviction. Knox was eventually sentenced to 26 years in an Italian prison. The case then began to make its way through Italy's seemingly labyrinthine legal system until 2011 when an Appellate Court ruled that Knox's conviction should be set aside due to alleged contamination of DNA evidence by investigators. At that point, Knox was ordered freed from prison and, in a media spectacle, returned to the United States where she gave several media interviews proclaiming her innocence and expressing relief that her ordeal was seemingly behind her. In reality, though, Knox's legal troubles had just begun. In early 2013, the highest appellate court in Italy's criminal law system dismissed the 2011 judgment of the appellate court and ordered that Knox be retried by a lower level court. That trial began in September and while Knox did not appear, mostly likely because she feared losing the case and being sent back to prison, she was apparently represented by the same group of attorneys who have been representing her throughout the legal proceedings in this matter. This type of in absentia trial, although not common, has also been known to occur in the United States when a Defendant has put themselves beyond the legal jurisdiction of the Court. That trial lasted some three months before resulting in Knox's conviction late last week.
As I've noted, the Knox case has garnered much attention over the past five years from both the American and the British media, although for different reasons. In the case of the Brits, it's because the victim was British and it's fair to say that the coverage of the trial and subsequent proceedings by the British tabloids has been decidedly anti-Knox from the beginning. In the American case, I'd suggest that the fascination is due both to the fact that Knox is an American and that she is attractive young woman, two factors that are guaranteed to draw in viewers, especially for the weekday morning "news" shows on the broadcast networks and the daily coverage of the cable "news" networks. Additionally, it cannot be denied that the Knox family has been very successful in waging a public relations battle on their daughter's behalf and creating what can only be called incredibly sympathetic coverage from an ordinarily skeptical media. Added into all of this is the fact that much of the American media, and by extension the American public, insisted on judging the legal process in Italy based on American standards without fully understanding the differences between the criminal law systems in the two nations.
Without getting into a long discussion of comparative law, it's important to understand that the U.S. and Italian legal systems come from completely different roots. Where the American system is based in the Common Law and the legal system that was developed in England from the time of the Magna Carta in 1215 forward, Italy's system, along with that of many other nations in Western Europe, finds its root in the Code-based system of law that was established under Napoleon when France controlled most of that part of the world. Additionally, like the criminal law system in France and other Code-based nations, the criminal law system in Italy is what is called an Inquisitorial System in which the Judge or Judges presiding over a trial play an important role in investigating the facts of a case. This contrasts with the legal system in the United States and other nations that base their legal system on the British model, where the criminal law system is based on an adversarial model where it is the prosecutor that is solely responsible for presenting the case and the job of the Defense attorney is to create reasonable doubt in the minds of the trier of fact. Additionally, Italy and most other code-based systems differ from the United States in that all criminal cases are tried before a Judge, or in the case of serious offenses like the Knox case, a panel of judges. Finally, there are significant differences between the appellate processes in the two countries, as the Knox case has made very clear. One of those differences is that the prosecution has much more authority to appeal an acquittal than they do in the United States. The existence of these differences, though, doesn't mean that there's something inherently unjust about
There's also been much discussion since the result that was handed down last week about the issue of double jeopardy. Here in the United States, pursuant to the 5th Amendment, no person can be tried again for the same offense after already having been tried once an acquitted. The Knox case seems to show us that the same rule doesn't apply in Italy, however that may only be because people are not viewing the case properly.It's not uncommon in the United States for an appellate court to overturn a conviction and order a retrial. This is not a violation of the double jeopardy rule. Additionally, as James notes in his post, a criminal defendant can be acquitted of charges in a state trial court and then charged again for essentially the same events under Federal law, assuming that there is a Federal criminal statute that applies to the situation. This is because U.S. law considers the states and Federal Government ot be two separate sovereign entities, meaning that the double jeopardy rule does not apply. Finally, as we saw in the O.J. Simpson case, someone can be acquitted in a criminal case only to be found civilly liable for something like wrongful death in a civil trial. This isn't double jeopardy either.
In the Knox case, it's not at all clear to me that what has happened actually violates what our legal system would consider double jeopardy. Consider the course of events that has unfolded:
Knox is convicted at what we would call the trial court level of murdering Kercher in 2009 and sent to prison;
In 2011, an Appellate-level court vacates the conviction based on allegedly tainted DNA evidence, Knox is freed;
As permitted under Italian law, the prosecution appeals the 2011 decision to Italy's highest criminal appellate court, which in early 2013 overturns the 2011 decision and remands the case for a new trial;
Knox is convicted in absentia, but with competent defense counsel representing her, of Kercher's murder a second time.
If something like this had happened under the American legal system, I don't see how a valid double jeopardy claim could be raised. Indeed, as I noted above, similar things happen in the U.S. legal system all the time, although the ability of the prosecution to appeal acquittals is far more circumscribed in this country. Both James Joyner in his post here at OTB, and Jazz Shaw in a piece he posted yesterday at Hot Air make the point that what happened to Knox looks like double jeopardy, but  I have to disagree. True double jeopardy in the U.S., for example, would be a situation where someone was charged, tried, and acquitted of a crime and then rearrested and charged with the same offense, perhaps under a different name (manslaughter instead of murder for example). That didn't happen here. Knox was never rearrested for Kercher's murder, she is essentially being tried pursuant to the same indictment (or whatever the term in Italy is or the imposition of criminal proceedings in felony cases) that she was convicted under in 2009. In other words, it's not even clear that Knox was subjected to what American law would recognize as double jeopardy for purposes of the 5th Amendment. The only difference is that the procedure under which her case has proceeded is fundamentally different from the procedure used in the United States in several significant respects.
The caveat to everything noted above is that I want to make it clear that I am hardly an expert in Italian law  and while I've tried to read as much as I can in a short period of time on the matter I have likely over-simplified some aspects of that system. Secondly, I am purposely avoiding discussion about the facts in the case or the nature of Knox's defense to the charges against her, largely because that is in some sense irrelevant to the ultimate issue that U.S.  Courts will have to deal with here, which is what may be a request for extradition should her final appeals not result in final dismissal of the charges against her. However given that Italy's legal system and procedures are similar to those utilized in a host of other Western European nations, I think it's somewhat arrogant for Americans to claim that it is somehow inferior or unjust just because it's different. While the procedures may be unfamiliar to us, and while there may be valid policy arguments against the kind of inquisitorial system that nations like Italy and France utilize in their criminal courts, that doesn't mean that the results that come out of such a system are inherently unjust. Indeed, one could point to many examples of injustice in our own legal system so it's not like we're paragons of virtue when it comes to criminal law.
In a post that should be up later today, I'll try to address the complicated topic of extradition in Knox's case, but at the very least I think it's clear that the knee jerk American reaction that Knox was unfairly subjected to "Double Jeopardy" doesn't really  hold up once you start to understand the differences between criminal law in Italy (and much of the rest of Western Europe) and the United States.