Trump Refuses To Rule Out Running As A Third-Party Candidate
Donald Trump won't rule out running against the eventual Republican nominee. Will the RNC use this as an excuse to try to force him out of the race?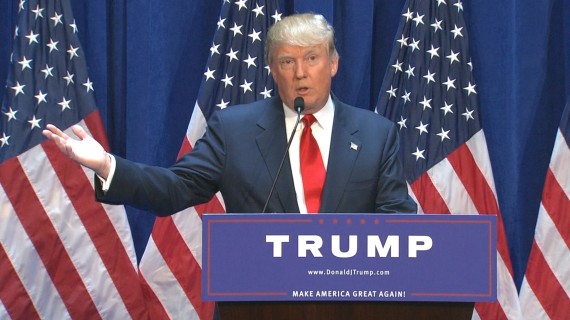 Donald Trump is saying that he might run as a third party candidate if the Republican National Committee doesn't treat him right:
Even if he isn't the Republican nominee for 2016, don't count on Donald Trump to go quietly. If the Republican National Committee does not treat him fairly during the primary season, he says, the chances he will run as a third-party candidate will "absolutely" increase.

"The RNC has not been supportive. They were always supportive when I was a contributor. I was their fair-haired boy," he told The Hill in an interview published Thursday morning. "The RNC has been, I think, very foolish."

Trump has led several recent national polls among Republican voters, though a recent Quinnipiac University survey this week showed him with severely negative approval ratings in the swing states of Colorado, Iowa and Virginia.

The billionaire business mogul said that "so many want me to" run as a third-party candidate if he does not win the GOP nomination.

"I'll have to see how I'm being treated by the Republicans," he said, adding that if "they're not fair, that would be a factor" in deciding whether he would make a third-party run.

Reince Priebus, the RNC chairman, called Trump earlier in July asking him to dial back his tone, specifically on immigration. The RNC also issued a statement last Saturday after Trump remarked that Arizona Sen. John McCain was not a war hero, and then that he was only a war hero because he was captured.
As with many things that he has said over the course of the past month, this is probably just bloviating on Trump's part. Running as third-party candidate is much different thing from the rather low-key media-intensive "campaign" that he is currently running for the Republican nomination. If he did it, he'd actually have to hire a real campaign staff, he'd have to worry about getting on the ballot in all fifty states without the help of a party organization, and he'd have to do more than just spend his time insulting his opponents. More importantly, he'd have to do all of this knowing that there was really no chance at all that he could actually win the election. Just as Ross Perot in 1992, and to some extent in 1996, the most he could do is create the conditions that would allow someone to win the Presidency with only a plurality of the vote, as Bill Clinton did. According to a recent ABC/Washington Post poll of registered voters, in such a scenario Hillary Clinton would get 46% of the vote, Jeb Bush would get 30%, and Donald Trump 20%. This type of outcome would likely meant that Clinton would win states that she would otherwise be expected to lose in a two-way race, making her margin in the Electoral College potentially larger than the ones Barack Obama received in 2008 and 2012.  Looking at it logically, it's hard to believe that Trump would actually run as a third-party candidate given all of this, but then before June 17th it didn't seem logical that Trump would run for the Republican nomination either.
In any case, Trump's flirtation with the idea of a third-party run does open up an interesting possibility for Republicans. Under FEC regulations, organizations that set up primary debates must use pre-established objective criteria" in determining who is eligible for the debates. In this case, the criteria for the first two debates limits participation to the candidates that are in the top ten in the most recent polls. Given his position in the polling right now, Trump will obviously meet this criteria and any effort to change the rules to exclude him would end up running afoul of the regulations. At the same time, though, the law does for the exclusion of candidates who are seeking the nomination of more than one party. Theoretically, Trump's refusal to rule out a third-party bid could fall under this exception and allow for his exclusion if the RNC really wanted to get off the stage. Doing so, of course, would just play into Trump's hands and could prompt him to make the third-party run he's now just hinting at, so it's unlikely that they will do anything like this for the early debates. As time goes on, though, don't be surprised if the talk of excluding Trump, which some GOP donors are reportedly already calling for, gains traction if he continues to refuse to rule the idea of running against the eventual Republican nominee.