The Fascism Is Here To Stay
While the authoritarian threat recedes, the fascist threat remains.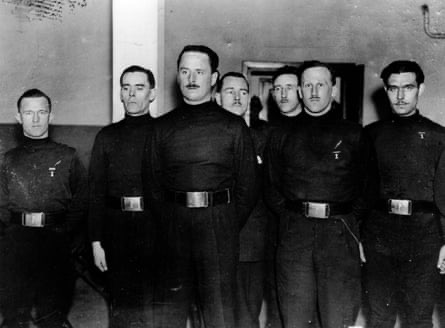 As of today, it's unclear how Trump's unwillingness to concede — and his enablers willingness to support him in this denial — will continue. While I am less sanguine about the outcome than other observers, one thing is very clear: Trumpism is here to stay. The authoritarian moment may be (temporarily) passing, but the fascist movement that has been slowly growing over decades, accelerating under Trump, will be a fixture of American politics for the indefinite future.
If it strikes you that I'm a little obsessed with the f-word, it's because people are still hesitant to utter it. Fascism is an unrelenting, uncompromising, unreasoning force. Wishful thinking that "moderates" in the ranks of its true believers overnight will moderate their behavior, or change their worldview, is both silly and dangerous. Looking to people who are non-believing supporters of fascism to suddenly become less opportunistic, or fearful, or nihilistic is equally reckless. We must look at our country as a nation not divided merely over policies or facts, but over who we are. The fascist belief in things like the blood and soil as the measure of citizenship, the poisonous nature of modernity, the existence of conspiracies against them, the fallibility of democracy and the rule of law, the silliness of tolerating other points of views, and the necessity of apocalyptic struggle put fascists in a parallel political reality from everyone else. Unfortunately, we actually all occupy the same universe, in which fascists are desperate to seize the levers of power.
If it's still hard to accept that real fascism is alive and well in the Republican Party, OANN, and Parler, I recommend that you read Umberto Eco's article on Ur-fascism. Eco is worth heeding, since he grew up under capital-F Fascism, and is well-read on small-f fascist movements. Eco identifies more than a dozen traits of fascism, not all of which need to exist in a movement for it to qualify as having the fascist mode of thought. "Nevertheless, even though political regimes can be overthrown, and ideologies can be criticized and disowned, behind a regime and its ideology there is always a way of thinking and feeling, a group of cultural habits, of obscure instincts and unfathomable drives."
It's hard to look at Eco's list of fascist traits, starting with the cult of tradition (what I called a nationalist aesthetic in an earlier post) and not see the color of fascism in the MAGA hats and signs (a perpetual callback to a mythical past), the intolerance expressed in the social media posts, the conspicuous racism (a necessary outcome of the fascist fear of difference, according to Eco), the intolerance of any differences of opinion, and the eager embrace of conspiracy theories. What more evidence does anyone need, short of the ghost of Mussolini manifesting to wish Donald Trump well?
Unfortunately, fascist movements do not disappear quietly. It usually takes a cataclysm — one larger than a failed election, which is no worse than the failed Millerite prophecy of the end of the world. Trumpism is not a fringe movement like Oswald Mosley's British Union Of Fascism (pictured above). Instead, it is a movement of millions of Americans, reinforcing each other's common identity, building collective bulwarks against uncomfortable facts, directing their combined rage against today's targets.
We are all exhausted by the last few years. However, while the lazy, incompetent, wannabe-authoritarian Trump regime may be ending the fascist core of Trumpism will remain alive, and perhaps outlive him. We need to accept that sad conclusion, especially since Trumpism will continue to disrupt normal politics and governance. The election will not sober many of them, but just provide the excuse for a stab in the back legend that they will keep telling each other.