A Democratic Tsunami?
Even Republicans are wondering if President Trump is at his "Katrina moment."
Cook Political Report's Amy Walter reports President Trump is falling further behind and dragging Congressional Republicans down with him.
This election is looking more like a Democratic tsunami than simply a Blue wave. President Trump, mired in some of the lowest job approval ratings of his presidency, is trailing Biden by significant margins in key battleground states like Pennsylvania (8 points), Michigan (9 points), and Wisconsin (9 points). He's even running behind Biden in his firewall states of Florida and North Carolina. 

We've made changes to our Electoral College ratings to reflect this reality. 

* Wisconsin, Pennsylvania, and Nebraska's 2nd district move from Toss Up to Lean Democrat.

* Maine, once in Lean Democrat, moves to the safer Likely Democratic category. 

* Georgia has joined Arizona, North Carolina and Florida in the Toss Up column, although, at this point, Biden would be slightly favored to win at least Arizona and Florida. 

*Maine's 2nd district has moved from Likely Republican to a more competitive Lean Republican. 

These moves alone push Biden over the 270 electoral vote threshold (to 279). 
Their map looks like this: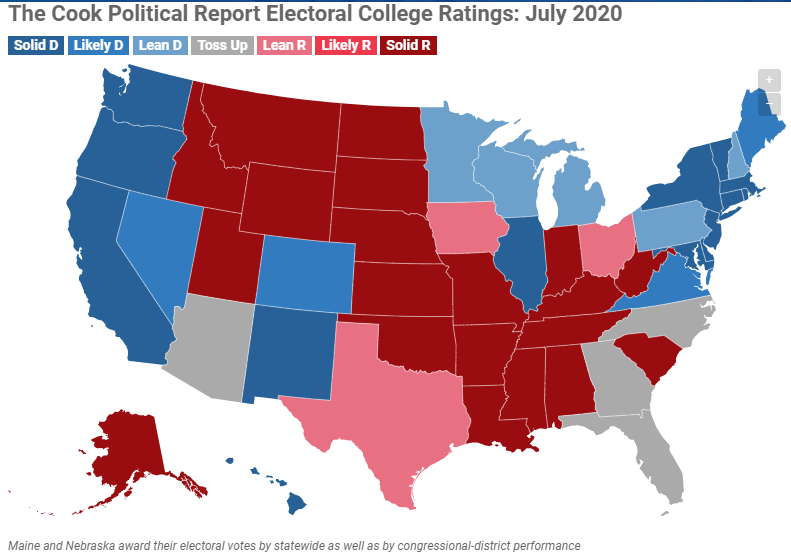 That Texas is merely leaning Republican and Georgia and North Carolina are tossups is bad news, indeed, for Trump and the GOP. And all three of the Rust Belt states that narrowly pulled him to a shocking win in 2016 are leaning the other way this cycle.
Republican strategists we've spoken with this week think Trump is close to the point of no return. A couple of others wondered if Trump had reached his "Katrina" moment: a permanent loss of trust and faith of the majority of voters. 

In talking with strategists on both sides this last week, it's also clear that Trump is dragging Republican congressional candidates with him as well. 

Plugged in strategists on both sides tell us that Trump is running behind in districts he easily carried in 2016. As one GOP strategist told us this week, "I'd be surprised if any House GOP challenger is able to outperform Trump — they are tied to him." Meanwhile, Democratic Senate candidates — even those in second and third-tier races — are pulling in eye-popping second-quarter fundraising totals.
We're still nearly four months away from the election and more shocking things have happened. But I just don't see how he recovers from this.
Trump has not been above water for even a single day starting a week into his Presidency. His handling of the pandemic has been nothing short of catastrophic, causing the economy to crater. The white nationalism that he's capitalized on so brilliantly is under assault from all sides.