A Political Opening For Non-Interventionism
The American public is increasingly skeptical of foreign adventurism. Why aren't our political candidates reflecting that?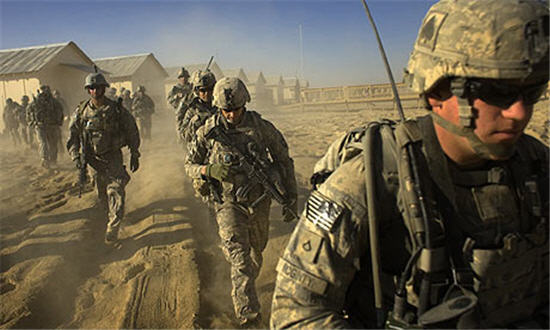 This week's CBS News/New York Times poll showed that the public has pretty much soured on America's mission in Libya:
As NATO forces escalate the intensity of their air strikes against pro-government forces in Libya, six in 10 Americans do not think that the United States should be involved in the conflict within that country. Just 30 percent of Americans think the United States is doing the right thing by taking part in the current military conflict in Libya now.
The same poll also shows that Americans are pretty much done with the mission in Afghanistan and ready to see the troops come home:
As the Obama administration prepares for a troop drawdown in Afghanistan, Americans are increasingly ready to see U.S. troops brought home, according to a new CBS News poll.

Sixty-four percent of Americans think the number of troops in Afghanistan should be decreased, according to the poll, conducted June 3-7. That's an increase of 16 points from last month and a record high for that question in CBS News polls. Twenty-two percent said troop levels should stay the same, while 8 percent said they should be increased.

Half of Americans – 51 percent – think the U.S. should not be involved in the war in Afghanistan, while 43 percent think the U.S. is doing the right thing by continuing the decade-long fight. Public opinion has slowly shifted against fighting the war in Afghanistan since the fall of 2009, when 51 percent thought the U.S. was doing the right thing by fighting that war.
According to a Fox News poll released Thursday, 30 percent of voters favor U.S. military involvement in Libya. A majority — 58 percent — opposes the action. That's little changed from early April when 30 percent were in favor and 62 percent were opposed.

Opposition to U.S. military involvement is widespread, as over half of men (58 percent), women (58 percent), Democrats (58 percent), Republicans (57 percent) and independents (57 percent) are opposed.
Numbers like these lead Conor Friedersdorf to wonder if there isn't a political opening for a Republican willing to exploit it:
What does it mean for a president seeking reelection to have launched a wildly unpopular war without congressional approval? That his Republican challengers should run to President Obama's left on at least some aspects of national security. It might've been awkward to do so given that much of Obama's national security strategy is identical to the one that Republicans praised under George W. Bush. But this affords a surprisingly easy opportunity to win support from an electorate that is tiring of expensive foreign wars: The GOP nominee need not disavow conflicts like Iraq and Afghanistan that rank and file conservatives defended for so long. He or she need only rail against the expense, execution, and questionable strategic value of fighting in Libya.
The problem I forsee with this idea is that there are really only two candidates in the field right now who could credibly make this argument — Ron Paul and Gary Johnson — and both of them are generally viewed as outside the mainstream of the GOP. The rest of the actual or potential candidates, especially people like Newt Gingrich, Mitt Romney, Sarah Palin, and Michele Bachamann spent much of the time in the run up to the UN/NATO intervention in Libya calling for the U.S. to do "something" and accusing the President of not acting fast enough. Once he did something, they started criticizing him once it became clear that it really didn't have much public support, but the criticism reeked of political opportunism, especially since the President had pretty much done what most of them had said he should be doing, establish a no-ly zone. Sure, one of these candidates could pick up on the Libya issue to bash the President but it wouldn't have any credibility to it.
More importantly, though, just criticizing the action in Libya misses the point. The action in Libya is just one piece of a larger puzzle of foreign military intervention that extends to Afghanistan, Iraq, Yemen, and elsewhere. Poll after poll is showing that the public is growing weary of endless war, and growing even wearier of paying the bill for it when our allies aren't contributing their fair share. A candidate who advocates a more restrained foreign policy than anything that's popular now in the GOP or the Democratic Parties, one that is concerned primarily with protecting Americas vital national interests and willing to look at eliminating unnecessary "trip wire" deployments like the U.S. forced in South Korea could potentially find a public willing to listen. More importantly, in an era when we all know we need to re-evaluate the things the Federal Government is spending money on, there's no better place to start than unnecessary, expensive, and entangling foreign commitments that aren't serving our national interest.
So, where is that candidate?