A Qualified Yes to a Constitutional Convention
Some thoughts on reform.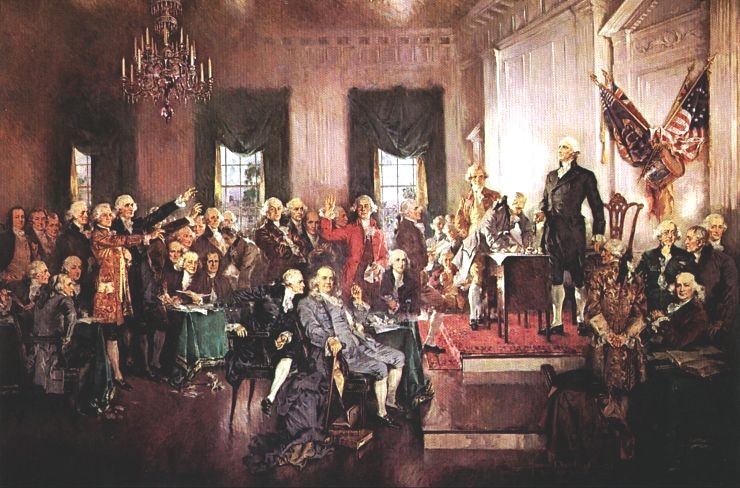 I am way late to the hundred-plus comment party that Doug Mataconis started with his post Just Say No To A Constitutional Convention, so here is a qualified bit of support for reform.
As a general proposition, I have very much come to the position that we need institutional reform in the United States.  I base this on the fact that I do think it is empirically demonstrable that the institutional arrangements of the federal government are impeding basic governance. Part of this is from the basic constitutional design of the system and part of it is because of choices that have been made and traditions that have emerged over two-plus centuries.   I would note that the issues with governance are often driven by partisan misbehavior, but that those actions are as much a symptom of a problem as they are a problem in and of themselves.  There is an important linkage between institutional design and human behavior and the way that the former molds the latter.  Madison understood this when he noted, in Federalist 51, "The interest of the man must be connected with the constitutional rights of the place."  As such, if politicians are behaving badly, part of the reason is because the institutional structures in which they are operating allow them to so behave.  This is not to suggest that institutional design explains all behavior or that all problems can be changed by reform.  Still, when it comes to sports we well understand the principle that if we need to address a problem such as knee or head injuries that we can change the rules of the game so as to change the behavior of the players.  The same basic principle holds in the political world as well, especially in a polity constrained by a constitutional order.
My basic evolution over the years in regards to the US Constitution and the question reform has been as follows (at least in simple terms):
1.  As a youth I subscribed to the basic mythos of the Framers as political demigods (or, at least, legendary figures) who crafted a near-perfect document.
2.  When I started having to teach the constitution in graduate school, first as a TA and then as an instructor, I came to see the fallacy of the demigod approach and took the view that the constitution was an impressive, even perhaps still transcendent in its own way, document that had flaws, but largely worked well.  For example, even after the debacle of 2000, I was still in the camp that the electoral college had more positive benefits than negative.
3.  Over time, however, two things happened:  one was blogging daily for a decade plus (although that rate has clearly slowed) and the turning of my attention to a more systematic look at the US Constitution in a theoretical and comparative context.
Blogging (or, more specifically, writing in public in an audience that provides immediate feedback) has been a transformative process in the sense that it has forced me to be an even more active thinker about even mundane, daily politics in a way that even being a political science professor did not.  By this I mean that while I certainly spent a lot of time thinking about what I was teaching, and certainly about my ongoing research projects, it was easy to leave various personal political view less examined than one might like to think was the case.  However, if one is going to opine in public, which results in others responding to said opinions, one is forced to do one of two things:  double (or even triple) down on those opinions and views (i.e., become even more ideological) or to be forced into the uncomfortable position of reexamination (which can lead to changed opinions).  Further, reexamination, unlike ideologicalization (if that is even a word), requires looking at evidence and counterarguments that often have the effect of either diminishing one's confidence in allegedly obvious truths or in the changing of views altogether.  Further, there is also the effect of seeing what one's co-partisans are saying and leading one sometimes to some very uncomfortable considerations about the intellectual company one may be inadvertently keeping.*
Blogging, and then a book project (along with teaching), have required systematic consideration of the Constitution and the institutions that it creates to other democratic states around the world.  One cannot, for example, read the Federalist Paper or Madison's notes on the convention and come away with the notion that the US Constitution should be considered a near-perfect document.  Specifically, one find that  the Framers often a) did not foresee key factors (e.g,. political parties, b) made numerous key decisions based on political negotiating, rather than via sage consideration—and therefore really did not have an idea of the ramifications of those choices (e.g., the Great Compromise, or the design of the presidency), and c) created institutions that never worked as intended (e.g., the electoral college—see my essay on that here).
Beyond even a connection between the Framers and the document, the fact of the matter is:  there have been any number of institutional discoveries since 1789.  The US was first in designing a constitutional government of the modern variety.  In simple terms, it is constitution 1.0 (or maybe 2.0 if the Articles of Confederation were 1.0—although really that was more of beta than a full blown  constitution).  It is nothing but sheer arrogance to assume that there is nothing to learn from the experiences of dozens of democracies and hundreds of institutional variations over the last two centuries (and yet, that is basic argument that is made, whether it is realized or not).
Further, when we look at governance and public policy performance across other democratic cases we find that the US  is not, in fact, #1 (despite the way we Americans tend to see ourselves).  In our book** we looked at eighteen different policy variables/indices and the US ranked #1 out of 31 democracies only on the following:  guns per 100 people, death sentences issued and carried out, imprisonment rates, percentage of the population that is obese, and per capita spending on health care.  Areas in which we were not #1 include:  life expectancy at birth, infant mortality, maternal mortality, employee protection, environmental protection, effective governance, and quality of democracy.
These are all policy outcomes and policies are made by institutions.  It is hard to look at the functioning (or lack thereof) of the US Congress of late and not see a great deal of dysfunction.    We certainly see no incentive towards serious governance.  Our institutions are failing us, and so I do support, in a general sense, constitutional and other institutional reform (not all such reform requires changing the constitution).
Of course, I am not expecting this to happen any time soon.  I do think that the task at hand is educating citizens on the deficiencies of the current system, and what option might exist to deal with these deficiencies, so that a dialog can start on what to do about them.  As the cliché goes, admitting that there is a problem is the first step on the road to recovery.  And, to go cliché again, Houston:  we have a problem (and it isn't that we aren't better adhering to the Framers' intent).
To go back to the Constitution 1.0 metaphor:  it is rather odd that so many think that institutions designed before industrialization have to be treated as timeless.
However, to get back to he proximate cause of my post, there are two key qualifiers to my position:
First,  I do not support the notion of a convention for the same reason that Senator Coburn of Oklahoma does (or, at least, for reasons alluded to in the piece that prompted Doug's post).  Coburn seems to be in favor of constitutional change to a) deal with federal spending, and b) to give a substantial amount of power to the states (a la the proposals in Mark Levin's book).  It is nothing short of fantastical to think that making our system more confederal (i.e., giving the states powers over the central government) would improve governance or public policy outcomes.
Second, I am not sure that the constitutionally provided method for calling a convention would result in the kind of convention that would be productive, regardless of what kinds of outcomes one might like to see.  In short, if we are going to reform the constitution, the provisions in the current constitution are simply not inclusive enough.  In even more blunt terms, if we are going to significantly reform the constitution, the citizens of Wyoming, Alaska, the Dakotas, etc. should not have a co-equal say in the process as the citizens of California, Florida, New York, and Texas.  There is no democratic (or republican, for that matter***) justification for that kind of power disparity in the context of such a decision.
Of course, in practical terms, the current constitutional order does not allow for any other route to engage in wholesale reform of the document apart from an amending convention that would treat the states as co-equal and, therefore, there is never going to be that type of convention because there will always be a coalition of states who would block it (and, further, there is no movement in that direction anyway, making this a wholly hypothetical conversation to start with).  The only way we will ever have a constitutional convention to actually engage in large scale reform is if support for such a change was so overwhelming that there was support to amend the constitution to allow for a process to create reform.  That is:  if there was a national movement to reform the constitution, the constitution could be amended by the current process to create a new process.  This would only happen if there was widespread support for reform.  Such support is highly unlikely (to put it mildly).
Still, at a minimum, I would encourage us all to at least examine and consider the degree to which our problems are linked to institutions.  And in the spirit of looking to the wisdom of the Framers, or at least of Madison, recognize that there is a connection between institutions and political behavior and therefore to policy outcomes.   Simply wishing for better politicians is not the answer.  To continue the quote from Madison that I noted above:
It may be a reflection on human nature, that such devices should be necessary to control the abuses of government. But what is government itself, but the greatest of all reflections on human nature? If men were angels, no government would be necessary. If angels were to govern men, neither external nor internal controls on government would be necessary. In framing a government which is to be administered by men over men, the great difficulty lies in this: you must first enable the government to control the governed; and in the next place oblige it to control itself. A dependence on the people is, no doubt, the primary control on the government; but experience has taught mankind the necessity of auxiliary precautions.
In short:  Madison understood that the hope for good governance should not be vested in hoping for good politicians.  They are not, after all, angels, but rather are all quite human.  As such, if the humans aren't producing the outcomes we need for governance, it is time to reform to the rules.
Having said all of that, we could engage in many reforms without changing the constitution.  Doing away with filibuster would be a start (that's just a rules change in one body of the legislature), as would electoral reform (which could be done via the legislative process).  Changing the tenure of judges from life to a set term would help ratchet down some of the drama over appointments (but that would require amendment).
At a minimum:  there is a lot of room for thought here, and the road to a useful conversation requires at least recognizing that perhaps not all of the rules under which we currently operate are necessarily functioning as well as we think that they are.
——————-
*Or, even, reexamination of whether the words you are using mean the same thing to you as they do to others who are using those words.  Terms such as "democracy," "liberty," "rights," and the like are far more contested than we often admit.  Further, they often get used in ways that are nigh Orwellian.  To suggest, for example, that making it harder for citizens to vote is a pro-rights, pro-democracy move is more than a stretch, in my opinion, just to cite one simple example.
**Draft chapter linked above, if anyone is interested.  The book is under contract with Yale University press and should be out (fingers crossed) for the Fall 2014 catalog.
***Note the small letters. I use both terms because some people (mistakenly) make a major distinction between the two  (see here).  The basic point is that democracy/republicanism is based in the notion of popular sovereignty (power deriving from the people) and the significance of individuals summing to a larger mass.  To give citizens in one geographical unit substantially more power over the design of government over other citizens is anti-democratic/anti-republican.  No arbitrary set of lines sub-dividing the country, even in a federal system, can justify the kinds of gross power-disparities that would occur if Wyoming had the same power as California in deciding the contents of a new constitution.