Just Say No To A Constitutional Convention
Oklahoma Senator Tom Coburn is the latest conservative to endorse the foolish idea of a Constitutional Convention.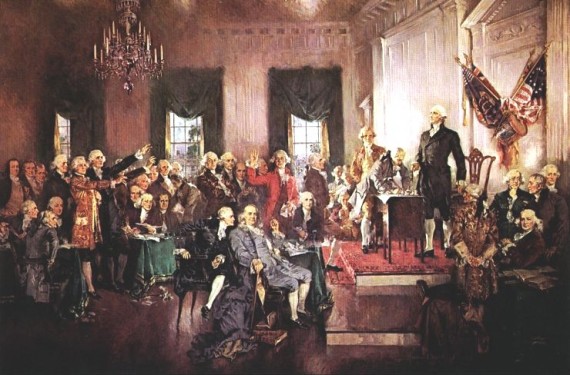 In a speech to constituents the other day, Oklahoma Senator Tom Coburn seemed to endorse the perilously dangerous idea of a Constitutional Convention:
MUSKOGEE — U.S. Sen. Tom Coburn urged Oklahomans on Wednesday to join the movement for a national constitutional convention to cut down an oversized federal government and counter what he repeatedly referred to as a "lawless" Obama administration.

"I used to have a great fear of constitutional conventions," Coburn told about 300 people at the Muskogee Convention Center. "I have a great fear now of not having one."

A national convention called by two-thirds of the state legislatures is one of two ways the U.S. Constitution can be amended. Such a convention has never been called, largely because the Constitution itself was the product of a convention authorized only to amend the existing Articles of Confederation, but which replaced it entirely.

Thus, political leaders and scholars have long held that such a convention could be dangerous and even destructive to the nation.

But as conservative frustration with the Obama administration has grown, some factions have begun advocating for such a convention.

Coburn's announcement that he had read what amounts to the national convention movement manifesto, Mark Levin's "Liberty Amendments," drew the loudest applause and reaction of the hour-long town hall meeting.
Coburn isn't the first person on the right to discuss the idea of a Constitutional Convention.  Three years ago, for example, a Virginia legislator endorsed the same idea, arguing that at the very least it would be a way for states to pressure Congress to pass amendments such as term limits or a Balanced budget Amendment. And, indeed, a state-called convention is one of the two methods for Amendment the Constitution authorized by Article V of the Constitution. At the same time, though, it's worth noting that this is a method of Amendment that has never been utilized before, and we really have no idea how such a proceeding would unfold, or whether it could be limited to consideration of specific Amendments.
Back in 1983, when conservatives were talking about the idea of a Constitutional Convention for purposes ranging from a Balanced Budget Amendment to an amendment that would overturn Roe v. Wade, Chief Justice Warren Burger addressed the dangers of the approach in a letter to Phyllis Schlafley, then one of the leading conservative opponents  of the idea:
I am glad to respond to your inquiry about a proposed Article V Constitutional Convention. I have been asked questions about this topic many times during my news conferences and at college meetings since I became chairman of the Commission on the Bicentennial of the U.S. Constitution, and I have repeatedly replied that such a convention would be a grand waste of time.

I have also repeatedly given my opinion that there is no effective way to limit or muzzle the actions of a Constitutional Convention. The convention could make its own rules and set its own agenda. Congress might try to limit the convention to one amendment or to one issue, but there is no way to assure that the convention would obey. After a convention is convened, it will be too late to stop the convention if we don't like its agenda. The meeting in 1787 ignored the limit placed by the confederation Congress "for the sole and express purpose."

With George Washington as chairman, they were able to deliberate in total secrecy, with no press coverage and no leaks. A constitutional Convention today would be a free-for-all for special interest groups, television coverage, and press speculation.

Our 1787 Constitution was referred to by several of its authors as a "miracle." Whatever gain might be hoped for from a new Constitutional Convention could not be worth the risks involved. A new convention could plunge our Nation into constitutional confusion and confrontation at every turn, with no assurance that focus would be on the subjects needing attention. I have discouraged the idea of a Constitutional Convention, and I am glad to see states rescinding their previous resolutions requesting a convention. In these bicentennial years, we should be celebrating its long life, not challenging its very existence. Whatever may need repair on our Constitution can be dealt with by specific amendments.
It's worth noting, as Burger does, the historical context in which the 1787 Convention came to be:
On January 21, 1786, the Virginia Legislature, following James Madison's recommendation, invited all the states to send delegates to Annapolis, Maryland to discuss ways to reduce these interstate conflicts.[1] At what came to be known as the Annapolis Convention, the few state delegates in attendance endorsed a motion that called for all states to meet in Philadelphia in May 1787 to discuss ways to improve the Articles of Confederation in a "Grand Convention."[1]
Rather than discussing improvements to the Articles of Confederation, though, the Philadelphia delegates quickly moved to the creation of an entirely new system of government that had no resemblance to the then-current national government. When the task was completed that September, the delegates acted as if the Articles of Confederation did not even exist. Instead of complying with the amendment procedure provided for in the Articles,  required approval by Congress and the unanimous consent of all thirteen state legislatures, they constructed for a ratification process that completely bypassed Congress and the legislatures. And they did that because they knew there was no way the new Constitution would have been approved by all thirteen states. Indeed, the Constitution provided that it would become effective as soon as it had received the approval of just nine of the thirteen states that existed at the time.
It goes without saying, of course, that the Articles of Confederation were a flawed document. It's doubtful that the "United States" would have survived as a unified nation for much longer had they remained in effect. Over time, sectional loyalties would have caused the nation to drift apart even more than it did in the years leading up to the Civil War, and the new nation would have been ripe pickings for a Great Britain looking to re-establish its control of North America, or for manipulation by any of the other European powers. Under such a scenario, it's not at all inconceivable that the conflict that gripped the European continent in the decades afterwards would have found its way to the Americas. In some sense then, Madison, Hamilton, and the others at Philadelphia did the right thing in unlikely that the United States would have survived as a unified nation for very much longer had they remained in place. So, in some sense, Madison and the others at Philadelphia did the right thing in scrapped a flawed system of government and starting over again. As well as it turned out, though, the experience of 1787 makes it plain that, once called, there is no way to limit the scope of a Constitutional Convention, and no reason to think they what we'd end up with after it's over would be anything that better than what we have now.
We were also lucky in 1787 because of the men who gathered to write the Constition. The values they shared were values of individual liberty and small government. Does anyone truly believe that we'd be lucky enough to have delegates to a 2013 Convention, say, that were anywhere near the intellectual and moral caliber of Madison, or Mason, or Franklin ? Yea, I didn't think so.
Finally, Chief Justice Burger's point about the importance of secrecy in the 1787 proceedings is even more poignant today. In the era of the 365/24/7 news cycle, blogs, Facebook, and Twitter, there wouldn't be any way to keep these deliberations secret and making them public would just increase the likelihood that the end product would be one big mess.
Flawed as it is, it seems fairly obvious that we're better off with the Constitution we have today than with risking everything on a Convention and possibly ending up with something much worse.
Update: This post was updated to clarify that Phyllis Schlafley was an opponent of the idea of a Constitutional Convention when she solicited Chief Justice Burger's opinion on the issue.