A Strong Jobs Report To Go With A Strong Economy
Strong jobs growth in November means that 2014 is already the best year for jobs growth since 1999.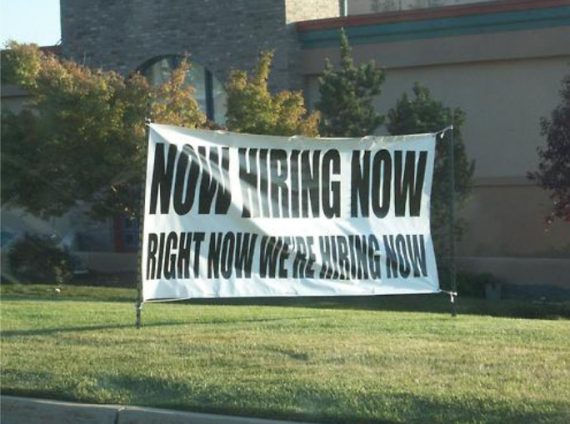 The balance of 2014 has been fairly decent when it comes to job creation, but far from spectacular and not entirely indicative of the kind of numbers we'd expect to see given the strong Gross Domestic Product numbers we've been seeing over the past years. As of last month's release of October's report, for example, we've been averaging roughly 222,000 new jobs created per month, with the three month average being slightly higher at roughly 224,000 per month. Additionally, thanks to revisions, each month of the year had shown jobs growth above the 200,000 net new jobs level. While not exactly great, and still under the 225,000-250,000 per month level where it really ought to be for truly healthy jobs growth, these were fairly good numbers and indeed some of the best sustained numbers we've seen in the five years of the recovery from the Great Recession. With two quarters in a row of strong G.D.P. growth, though, the question for months now is whether we'd start seeing stronger jobs growth, and more importantly stronger growth in hourly wages and wage growth to go along with the broader economic growth. In November, we may have gotten our first signs that those days are at hand:
Total nonfarm payroll employment increased by 321,000 in November, and the unemployment rate was unchanged at 5.8 percent, the U.S. Bureau of Labor Statistics reported today. Job gains were widespread, led by growth in professional and business services, retail trade, health care, and manufacturing.

In November, the unemployment rate held at 5.8 percent, and the number of unemployed persons was little changed at 9.1 million. Over the year, the unemployment rate and the number of unemployed persons were down by 1.2 percentage points and 1.7 million, respectively. (See table A-1.)

(…)

Total nonfarm payroll employment rose by 321,000 in November, compared with an average monthly gain of 224,000 over the prior 12 months. In November, job growth was widespread, led by gains in professional and business services, retail trade, health care, and manufacturing. (See table B-1.)

Employment in professional and business services increased by 86,000 in November, compared with an average gain of 57,000 per month over the prior 12 months. Within the industry, accounting and bookkeeping services added 16,000 jobs in November. Employment continued to trend up in temporary help services (+23,000), management and technical consulting services (+7,000), computer systems design and related services (+7,000), and architectural and engineering services (+5,000).

Employment in retail trade rose by 50,000 in November, compared with an average gain of 22,000 per month over the prior 12 months. In November, job gains occurred in motor vehicle and parts dealers (+11,000); clothing and accessories stores (+11,000); sporting goods, hobby, book, and music stores (+9,000); and nonstore retailers (+6,000).

Health care added 29,000 jobs over the month. Employment continued to trend up in offices of physicians (+7,000), home health care services (+5,000), outpatient care centers (+4,000), and hospitals (+4,000). Over the past 12 months, employment in health care has increased by 261,000.

In November, manufacturing added 28,000 jobs. Durable goods manufacturers accounted for 17,000 of the increase, with small gains in most of the component industries. Employment in nondurable goods increased by 11,000, with plastics and rubber products (+7,000) accounting for most of the gain. Over the year, manufacturing has added 171,000 jobs, largely in durable goods.

Financial activities added 20,000 jobs in November, with half of the gain in insurance carriers and related activities. Over the past year, insurance has contributed 70,000 jobs to the overall employment gain of 114,000 in financial activities.

Transportation and warehousing employment increased by 17,000 in November, with a gain in couriers and messengers (+5,000). Over the past 12 months, transportation  and warehousing has added 143,000 jobs.

Employment in food services and drinking places continued to trend up in November  (+27,000) and has increased by 321,000 over the year.

Construction employment also continued to trend up in November (+20,000). Employment in  specialty trade contractors rose by 21,000, mostly in the residential component. Over the past 12 months, construction has added 213,000 jobs, with just over half the gain among specialty trade contractors.
There were also healthy revisions for September and October's jobs numbers, September job growth was revised from +256,000 to +271,000, and October was revised from +214,000 to +243,000. This brings the three month average up to just over 278,000 new jobs. Additionally, the long-term unemployment number number dropped slightly from 11.6 to 11.4% while the Labor Force Participation and Employment rates remaining unchanged at levels that are, it must be remembered, still at some of their lowest levels in the past thirty years. Additionally, and addressing a concern that some analysts have had for months now, things improved on the wage from last month, with both hours worked and the wage growth increasing at healthy paces. This would indicate that there's at least some room in the labor market for wages to go up notwithstanding the fact that we're still at the point where the supply of labor is still likely outstripping demand to a large degree thanks to the long-term, lasting, impact of the Great Recession on the labor market. It also suggests that we may start seeing more of those people among the long-term unemployed start to dive back into the labor market as it becomes more apparent that there's a reason to start looking for work again.
The New York Times labels this a positive report all around:
Employers added 321,000 jobs in November, a very healthy showing that echoes other positive economic data recently and bodes well for the crucial holiday retail season underway.

The unemployment rate remained unchanged from last month at 5.8 percent, the Labor Department said Friday.

Government statisticians also revised upward the number of jobs added in September and October by 44,000, another good sign. Significantly, average hourly earnings surged 0.4 percent in November, twice what economists had been expecting and a sign the healthier economy is finally translating into wage gains for ordinary workers. Over the last 12 months, however, earnings are up only 2.1 percent.

Wall Street had been expecting payrolls to grow by 230,000 in November, with the unemployment rate remaining unchanged. November's gain was the largest monthly jump in payrolls in nearly three years.

Despite the deep economic frustration many Americans feel, evident in everything from public opinion surveys to water cooler chats to last month's Congressional elections, the American economy has made significant progress this year. In November 2013, for instance, the unemployment rate was 7 percent, and the jobless rate five years ago this month was 9.9 percent.

Federal Reserve survey of economic conditions across the country released Wednesday reported healthier consumer spending in many regions, likely as a result of lower gas prices, as well as gains in hiring.

Last month, average gasoline prices in the United States fell below $3 a gallon for the first time since 2010, amid a global plunge in crude prices. Crude oil has kept dropping since then, to about $66 a barrel, which suggests prices at the pump have further to drop.

As of Monday, gas prices in the United States averaged $2.77 a gallon, according to the Energy Information Administration, compared with $3.26 in December 2013. If gas prices stay where they are, the typical household will save roughly $600 over the next 12 months.

The overall expansion of the economy, as measured by the annual rate of growth in gross domestic product per quarter, has also been picking up steam.

In late November, the Commerce Department revised upward its estimate of the growth rate in the third quarter to 3.9 percent from an initial figure of 3.5 percent. Output rose at annual rate of 4.6 percent in the second quarter, a snapback from the contraction in the first few months of the year.
As does CNBC, although with some caveats:
Job creation surged in November, with the U.S. economy adding a dazzling 321,000 positions though the unemployment rate held steady at 5.8 percent, according to a government report.
Economists were expecting 230,000 new nonfarm payrolls jobs and unemployment at 5.8 percent. The reported number for October was revised higher to 243,000 jobs. September's number also was boosted, from 256,000 to 271,000.

Despite the big pickup in hiring, equity traders had little reaction, with futures indicating a modestly higher open on Wall Street, while bond yields rose.

The dramatic move was well above the average of 224,000 a month over the past year.

(…)

Despite the rosy overall numbers, the actual employment level was little changed, with just 4,000 more Americans at work for the month. The total unemployment level rose by 115,000.

Wage growth, closely watched by the Federal Reserve as it mulls an interest rate hike, did pick up some, with average hourly earnings rising 9 cents to $24.66, a 2.1 percent gain.

"You need to take any one month's data with a large amount of salt," said David Berson, chief economist at Nationwide. "But it is certainly good news that (wages) went up, even if it is just for the one month."
Some of the hiring that we saw in November, of course, is likely seasonal holiday hiring, and we'll likely see more of that when the December report is released in early January. However, that does not appear to be a major part of where the jobs growth this month, or over the long term, is coming from. Instead, it looks as though hiring is finally starting to catach up with the economy itself, which has been going ahead fairly strongly for several months now as measured both by Gross Domestic Product numbers and by other economic statistics. Given the fact that the labor market typically lags behind the economy as a whole, it's not entirely surprising that it would take some time for hiring to pick up to levels that would seem to match the stronger growth that GDP is showing over the past year. At the same time, though, it is welcome nonetheless. The numbers aren't perfect, of course. It would be good to see stronger growth combined with a return to better Labor Force Participation Numbers, for example, and hours worked and wage growth are still growing quite slowly, although that last part is likely to remain true as long as labor supply is higher than demand and employers are finding that increased productivity makes the need for immediate additional hiring, or increasing hours or wages, unnecessary.
One group that does appear to be losing out on the jobs boom, though, is millennials:
While hiring is picking up, many of the jobs aren't high-paying ones. Millennials, in particular, have lost ground, according to a new report from the Young Invincibles, an advocacy group for that generation.

Median annual wages have fallen in nearly all of the most popular industry sectors that employ 25 to 34-year-olds over the past decade.

In retail and wholesale trade, which employs the largest share of these older Millennials, median wages plummeted 15% to $25,000. Wages in the leisure and hospitality industry fell 5% to $18,000. Only healthcare, the second most popular field, saw wages grow, albeit by a paltry 2% to $30,000.

"They are not finding the jobs they need to set them up for their long-term financial future," said Konrad Mugglestone, co-author of the report.
This is yet another round of bad news for a group of workers that have been hit hard by the Great Recession from the beginning. This is a group of workers that entered the jobs market at precisely the wrong time, either in the midst of the recession itself or just when it was ending and the jobs market was still beginning a long, slow recovery that only now seems to be developing into a strong engine of growth. For many of these workers, that experience came after racking up student loan debt that they had no way to pay off in the beginning without taking lower paying jobs that had little to do with their areas of study, or to seek help from parents or other sources in order to avoid defaults on student loans. Now, and perhaps not surprisingly considering that they're on the bottom rung of the experience ladder, they find that the good news in the labor market isn't quite as good for them as it is for workers as a whole. What kind of long term impact this will have on this generation and how they view the economy, government policy, politics, and a whole host of matters, remains to be seen, but to a large degree it seems to be at the root of the many reasons why this particular group tends to be more cynical about such matters than their parents and older generations.
Another caveat worth noting is that the years since the end of the recession have followed an odd pattern that have seen economic and job growth for much of the year only to stagnate in the final quarter and the beginning of the following year. In some cases, such as this year's first quarter, that has been clearly weather related; the "Polar Vortex" winter, for example, was bad enough to send the economy into negative growth for the First Quarter of 2014. The pattern, however, has existed regardless of the weather, and if it continues in 2015 then we may not see the same good news in a couple months that we're seeing today. Overall, though, there is no denying that today's report is very good news and, if it's an indicator of the future, potentially the start of a trend that could help deal with many of the caveats noted above, including the issues faced by millennials. Perhaps most significant fact of all about today's report, for example, is that it means that 2014 has been the strongest year for job growth since 1999.  To a large degree, those, these are very good numbers that don't need to be qualified in any real respect. Let's hope they continue.