A Year in Which Nothing Happened
We're right back where we started.
A comment from longtime commenter @MarkedMan on another thread sparked an observation that's perhaps worth expanding on a bit.
We're a day away from the Iowa Caucuses, the maddeningly stupid way in which we kick off the selection of the Presidential nominees every four years. But the campaign has been ongoing for fourteen months, with umpteen debates and tens of thousands of articles analyzing every twist and turn of the race—along with idle speculation about really unlikely eventualities like John Kerry, Hillary Clinton, or some other savior coming in to rescue the party from the dreary lot of candidates actually running.
But for all of the drama, we head into Iowa exactly where we started this whole thing: with Joe Biden as the clear frontrunner and Elizabeth Warren and Bernie Sanders, in some order, as the only plausible challengers.
Here's a screenshot of the RealClearPolitics average going back as far as it goes for this cycle: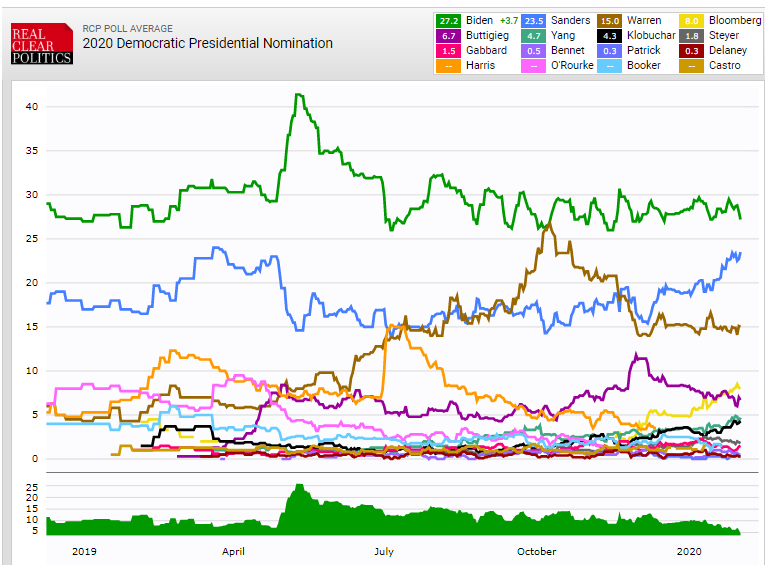 With the exception of a one-week period last July when Kamala Harris jumped into a three-way tie with Warren and Sanders for the runner-up spot, Biden has been in the lead and either Warren or Sanders has been in second, with the other third.
For all the ink spilled about how interesting Pete Buttigieg (and, to a much lesser extent, Andrew Yang) might be, they have never been all that significant in terms of their national support.
Mike Bloomberg has the potential to impact the race considerably given his vast financial resources. But he's not going to be the nominee.
Like it or not, it's going to be Biden, Warren, or Sanders. Probably Biden.