Alaskans Have Soured On Sarah Palin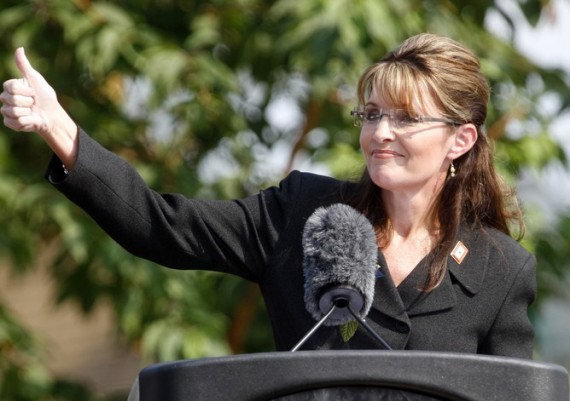 There was a time when Sarah Palin had the highest approval ratings of any Governor in the U.S., upwards of 80% according to one poll taken before she was named John McCain's running mate in August 2008, but those times are long, long gone:
We've polled Palin's favorability in ten states over the last couple months. In Alaska just 33% of voters have a favorable opinion of her to 58% with a negative one. The only place where fewer voters see her positively than her own home state is dark blue Massachusetts.

Democrats hate Palin in Alaska but they hate her everywhere so there's nothing newsworthy about that. What makes her home state numbers unusually bad is that Republicans see her favorably by only a 60/30 margin. In most places she's closer to 80% favorability within her own party. Also while independents don't like her anywhere their level of animosity in Alaska is unusually large- 65% unfavorable to only 25% with a favorable opinion.

It's not a coincidence that the 35% of the vote Joe Miller appears to have received in the Alaska Senate race is almost identical to the 33% who have a favorable opinion of Palin. Miller allowed himself to practically become a surrogate for Palin and while that was good for letting him pull off a primary victory by the slimmest of margins it was not so good for his prospects in the general election.
The Alaska numbers may be a personal rebuke, but they really only a symptom of a much wider phenomenon:
What's more relevant is that a majority of voters in every single state we have polled so far on the 2012 race has an unfavorable opinion of her. And her average favorability in the Bush/Obama states of Florida, Ohio, North Carolina, and Virginia that are most likely essential to Republican chances of retaking the White House is 36/56.
Here are the numbers: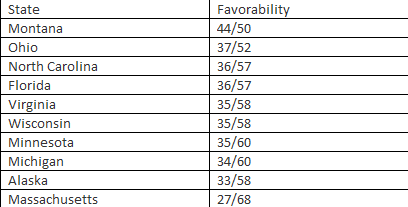 You're being warned, Republicans. You're being warned.