Amazon's next step towards total retail (and search) domination
Some thoughts on Amazon's new smartphone: Fire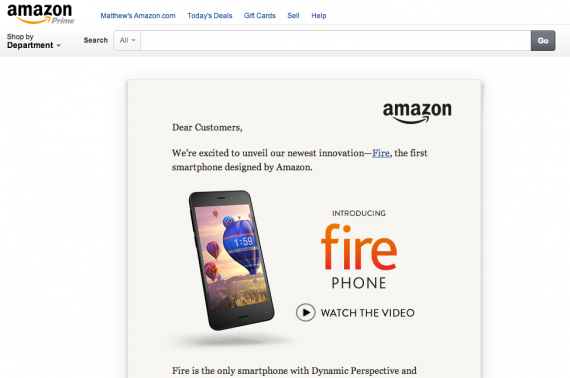 In case you missed it, yesterday Amazon announce that its building its own smartphone, the Fire. In fact, for the moment, Amazon's homepage is dedicated to the Fire — or rather a letter about it from Amazon CEO Jeff Bezos.
What's particularly interesting about the Fire is one of it's exclusive applications: Firefly. Firefly is media recognition software that is so important to Amazon that they literally gave it a dedicated button on the Fire. In addition to scanning business cards and other printed material to extract information like phone numbers and email addresses, Firefly is geared for retail.
Writing at the LA Times, Carolyn Kellogg fills in the details:
[Users] point their Amazon phone at any consumer object in the real world and then shop for it on Amazon.

Demonstrating the tool on stage, Amazon CEO Jeff Bezos used an Amazon Fire to photograph a DVD and a book, then showed how they were for sale on Amazon.

Firefly stores the photos. When a user taps on them, it takes them to the Amazon sales page. Reporting from Seattle, Gigaom explains what happened next. "tap on the book: You can buy the Kindle edition, the paperback or the audiobook right there."
As Kellogg notes, this has some implications for traditional brick-and-mortar retailers:
Amazon has built it into its new smartphone, insitutionalizing and encouraging customers to use brick-and-mortar retailers as Amazon showrooms.

This was controversial back in 2011, when during the holiday shopping season Amazon offered customers a discount if they used an Amazon app to photograph items for sale in bookstores and instead bought them online.

There was an outcry, in print and, well, online. Pulitzer Prize-winning novelist Richard Russo wrote an op-ed criticizing the practice that included the thoughts of many fellow writers, like Dennis Lahane, who called it "scorched-earth capitalism."

Critics contend that Amazon is taking advantage of brick-and-mortar retailers, who have many real-world expenses the online retailer does not: rent, utilities, and salaries of local residents. Shoppers at local retailers pay sales tax, which goes into city coffers to pay for things like road maintenance, police, and schools. After successfully fighting off many attempts to get it to collect sales taxes, Amazon has begun to in a few states (16, as of December).
What's interesting about Firefly is that it does a number of things strategically for Amazon. First, and most obviously, it's a way to generate sales (arguably at the expense of existing retailers, hence the accusation of "scorched earth capitalism"). It's also generating critical user information for Amazon. Even if a user decides *not* to buy an item via Amazon, Amazon knows that said user was interested in purchasing this item. That data will, in turn, change their recommendations. This get's to the final interesting point — Firefly cuts Google out of the loop.
A critical part of the reason Google developed the Android platform was to gather additional user information (as Google has always been in the Information Business). And while Amazon benefits from people searching for products on Google, Google gets to retain that information as well. Firefly, even though it runs on a Google OS, leaves Google out of the search loop. This is not the only place where Google is cut out of the loop. The Fire is shipped *without* a number of standard Google Apps. In particular, Yelp Maps comes installed instead of Google Maps.
Given how much smartphones are used for media consumption, one has to suspect that much of Amazon's desire to offer a smartphone is tied to getting more *exclusive* data on their customer's buying and media consumption patterns.
---
[Update 4:45 EST, 6.19] As commenter Stormy Dragon points out there are some other noteworthy data implications:
As well as (thanks to GPS), the specific store that they lost the sale to.
Not only does GPS/Location Services provide Amazon with this sorts of data, it allows them to map potential price variations and interest in product by region as well. Again, this is data that they already had some access to (via IP address and shipping data), but it's a new level of refinement.