Americans Spend More Than Eight Hours A Day Consuming Media
Americans spend a lot of time consuming media:
On average, people spend more than 490 minutes of their day with some sort of media, according to a new report by ZenithOptimedia. Television remains dominant, accounting for three hours of daily consumption—an hour more than the internet, in second place. (The report measures media consumed in its traditional form—for example, broadcasts on television sets and newspapers in print. Watching videos on the web or reading a newspaper's website counts as internet consumption.)

By 2017, we will find even more time in the day to take in media—half of our waking life is apparently not enough—with global average consumption set to rise to 506 minutes, according to ZenithOptimedia.
This chart shows how media consumption has changed over the past five years: ("Outdoor" outdoor media such as billboards, televisions in public spaces, and the like)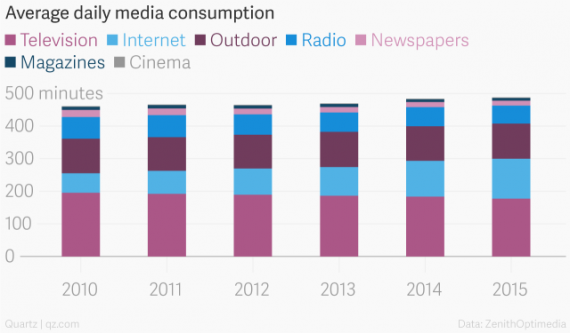 And this chart does a much better job of showing how media consumption has become much more centered on the online world, whole print media continues to die: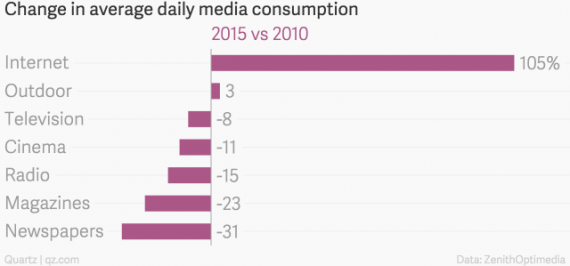 When it comes to media consumption, though, we North Americans are mere pikers compared to people in other parts of the world: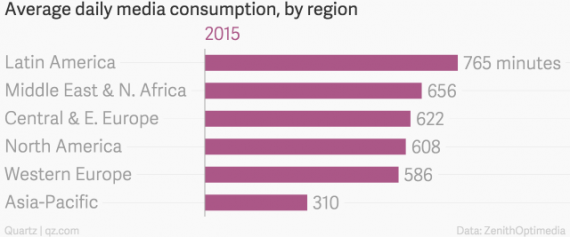 One imagine that the numbers for the Asia-Pacific region will rise as more and more people in China and India gain access to the online world.