An Observation about SCOTUS, PPACA and Politics
What we are seeing at the moment is the expected political churn that accompanies something as big as the PPACA case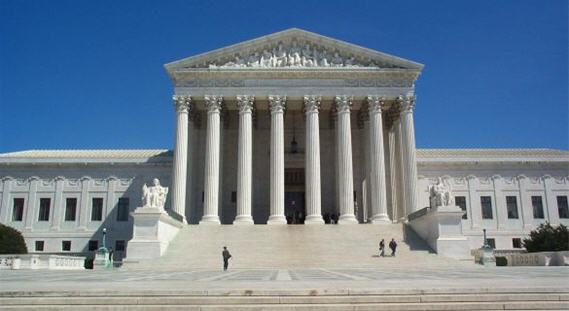 I have noted a number of pieces such as the WSJ's Obama vs. Marbury v. Madison  (and numerous similar pieces at Memeorandum at the moment) or even Doug Mataconis' piece here at OTB yesterday, On The Phony Charge Of "Judicial Activism" From ObamaCare Supporters and it occurs to me that while various valid arguments/ideas are being put forth in these pieces, the fact of the matter is what we are seeing at the moment is the expected political churn that accompanies something as big as the PPACA case.  Indeed, what I find interesting is that really, whether it is the president making his case, or Doug noting his supporters asserting theirs, is that really all we are seeing here is a continued recapitulation of the same basic arguments over interpretation of the commerce clause as well as a more general theoretical debate about what such abstractions as "limited government" mean as well as a general debate about the scope of congress.  We can throw is claims and counter-claims about "judicial activism" and whatnot, but the basic arguments remain the same post oral arguments as they did before they were given.
Further, while I understand why opponents of the PPACA would dislike President Obama's public statements on this matter, we have to keep in mind that this is just normal politics.  He is trying, as one would expect, to marshal as much public opinion in his favor as it possible because he is aware that while the Court appears to exist independently of politics, the fact of the matter is that the Justices do pay attention to public opinion.   There is also a little thing happening in November that drives the rhetorical bus.  President Obama is focusing on immediate politics and candidate Obama is trying to construct a narrative for use in the campaign.
This all boils down to the fact, as it generally the case, that politicians and pundits say a lot of things, but truly evaluating the significance of what is said requires considering things like audience and actual power.  The bottom line of the PPACA is going to be decided within the institutional framework of the constitution system and no matter what happens, a lot of people aren't going to like it (welcome to politics and governance).  However, that a lot of political actors are acting like political actors strikes me as, well, the sound and fury of politics signifying a lot less than is being ascribed to it (for example).
Perhaps I just feel this way because I have been so busy over the last week that I have looked at this story more from afar than I usually would.  And, for the record, I am not stating that the rhetoric being used is not worthy of comment, but rather I am just struck as to the degree to which we (myself included at times) seem to be surprised politicians and their allies would engage in politics.
A few things that are certain:  I have firmly come to the conclusion that "judicial activism" simply means "court rulings I don't like"* and that one's relative faith in elected versus unelected institutions is heavily predicated on one's policy preferences.  As such, I am hardly surprised by the President's focus on elected institutions and the WSJ's profound respect for the role of the Supreme Court.  The positions are likely to be flipped at some point in the future.  Finding people who are truly consistent on these matters, especially among those for whom politics is a vocation, is a rare thing.
Of course, all this is a good reminder that despite the exalted status we often ascribe to the Court that really that process is, to adapt Von Clausewitz, politics by other means.
—-
*This has been hammered home to me living in Alabama where I have seen court races, especially for Supreme Court, feature candidates who simultaneously decry "judicial activism" whilst promising, often in the same commercial, policy preference based outcomes if they are elected to the bench.