Ann Romney's Opinions About Birth Control Are Irrelevant To This Election
Ann Romney dodged questions from a reporter seeking her personal opinions on hot-button social issues. Good for her.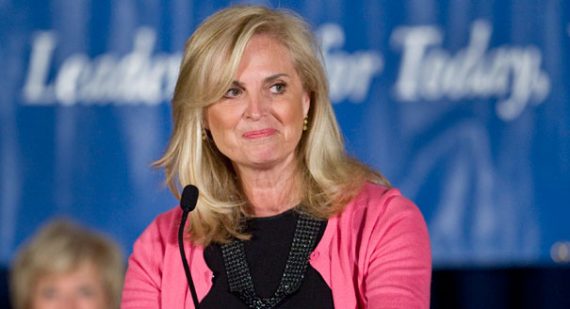 Ann Romney is apparently taking some heat from the left today over an interview with a local television reporter in which she deflected questions regarding hot-button social issues such as abortion:
DAVENPORT, Iowa – Ann Romney told KWQC TV6 news Friday that birth control and gay marriage are issues that "distract from what the real voting issue is going to be at this election."  Mrs. Romney says the election is about "the economy and jobs."

Mrs. Romney said she wanted to speak about women's issues, echoing the theme of her recent speech at the Republican National Convention.  "My message, really, was 'women, I hear your voices.'"

"I wanted to make sure that women of America knew that we have been across this country for the last year and a half and we are very aware of how tough it is for them," Mrs. Romney said.  "I think all of us know that women work harder than anyone and that they hold down jobs, they are raising the kids, they're trying to get food on the table and everything else and they're really being stretched."

When asked if she believes a lesbian mother should be allowed to marry her partner, Mrs. Romney said, "I'm not going to talk about the specific issues.  I'm going to let my husband speak on issues."

When asked if she believes that employer-provided health insurance should be required to cover birth control, Mrs. Romney said "Again, you're asking me questions that are not about what this election is going to be about.  This election is going to be about the economy and jobs."

"I'm here to really just talk about my husband and what kind of husband and father he is and, you know, those [birth control and gay marriage] are hot-button issues that distract from what the real voting issue is going to be at this election."

An April 2012 Pew Research Center poll found that 46% of women voters under age 50 said birth control is "very important" to their vote this November.  The same poll found 31% of women voters said gay marriage is "very important" to their vote.

When KWQC anchor David Nelson referenced the Pew poll, Mrs. Romney responded "but I personally believe, and this is what I'm hearing from women all across the country that they are going to look for the guy that's going to pull them out of the weeds and get them job security and a brighter future for their children.  That's the message."
Here's the video of the interview:
KWQC-TV6 News and Weather For The Quad Cities –
As far as I'm concerned, Ann Romney was perfectly within her rights to keep control of the conversation with this reporter, and to refuse to be pulled into a situation where she, rather than her husband, becomes the story of the day. Regardless of whether or not you agree with Mrs. Romney regarding what the election is really about, I really have to wonder something very specific. Of what possible relevance are Ann Romney's personal opinions on any of these issues? She isn't the one running for office, her husband is. If you want to know the Romney campaign position on social issues, you can either ask them or refer to the policy positions that the campaign and the candidate says in the past. With all due respect to Mrs. Romney, what she thinks about birth control, or abortion, or same-sex marriage is, in the end, entirely irrelevant to this election and, rather than being some example of great journalism as some have suggested, it strikes me that this local reporters insistence on pushing irrelevant questions is an example of journalistic hackery.
We've seen episodes like this before. Reporters have asked Barbara Bush, and Elizabeth Dole, and Laura Bush, and Cindy McCain their opinion on these hot button social issues, and they only do it for one reason. It has nothing to do with uncovering some relevant fact about the man who is actually running for President, but with trying to create a "story" by attempting to uncover some area where the candidate and his spouse may disagree on these issues. Even if that's the case, who the heck cares? Ann Romney is an adult who is entitled to her own opinions, and she's also entitled to refuse to be used as a pawn by a reporter trying to create a controversy out of something completely irrelevant. If you want to know something relevant about birth control and the race for the Presidency, ask Mitt Romney or his campaign. Asking his wife for her personal opinion is just idiotic, and it's so far from being good journalism that it isn't even funny.