Another Poll Shows Mitch McConnell In Trouble In Kentucky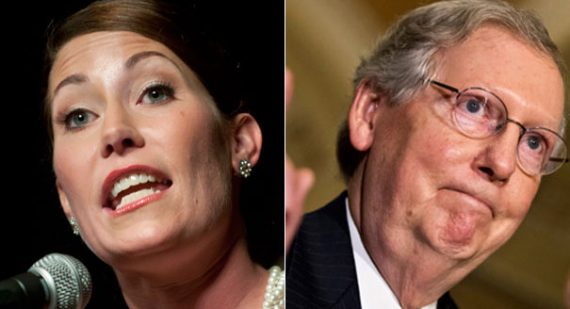 A new poll from a Republican pollster shows yet again that Senate Minority Leader Mitch McConnell faces what seems to be a close race against Kentucky Secretary of State Allison Lundergan Grimes:
Senate Minority Leader Mitch McConnell (R-Ky.) leads his Democratic challenger, Kentucky Secretary of State Alison Lundergan Grimes (D), by a single percentage point, according to a survey released Thursday by Republican pollster Wenzel Strategies.

According to the survey, 43 percent of likely Kentucky voters favor McConnell, while 42 percent favor Grimes. The lead falls within the poll's 3-point margin of error, indicating that the race is essentially tied.

In another general election matchup, Grimes tops businessman Matt Bevin by 3 points, 39 percent to 36 percent. This also falls within the poll's margin of error.

In the Republican primary, McConnell holds a solid lead over Bevin, 59 percent to 17 percent. Bevin does not appear to have much room for growth, as 88 percent of primary voters list their opinions as either 'Very Firm' or 'Somewhat Firm'.

The automated phone survey of 1,002 voters is the latest to show the Kentucky race to be a toss-up.
Previous recent polls in Kentucky have shown a tight race as well. A Public Policy Polling poll conducted in mid-December had McConnell up by one, for example, while a Rasmussen poll conducted in early January showed the race to be a tie and a Survey USA poll conducted about two weeks ago had Grimes up by 4 points. Based on these polls, the current RealClearPolitics polling average shows Grimes up by 1/2 of a percentage point, which is effectively a tie.
Perhaps the most important numbers in the polls, though, are the ones that seem to show that Lundergan Grimes has far more room for improvement in her numbers than McConnell does:
The new poll says that Grimes has more room for growth among the Kentucky electorate than McConnell. Fifty percent of likely voters have a 'Very Favorable' or 'Somewhat Favorable' view of McConnell, while 48 percent hold 'Somewhat Unfavorable' or 'Very Unfavorable' views. Only 3 percent said they have no opinion of McConnell.

Voters are less likely to have formed opinions about Grimes. Forty-three percent of likely voters have either a 'Very Favorable' or 'Somewhat Favorable' view of her, while 36 percent have either an 'Unfavorable' or 'Very Unfavorable' view. A full 20 percent of voters have yet to form an opinion on Grimes.
Other polls have shown the same thing regarding public opinion about the two candidates. What this suggests is that McConnell's path to victory, if it is to happen, lies not in trying to attract voters to him based on his record but in trying to undercut public opinion of Grimes via attack ads and negative campaigning. Indeed, one imagines that this is what the vast majority of McConnell's campaign war chest, not to mention the third party spending that is likely to find its way into the race, will be spent upon in the coming months. As we've learned before from other races, it would be mistaken to dismiss the potential effectiveness of this kind of negative campaigning, or to dismiss the possibility that McConnell may end up winning this race in the end. However, if the negative campaigning doesn't work then the GOP could find itself with a big problem in the Bluegrass State come November.