Arizona Revoking Tax Benefits To Nike Likely Unconstitutional
The attempt by Arizona's Governor to revoke tax benefits granted to Nike in the wake of the "Betsy Ross Flag" controversy is most likely unconstitutional.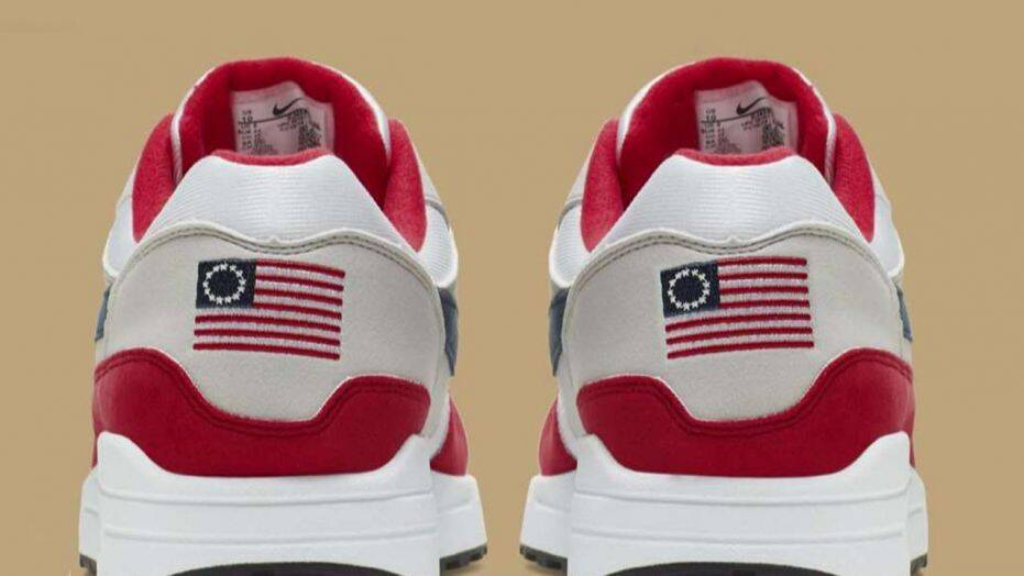 As James Joyner noted earlier this week, Nike pulled a new sneaker with a design of the so-called "Betsy Ross Flag" (which Betsy Ross probably didn't design) after objections from former San Francisco 49er Colin Kaepernick, who has apparently become some kind of corporate adviser to the company ever since Nike began building an ad campaign around him last year. In response to that decision the Republican Governor of Arizona announced that he was considering withdrawing tax benefits that had been granted to move certain aspects of its business to the state:
Arizona Gov. Doug Ducey on Tuesday slammed Nike for canceling the release of a shoe featuring an early design of the American flag, saying it had "bowed to the current onslaught of political correctness and historical revisionism."

Calling Nike's decision a "shameful retreat" on Twitter, the Republican leader vowed to withdraw financial incentives recently promised to the company in exchange for opening a manufacturing plant in Goodyear with some 500 full-time jobs.

Nike pulled the shoe, set to go on sale this week, after former NFL quarterback Colin Kaepernick told the company he and others found the version of the flag depicted on the shoe offensive, according to a Monday report from The Wall Street Journal. Nike said it did not want to "unintentionally offend and detract from the nation's patriotic holiday."

The design — often called the "Betsy Ross" flag, though it's not clear the 18th century upholsterer actually made it — has been appropriated by extremist groups such as the Ku Klux Klan and the "militia movement" in recent years.

"Words cannot express my disappointment at this terrible decision," Ducey wrote in a string of tweets strategically posted 5 a.m. Eastern, or 2 a.m. Arizona time. He said he was "embarrassed" for Nike.

"This country, our system of government and free enterprise have allowed (the company) to prosper and flourish," he wrote. "Instead of celebrating American history the week of our nation's independence, Nike has apparently decided that Betsy Ross is unworthy."

Ducey said he'd ordered the Arizona Commerce Authority to withdraw all financial incentives for Nike "under their discretion," which the Authority later said referred to an "up to $1 million grant" from its Arizona Competes Fund.

The group has no control over the incentives offered to Nike through the development deal approved by the Goodyear City Council on Monday, however. That agreement waives nearly $1 million in permit and plan review fees the city would typically charge and mentions reimbursing $1 million to the company for job creation.

Nike has made its decision, and now we're making ours," Ducey wrote. "Arizona's economy is doing just fine without Nike. We don't need to suck up to companies that consciously denigrate our nation's history."
Eugene Volokh noted at The Volokh Conspiracy, though, that this action by Governor Ducey could violate the First Amendment:
[T]he First Amendment generally forbids the government from retaliating against government contractors based on the contractors' protected First Amendment activity (which would include either deciding to release a shoe with a particular flag design, or deciding not to release it); the Supreme Court so held in Board of Comm'rs v. Umbehr(1996). And while that case involved traditional payment-for-service contracting, the logic of the case would apply to financial incentives such as those involved in the Nike case. (Indeed, Umbehr relied on, among other cases, Speiser v. Randall (1959), which held this as to tax exemptions.)

(…)

The Court in Umbehr focused on speech-based decisions to cancel a terminable-at-will contract, or not to renew such a contract. But it sounds like the Nike matter likewise involves a decision to cancel an already arranged plan; and just as the First Amendment bar on the government firing employees based on their First Amendment activity also applies to refusals to hire (Rutan v. Republican Party of Illinois (1990)), so the First Amendment bar on terminating contracts based on First Amendment activity applies to refusals to contract.
None of this, of course, speaks to the wisdom of tax incentives such as the ones at issue as a policy matter. As a general rule, they are unwise moves that do not end up bringing the economic benefit promised. Whether or not they are wise, though, is not the issue here. The issue here is that Governor Ducey, apparently on his own, decided to revoke subsidies and incentives that had already been granted due to a decision that Nike made that is clearly based on its own business discretion and its own First Amendment rights. That, the case law seems to make clear, is impermissible.
What's unclear is whether Nike would challenge Governor Ducey's decision in court. As it stands, they seem to remain committed of opening the facility in Arizona notwithstanding his decision so perhaps they'll just let it stand. If they did challenge it, though, there is a good chance they'd win.