Arkansas Police Claim Handcuffed Man Shot Himself In The Head
A very suspicious "suicide" in police custody.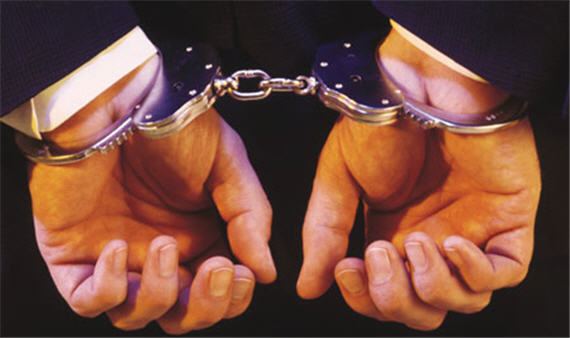 Police in Jonesboro, Arkansas spent a good part of last week dealing with the aftermath of the death of a man in police custody under what can only be described as incredibly suspicious circumstances:
LITTLE ROCK, Ark. — Police in Arkansas are investigating whether a man fatally shot himself in the head as he sat in the backseat of a patrol car with his hands cuffed behind his back.

Chavis Carter, 21, died after Jonesboro police stopped a truck in which he was riding July 28 and learned he had an outstanding arrest warrant related to a drug charge. Carter was searched twice, handcuffed and put into the back of the patrol car, according to a police report.

Officers a short time later saw Carter slumped over in the backseat and covered in blood, according to the report, which concluded he had managed to conceal a handgun with which he shot himself. He later died at a hospital, and the report listed his death as a suicide.

Jonesboro Police Chief Michael Yates said Tuesday it appeared Carter shot himself in the head, but his department is investigating the incident, which the chief described as "very unusual."

"Specifically, how Carter suffered his apparently self-inflicted gunshot wound remains unexplained and investigation … continues given the unusual nature of this event," the department said in a statement.

Yates said the department is working to reconstruct what happened, but is waiting on an autopsy report that could come as soon as this week.

Hundreds of people gathered in Jonesboro, about 130 miles northeast of Little Rock, on Monday for a candlelight vigil for Carter, and some questioned the circumstances surrounding the shooting. Some held signs asking "What really happened?" to Carter.

"Everyone wants justice," Jonesboro resident Gale Taylor told The Jonesboro Sun after the vigil. "The circumstances are unusual, but everyone wants the truth."

The NAACP also called for a thorough investigation into the death of Carter, who was black. The two other men who were in the truck with him and the two officers on the scene are white, according to police.

"The public relies upon police to serve and protect all citizens, no matter their race or ethnicity," the state conference and Craighead County branch of the NAACP said in a statement.

The traffic stop came after police received a report of a suspicious vehicle driving up and down a residential Jonesboro street. An officer pulled up to the truck Carter was in and another officer soon joined him. The three men in the truck were frisked or patted down, according to the police report. Police said in a statement that the pat downs were "not necessarily" full searches.

One of the officers found marijuana in Carter's pocket and then learned, after he initially gave a different name, that he had an active warrant out of Mississippi. Yates said Tuesday that the officers initially had trouble interpreting what the warrant was for.

"Since then I believe that it has been determined that it was for basically skipping out on probation on a drug charge," the chief said.

Officer Keith Baggett found scales and smelled marijuana as he searched the truck's passenger seat where Carter was sitting, according to the police report.

All three men were handcuffed, but the two others were later let go after they said they didn't know anything about the scales or any drugs, according to the police report.

Officer Ron Marsh searched Carter again and put him in the patrol car, the police report said. As the officers prepared to leave the scene, Marsh noticed the smell of something burning and saw Carter slumped over.

Marsh ran to get Baggett, who wrote in the police report that he saw "a large amount of blood on the front of his shirt, pants, seat and floor. His hands were still cuffed behind his back."
Let's summarize this. Carter is a passenger in a truck that is pulled over by police after reports of "suspicious" activity."  He and the two other men in the car are searched in some manner during which marijuana worth about $10 was found in one of his pockets. Carter was searched a second time and then put into a patrol car. Then, despite the act that he was handcuffed behind his pack, he managed to retrieve a gun that police had been unable to find in two searches and shoot himself. Shoot himself in the head no less.  Even the Jonesboro Chief of Police has admitted that the circumstances are "bizarre."
There are a number of questions that come to mind here. How is it that the police can search a man twice, find a small amount of marijuana, and miss a gun? How is it that someone who is handcuffed behind their back and sitting in the back of a patrol car could then not only retrieve that gun in the (apparently short) amount of time that the police had left him alone, but then physically shoot themselves in the head with enough accuracy for the wound to be fatal? Try to imagine the physical maneuvering that would be required to pull off this feat. It seems impossible doesn't it? And yet, the police are claiming that Carter died as a the result of a "suicide."
CNN has been one of the few major media outlets giving this story national coverage, here's one of the reports they've done:
On Thursday, the FBI said that it would be joining the investigation into Carter's death, which seems ideal given the fact that Jonesboro Police may not be the best entity to investigate this considering the implications of what might have happened if it turns out the "suicide" theory ends up being discredited. One question, of course, is whether there were any powder burns, or evidence of gunpowder residue found on Carter's hands. If there's not, then there's simply no way that he fired the fatal shot.
Is it possible Carter did this to himself? I suppose it is, but the circumstances are so bizarre and illogical that it's hard to believe that there isn't a lot more to this story.  The biggest unanswered question, though, is why Carter would kill himself over a $10 baggie of marijuana and what turned out to be a relatively minor outstanding warrant in Mississippi?