Assessing the Party Fringes
AOC v. MTG: one of these things is not like the other.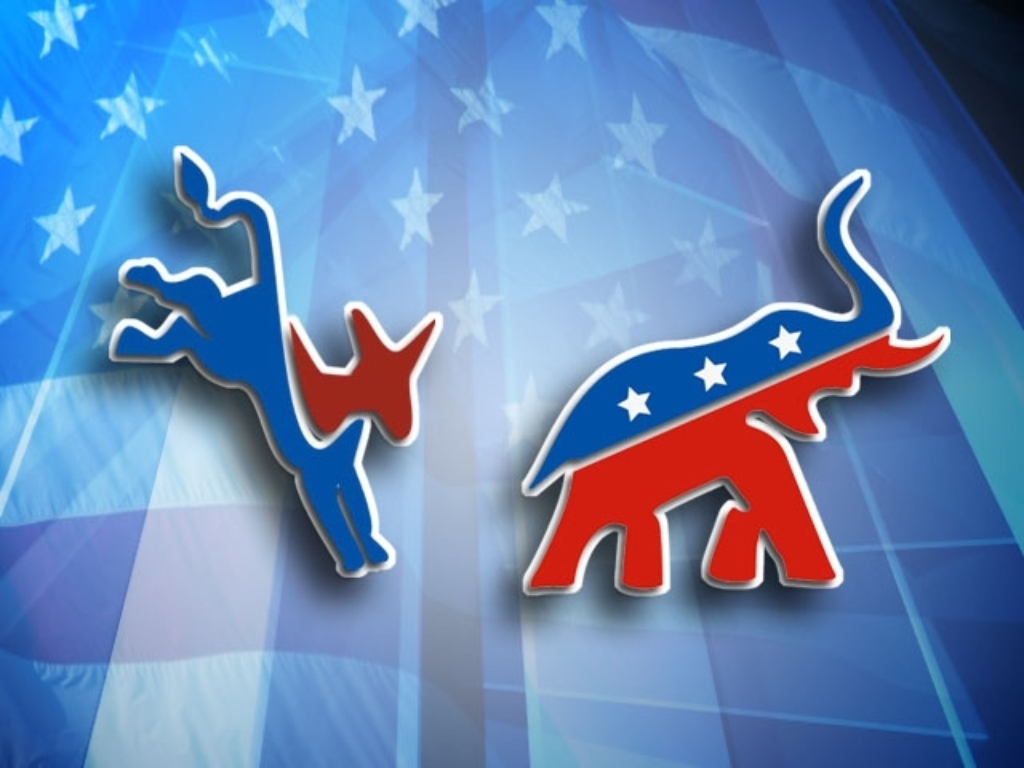 Jonathan Chait (GOP Congresswoman Blamed Wildfires on Secret Jewish Space Laser) makes a snarky, but accurate, comparison between the wings of the two parties:
Anyway, it is true that Marjorie Taylor Greene and Alexandria Ocasio-Cortez play equivalent roles within their respective parties. MTG holds down her party's right flank, and AOC holds down her party's left flank. You can somewhat deduce the corresponding beliefs of the two parties' mainstream contingents by moving somewhat to the center of each. Most Democrats are skeptical of defunding the police and question the feasibility of transitioning to a state-run health-care system. Most Republicans are probably quite skeptical that the California wildfires were intentionally set by a Jewish space laser.
Again, this is snarky, but it does identify a legitimate truth: that under a different set of electoral rules (i.e., even modest proportional representation) the odds are that both MTG and AOC would be in their own parties. Further, the nature of those two parties would be radically different (and I don't mean in term of ideological placement). Rather, one party would be a serious one and the other would not (in terms of grounding in reality). He is also correct that the nature of what constitutes "fringe" in both parties is a commentary on the mainstream of each party.
One may, or may not, find AOC's policy proposals to be "crazy" (scare quotes very much intended). That is, one may think that the Green New Deal is utterly ridiculous, but that assessment is at least based on public policy differences that can be discussed within the confines of establishes realities. In other words, one may think that the approaches to energy usage and consumption that undergird the proposal are wrong, but they are in a different universe than suggesting that space lasers caused the California wildfires or that mass shootings are all staged "false flag" events.
AOC's positions, along with those of Bernie Sanders in the Senate, and the Democratic Socialist wing of the Democratic Party are all based on specific theories and philosophies about governance. And a good number of them (such as free college or Medicare for all) are based on policies that exist in other countries and that have often been in place for decades. The arguments for and against these policies are about things like disagreements over resource allocation and efficacy. None of these are based on fanciful notions with no connection to empirical reality.
I recognize that there are philosophical disagreements embedded in these conversations about how the world works and of human nature. But I would note that these are time-worn discussions based on legitimate, long-term debates about politics.
Compare such items to this list from Chait's piece about MTG's growing track record:
The QAnon conspiracy theory, which holds that Donald Trump is secretly fighting a worldwide child-sex-slavery ring that was supposed to culminate in the mass arrest of his political opposition, is "worth listening to."

Muslims don't belong in government.

9/11 was an inside job.

Shootings at Parkland, Sandy Hook, and Las Vegas were staged.

"Zionist supremacists" are secretly masterminding Muslim immigration to Europe in a scheme to outbreed white people.

Leading Democratic officials should be executed.
And, of course, the story of the last day or so,
The most recent Greene view to be unearthed comes via Eric Hananoki. Just over two years ago, Greene suggested in a Facebook post that wildfires in California were not natural. Forests don't just catch fire, you know. Rather, the blazes had been started by PG&E, in conjunction with the Rothschilds, using a space laser, in order to clear room for a high-speed rail project.
MTG's FB post on this subject can be read at the link.
These are not rational, philosophy-based policy positions. They aren't "crazy," but just plain crazy. They are a combination of prejudice and conspiracy theories. They are detached from reality.
Chait's point juxtaposing AOC and MTG is a good one. A multi-party system in the US would likely produce a Democratic Socialist Party for folks like AOC. One might or might not like such a party from an ideological POV, but such a party would have serious policy positions.
The MTG's of the world would form a QAnon Party (or whatever it might be called) and would bring to the table not serious attempts at governance, but rather conspiracy theories and nonsense.
This speaks to where both parties are at the moment. Consider that Nancy Pelosi has a very different challenge in placating her "fringe" versus the degree to which Kevin McCarthy has to embrace his (as we saw with his trip to Mar-a-Lago this week and his general need to downplay the Capitol Insurrection).
To put all of this another way: one may think that AOC is misguided or wrong, but such are political debates. But MTG is not wrong as much as she is irrational and fantastical in her views. She is not putting forth, in the main, simply different policy positions, but full-out conspiracy theories that are, quite frankly, delusional.