Speaking of Reform
Let me point you to a reform proposal.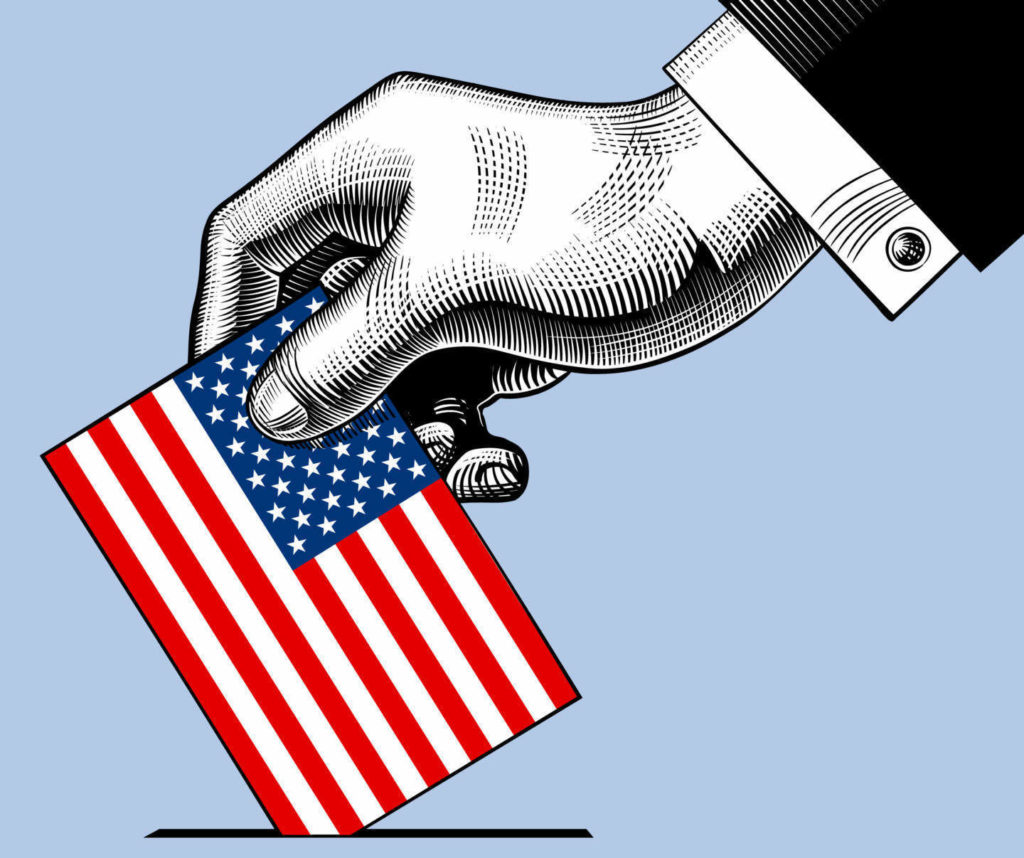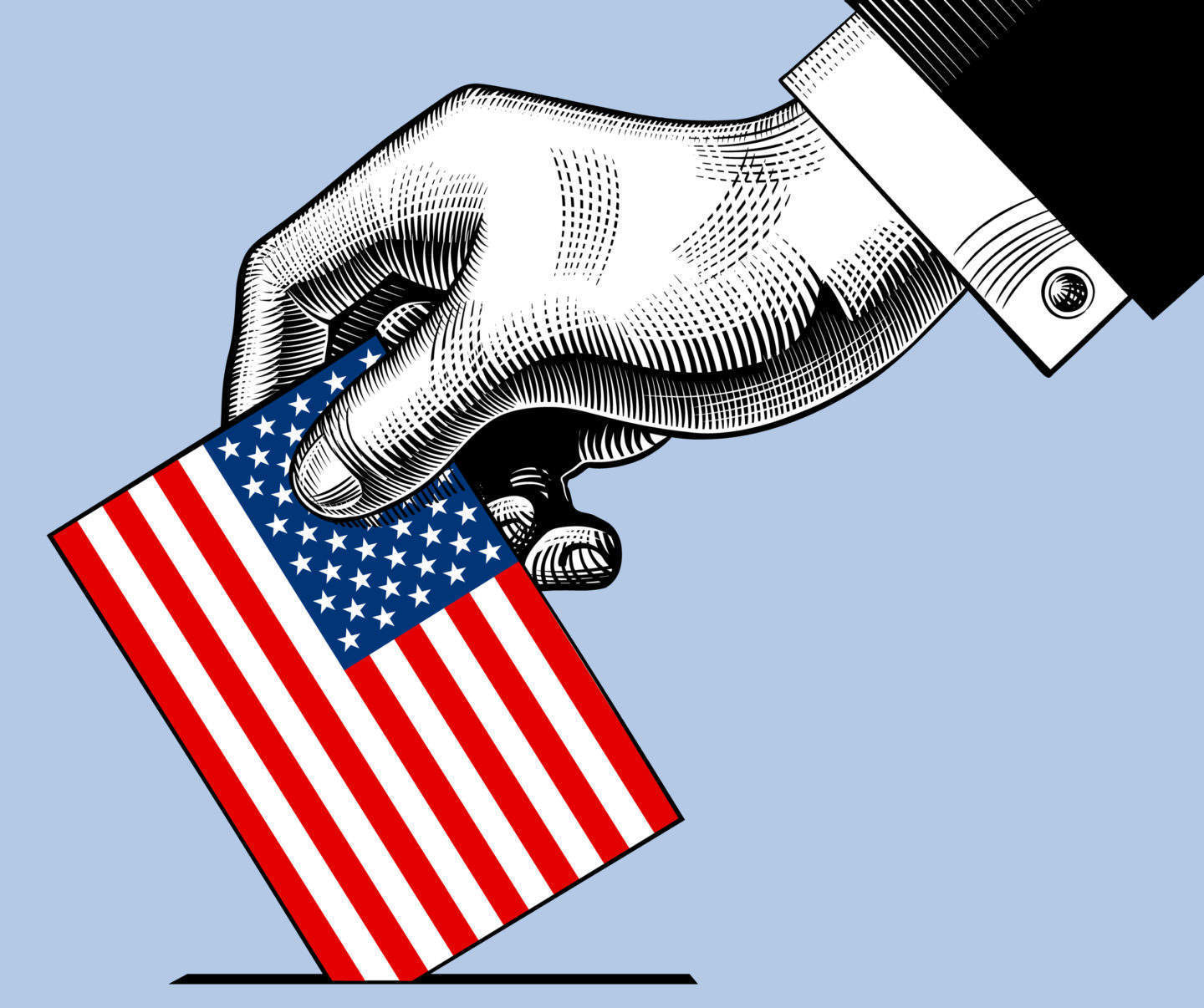 I would highly recommend this following post from my friend of many decades, and sometimes co-author, Matthew Shugart: Emergency electoral reform: OLPR for the US House. I should note that Matthew is a Distinguished Professor Emeritus of Political Science from UC Davis and is one of the foremost experts in the world on electoral systems.
His is a proposal for moderate proportional representation using open lists. I will define, below, the basics so that those who are perhaps unfamiliar will have a basis for understanding.
I think Mattew is correct that we are in a democratic emergency and the time to act is now.
I am not arguing for a change to PR only for the sake of the Democratic Party. In fact, my argument is that this is a way for Republicans to save their own party. The country needs functioning pro-democratic parties on both the center-left and the center-right. At the moment, it has such a party only on the center-left, and even that is a temporary ceasefire amidst a deepening internal division.
His basic assessment of the current party system is correct, in my estimation:
Basically, the point is that there are (at least) two "rights" and two "lefts" but currently only one party on the right and one on the left. And the emergency is that one of the "rights" has abandoned democracy and shown a willingness to accept political violence.

The need for PR is to let the free-market small-d democrats in the currently existing parties act independently of their more extreme wings. This is precisely what PR systems permit-each side's extreme can be its own party rather than a wing of one majority-seeking party, without raising concerns over "spoilers" that arise under plurality elections.
I would very much recommend the whole thing.
BTW, I think that Congress could (although I don't think it will) pass the reform. Article I, Section 4 states (emphasis mine):
The times, places and manner of holding elections for Senators and Representatives, shall be prescribed in each state by the legislature thereof; but the Congress may at any time by law make or alter such regulations, except as to the places of choosing Senators.
---
A Quick Primer on List-PR
In simple terms, proportional representation (PR) describes electoral rules that produce outcomes wherein the percentage of votes a party can get in the electorate results in that party getting roughly that percentage of seats in the legislature.
Hence, if the Me Party can get 10% of the vote it gets 10% of the seats (or, to pick the example with the easiest math, 10 out of 100 seats in a 100-seat chamber).
So a perfectly proportional system would produce results wherein %votes=%seats. Of course, the reality is that PR systems vary as to precisely how close to equal those two variables are but lack of perfect proportionality in a given outcome does not take away from the general principle.
There are a variety of reasons why a system might be more or less proportional, but I won't go into that here. Instead, let's consider the basics of list-based PR.
In list-based systems, open or closed (I will get to that in a minute), citizens vote in multi-seat districts (more than 1 seat) because you can't proportionally allocate one seat.
List PR means a system wherein the parties submit lists of candidates to compete in the multi-seat district. Under Matthew's proposal, we would convert the states into districts. So, my state of residence would be a district of 7. Each party would likely submit a list of seven candidates (hope springing eternal and all of that). Correction: his proposal would divide states in multi-seat districts of 3-5 seats (that does not change anything substantive in this post).
Citizens, it should be noted, still only get one vote apiece. They cast that vote for the list (closed lists) or for their preferred candidate on a list (open). More on that below.
If a party won 100% of the vote, they would get all 7 seats (but that isn't going to happen). However, if they only won 40% of the vote, they would get ~40% of the seats (since 40% of 7 is 2.8 is a bit more complicated than just a basic calculation–the likelihood is that the part would win 3 seats in such a system or 42.9% of the seats).
Allocation formulas have to be applied, and there are several to choose from (with D'Hondt, mentioned by Matthew, being the most prevalent). The example below is the Hare quota, which I think is the easiest to understand, although not widely used.
The Hare quota basically takes the number of votes cast in a district and divides it by the number of seats available. So each seat "costs" (the quota) votes equal to 1/M votes (with M being the district magnitude, i.e., the number of seats being contested).
For each quota a list wins, it gets a seat. Once all the quota seats are allocated if any seats have not been allocated then the party lists with the largest remainder of seats get those.
Here is an example spelled out from my 2009 book on Colombia: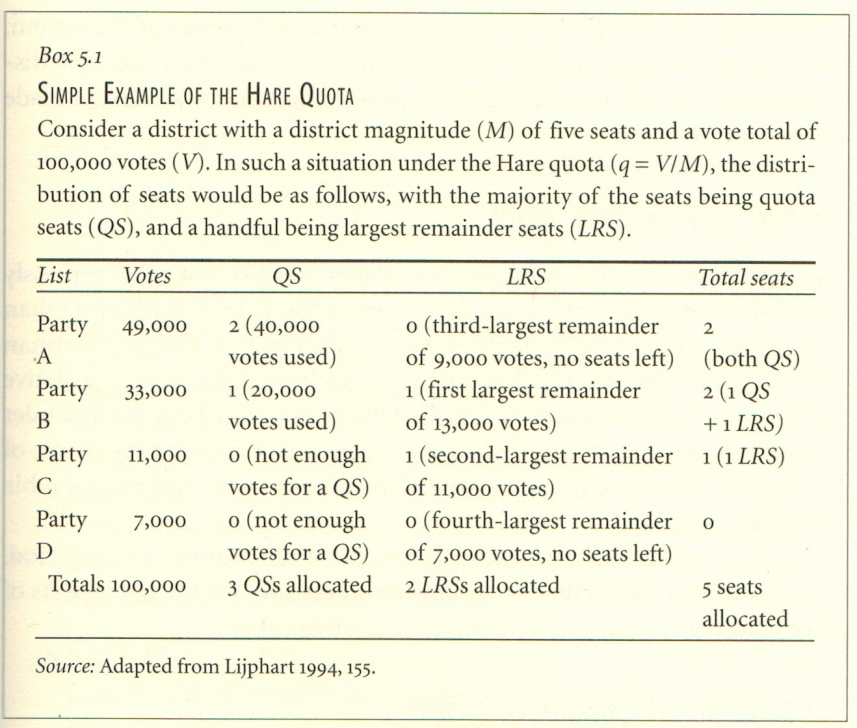 Note that in this example:
Party A won 49% of the vote and 40% of the seats
Party B won 33% of the vote and 40% of the seats
Party C won 11% of the vote and 20% of the seats
Party D won 7% of the vote and no seats.
This allocation formula skew towards smaller parties, which would likely lead to more fragmentation of the party system. And that is perhaps not desirable (but is a whole other conversation).
Here are some more example from Lijphart 1994, which show how minor changes to different allocation methods can make a difference :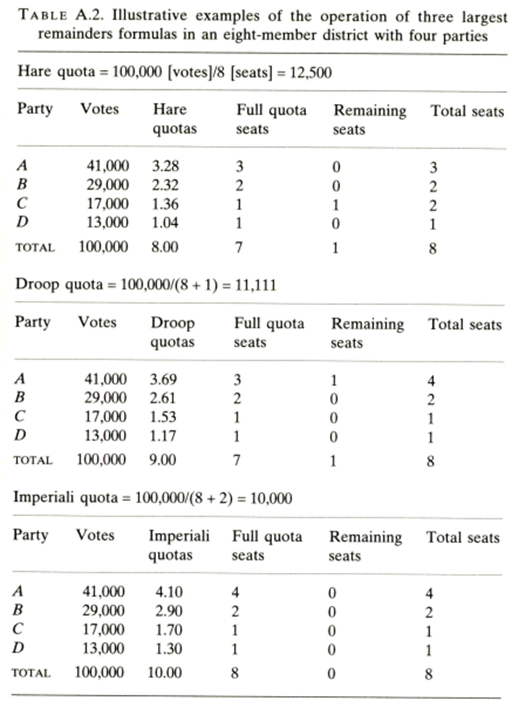 Now, a list is closed if the voter only has the option to vote for the party and not indicate candidate-specific preferences.
A potential ballot might look like this (a graphic I nabbed from Fairvote, I think, years ago but the link I have no longer works):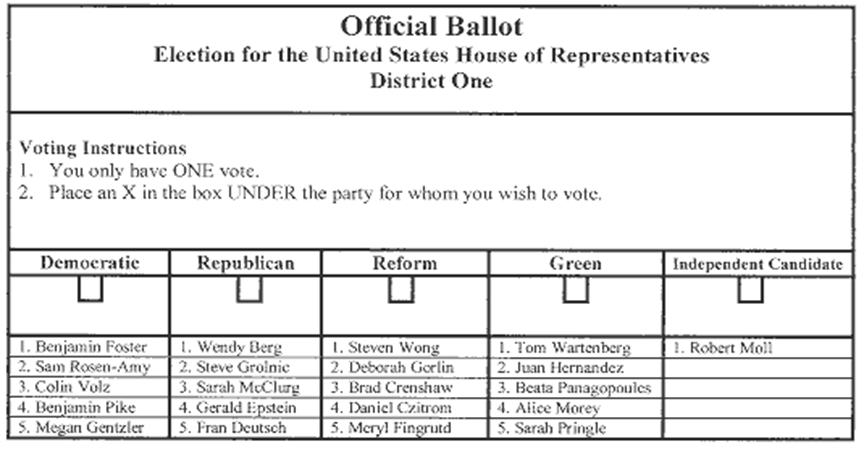 In a closed list the seats are allocated in order. So if the Democrats won 2 seats, Foster and Rosen-Amy would get those seats and the other three would be out of luck. The party controls the order and being 5th on the list is tantamount to "I ran for Congress and all I got was this lousy t-shirt" kind of situation.
An open list means you vote for your preferred candidate on that list: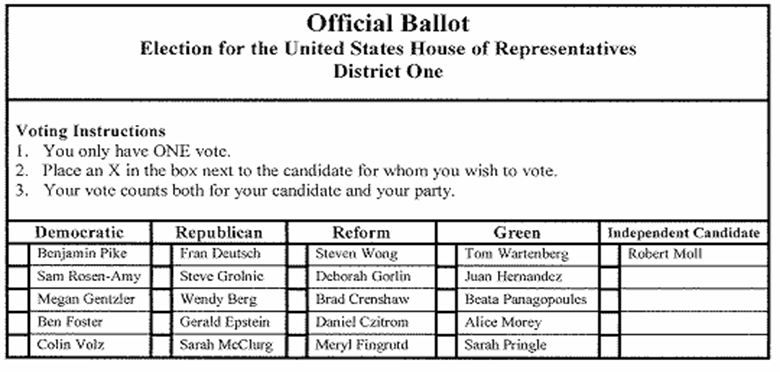 The allocation of seats to the lists is the same, but the two elected Democrats would not necessarily be the top two on the list, but rather then two who received the most preference votes (maybe Pike and Foster, for example).
Hopefully this quick tutorial makes enough sense to help with understanding Matthew's proposal.