What if the Electoral Vote was Proportional?
What if instead of the unit rule, states doled out electoral voter based on the proportion of votes each slate of electors received?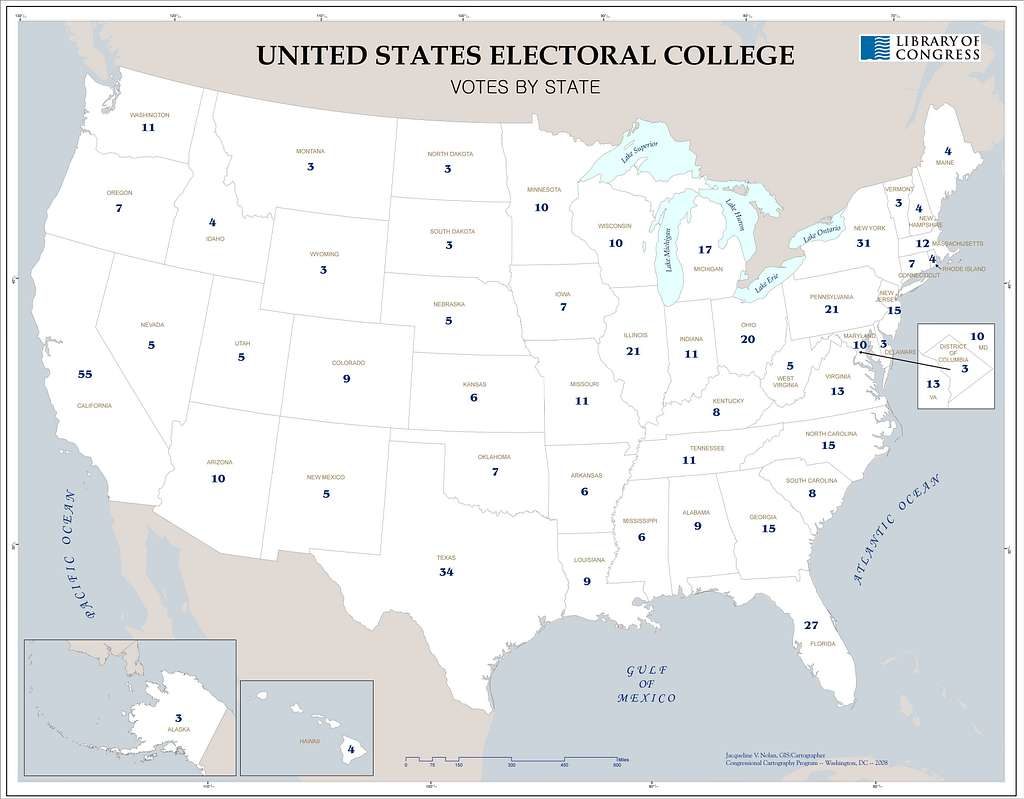 Under our current system to elect the president, voters vote for a list of electors in each state (even though on the ballot it often looks like the voter is voting directly for the candidate). Each state is allocated a number of electors equal to the number of House and Senate seats each state has, ranging from the 3 for Wyoming to the 55 for California (these allocations are re-evaluated every ten years).
Electors are allocated via the "unit rule" (save in Maine and Nebraska) which means that the list of electors which receives the plurality (i.e., a simple majority) of the vote wins and all the electors on that list cast votes in the December elections for president in the various state capitals. Maine and Nebraska allocate two electoral votes to the winner of the statewide plurality and then allocate one electoral vote per congressional district (also via plurality).
In electoral studies terms, there are 51 multi-seat districts being contested each November (the fifty states plus DC) and five single-seat districts (two in Maine and three in Nebraska). Each multi-seat district has a minimum of two seats (electors) up for grabs. We use plurality elections in which the list of electors (the "seats" in this case) that receives the plurality of the vote wins all the seats (as contrasted with multi-seat list-proportional systems wherein lists win seats corresponding to the proportion of the vote each party list receives).
So, if a candidate wins a state, say 47.2% versus 44.4% (as Clinton did over Trump in Colorado in 2016), the winner gets 100% of the electoral votes, and the loser gets nothing (in the CO example, 9 electoral votes). Again, 47.2% of the vote leads to 100% of the seats. Think about what it would be like if we elected Congress in such a fashion.
What if we elected the president via a proportional allocation of electoral votes per state rather than via the unit rule?
Well, in the Colorado example, Clinton would have won 4, Trump 4, and Gary Johnson (who won ~5% of the vote) would have won 1. This is assuming a simple calculation that allocates the EVs in a directly proportional fashion.
Hence:
.472*9=4.25
.444*9=3.97
.05*9=.45
Clinton obviously gets 4 and Trump 3 in terms of whole electors. For the remaining two electors, we would look at the largest remainders: .25 for Clinton, .97 for Trump, and .45 for Johnson. Trump has the largest remainder and gets an additional elector and the next largest remainder goes to Johnson. So, the final allocation under such a system would be 4 to Clinton, 4 to Trump, 1 to Johnson.
Note that this is not the only way to engage in proportional allocations, but it is the most straight-forward. One possible change would be to have a legal threshold. Let's say to limit too much fragmentation, a candidate would have to win a minimum x% (say 3% or 1%) of the vote to win an elector. Of course, Johnson would still have won an elector under such a scenario. There are also a number of other kinds of allocation rules (different quotas, divisor systems, etc.) that could be used that would create slightly different outcomes. That would require a far longer post to address. (This paragraph is to simply point out that there isn't just a singular choice to "go proportional").
Using the simple system above, 2016 would have looked like this :
| | | |
| --- | --- | --- |
| Clinton | 263 | 48.88% |
| Trump | 259 | 48.14% |
| Johnson | 14 | 2.60% |
| McMullin | 1 | 0.19% |
| Stein | 1 | 0.19% |
| | 538 | 100% |
This is in contrast to the actual results: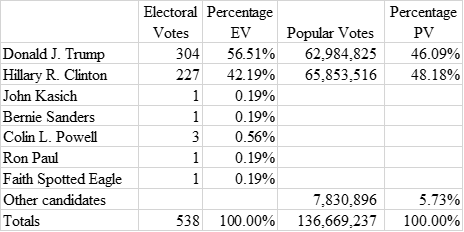 So, if we had used a simple proportional allocation process in 2016, the election would have been thrown to the House (I did not attempt to determine the effects on the outcomes using thresholds nor with other allocation rules). But, since the Electoral College requires an absolute majority winner, it stands to reason that a more proportional allocation of votes, in the context of no one with 50%+1 of support, would result in no one with an EV majority (i.e., 270 or more).
(A side note I do not have time to develop: throwing a race like this to the House illustrates the Framers' utter lack of understanding of parties. The EC would have produced a plurality winner for one party's candidate, while the House election produced a majority for the other party. Also, more disproportionate elements would come into play, as each House delegation gets a vote, not each member of Congress. As such, Texas' one vote would be equal to Maine's 1 vote. Remember, too, part of the reason for the EC, from the Framers' POV was that it would be hard for national candidates to emerge–they thought all candidates would be regional. Clearly Trump and Clinton both had national appeal–because of, you know, political parties).
The alternative scenario reveals, of course, that Clinton was not an absolute majority favorite in the election. It also shows how much the unit rule distorts overall popular preference. And, of course, the new results still show how the weighted nature of the EV still distorts popular preference, even went the electoral votes are allocated proportionally
Of course, just multiplying 538*.4818 (Clinton's popular vote total) gives us 259.21, so also to the House, if the EV was allocated proportionally by the popular vote. This is not mathematically surprising, but it is it striking to remind us that while the Constitutions requires an absolute majority of electoral votes, we do not apply that parameter to the popular vote (and, by extension, allow the EV outcome to make us think that presidents have more support than they normally actually do in many cases–Bill Clinton never won 50% of the popular vote, for example).
From a representational point of view, proportional allocation is more honest as it more clearly reveals the national preferences. But, of course, going to the House has major downsides, both in terms of reflecting popular preference but also in terms of the political circus that would be unleashed.
One thing that continues to be a problem with this system: as long as electoral votes are allocated in a way to enhance the representation of small population states, there is no way to guarantee that the president is actually chosen by the plurality, let alone majority, preference of the citizenry.
As such, I continue to prefer a popular vote, either with two rounds or with an instant run-off. (This was an intellectual exercise, not an attempt to argue in favor).
---
Note: I started this post, writing most of it, in fact, in the Before Times, but the EC SCOTUS case finally got me to finish it.